The city of Paris, France will soon add another attraction to its world-famous allure. However, this one relates to public transit.
Installation of the first of 33 pylons begins next month for a 4.5-kilometre-long aerial tramway connecting the Parisian suburb of Villeneuve-Saint-Georges to the Pointe du Lac station on the Paris Métro, in the commune of Creteil in the Île-de-France.
The Cable 1 Project will use cable cars similar to those seen on the mountainsides of Europe and North America.  Although not the first large city to use cable cars in an urban setting — Medellín in Colombia was the first in 2004 — the Paris system will be almost double the average length of systems now used in over a dozen countries around the world.
Why urban cable cars, and why now?
Kersten Heineke, a partner in McKinsey Global's Frankfurt office and co-leader of the McKinsey Center for Future Mobility, writes cities are running out of options for moving people.
"Over the past decades, there's been a strong correlation between an increase in GDP and an increase in cars per capita," she writes. "Typically, as a society gets wealthier, people have more cars. More cars lead not only to more mobility but also to more traffic and emissions. We are at or past the tipping point in many cities."
Some of the solutions Heineke says that need to be considered include those under the banner of "micromobility," such as bike lanes, more scooters, reduced car access and ride hailing.
"But that's likely not enough to change the number of miles driven overall," Heineke says.
What Heineke sees in the future includes autonomous multi-seat vehicles, hailed with an app, called robo-shuttles.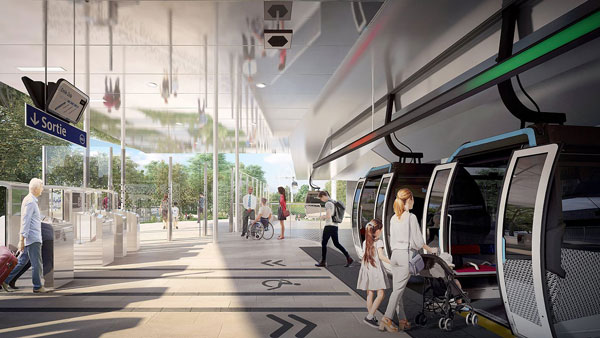 The Parisian solution of moving people using cable cars plays into making existing mass transit infrastructure work more efficiently by filling transportation gaps. It also deals with the cost and geographical constraints when attempting to provide an efficient and rider-friendly system in existing urban centres.
An engineer familiar with Cable 1 told the Daily Commercial News the Île-de-France urban cable system overcomes difficulties posed by the many hills in this region of Paris. A new subway or rail system was not financially viable, nor did widening existing streets, adding overpasses or altering traffic flows meet the objective of removing more cars and busses from the roads.  
The system's two-year construction timeline will allow it to be up and running quickly. The cost, including terminuses at each end of the route and five interim stations, will be less than C$200 million, or about C$42 million per kilometre, a fraction of the cost for a subway or above-ground rail.
As far as efficiency, aerial cable systems are perfect for areas with moderate yet varying amounts of daily travel. They are also much safer than surface transit, with accidents occurring only every 17 million kilometres travelled.
Cable 1 will carry 1,600 to 2,000 passengers per hour, adjusted for fluctuating demand at various hours of the day. End-to-end travel time is 17 minutes, half of a bus travelling the same route on the surface.
Cabins can carry up to 10 passengers, even bicycles and children's prams, and are spaced 30 seconds apart. The entire system is under full AI control, and driven entirely by one, zero-emission electric motor. Each station is at ground level, allowing full access for those with mobility issues.
In their review of urban aerial cable systems, Leonardo Canon Rubiano and Wenyu Jia of the World Bank speak of how a "ride with a view" can attract users. They add, "a well-designed system can also improve the quality of urban space around stations and stimulate urban regeneration."
"Finding new innovative ways to transport city residents is extremely attractive. People will always want to be mobile," writes Heineke. Denying the problem exists is fundamentally wrong. "The first step is to accept the fact that mobility is changing."
The Parisian experience will be watched with interest by cities around the world.
John Bleasby is a Coldwater, Ont.-based freelance writer. Send comments and Inside Innovation column ideas to editor@dailycommercialnews.com.