Learning about new innovations in technology, obtaining member input on industry issues, recognizing plant producers with stellar safety records and establishing links with potential new workers were part and parcel of the Ontario Asphalt Pavement Council's (OAPC) recent spring seminar.
Held yearly on the eve of the launch of the road paving season, the seminar is rotated throughout the province and this year it was held in Brantford.
The seminar brought industry leaders and stakeholders together to discuss the latest technologies and best practices, says OAPC chair Peter Hamstra.
There were a number of key sessions including an "open dialogue" with the approximately 100 attendees on the operational and logistical challenges in asphalt production and laydown.
Conducted by Mike Deckert, chair of OPAC's plant and paving committee, the session took the form of a question and answer on a series of topics such as best methods to increase asphalt plant production without making major modifications, says Hamstra.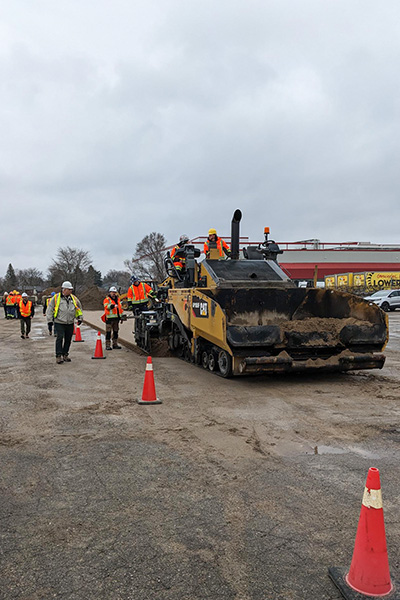 In another session titled Towards Net-Zero — Energy Efficiency Considerations for the Asphalt Industry, Enbridge energy solutions consultant Chris Russell talked about new technological trends, alternative fuel sources and energy savings incentive programs the industry can utilize.
There were a number of other seminars, including one that provided an opportunity to honour the recipients of the council's Safety Excellence Awards.
The awards recognize asphalt plants for their outstanding achievement in plant safety that have gone one year with no lost-time injuries and those that have reached the milestone of five, 10, 15, 20, 25, and 30 years with zero lost time, says Hamstra.
An emphasis on safety was also the focus of a presentation by David Steinschifter, strategic programs manager with the Infrastructure Health and Safety Association.
In other business, the council recognized OAPC Roads Scholarship recipient Josh Keizer, one of two Conestoga College students to receive the scholarship in 2022. The other student, Andrae Clarke, was not present.
Under this program, students in heavy duty equipment technician and heavy duty equipment operator programs with high scholarship achievements receive $1,000 scholarships. Two $1,000 scholarships are offered annually to six participating colleges across the province: Algonquin, Canadore, Centennial, Conestoga, Fleming and Georgian.
A former student in the heavy construction equipment operation program at Conestoga's Brantford campus, Keizer demonstrated "a willingness to participate in lessons leading to a high level of skill as an operator and demonstrated great leadership among his peers in imparting that characteristic on them as well," says Adam Davies, associate chair of the college's school of trades and apprenticeship.
As well, he maintained perfect attendance and top grades, showing great enthusiasm in all the subject topics, says Davies.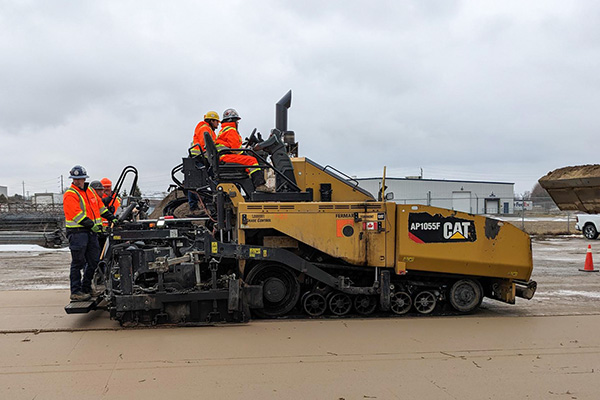 "All around a great student and well deserving of the award."
Conestoga College was a major partner in the seminar, which was actually a two-part event. The more formal business presentations were held in the morning at the Best Western Brantford Hotel and Conference Centre.
Then, in the afternoon, a shuttle bus took participants to the college's Brantford campus to watch a live demonstration of an asphalt laydown by a five-member team from its heavy construction equipment operation program.
Because it's not paving weather yet, "the students used sand instead of asphalt," says Davies.
The paving component of the program is taught by faculty member Reg Legere, the program co-ordinator of the college's heavy duty equipment technician program. A former member of the roadbuilding industry, Legere is "well connected" with members of the OAPC.
"For the last few years there has been a mutual desire to hold an event like this and since the seminar was taking place in Brantford this year, it just worked out that we (the college) were able to be a part of it," says Davies.