Former EllisDon CEO Geoff Smith, now installed as the firm's executive chair, recently told delegates attending the Building Transformations conference in Toronto his next goal, his singular focus, is to spearhead the firm's adoption of digital strategies.
He is adamant firms in the sector have to transform themselves, Smith said during an Aug. 23 presentation. Digitization is such a priority for him that colleagues jokingly suggest he is overdoing it.
"There's a bit of a resistance to all this new stuff," Smith said. "People say to me, 'Geoff, stop talking. We're not a software company. Stick to the knitting, dude. We're a building company.'"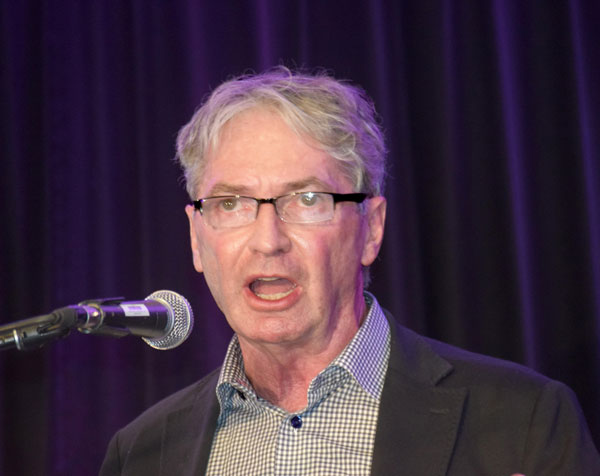 Smith recalled that Mark Barrenechea, the CEO of OpenText, had said, "'Everybody, if you need help on your way to transforming yourself into a software company, give me a call.' So I did. And I went to see him."
Barrenechea also predicted, "If your company in 10 years isn't a software company, then you won't have a company."
He said digitization is not necessarily about creating and using data, it's about "rich data, data everywhere."
"You've got to get the data part right," said the OpenText boss.
That is Smith's mission now.
EllisDon began its digital initiative 25 years ago and it has produced consistently formatted and accurate data in that time, Smith said. Now the firm has a large cast of programmers, analysts and digital specialists.
"We are determined, I'll say to you now, to turn EllisDon into a software company. We are also of course determined to be a terrific construction company, close to the ground, taking on the biggest challenges, taking the biggest entrepreneurial risks, controlling risk for our clients.
"We believe that we can combine those two attributes."
Smith said he is entering the next phase of his career with eight guiding principles.
Among them:
Referring to the Edge Builder initiative that EllisDon launched 25 years ago, Smith said it was built on a solid proposition: if you are in the construction project management business, and you don't control your own project with management software, "maybe you've lost control of your business."
Contractors create the data that will be so important to the future of the sector, so it behooves stakeholders to be the ones who build and curate the best construction software, Smith believes. For the benefit of the sector, the software should be shared, Smith said: "I had this conversation with my friends at PCL. If you want to share what you've got with us, we'll share what we've got with you."
Most of the analytics software being used is about making the construction process on jobsites more efficient, which is important, but in reality 70 per cent of the success of a project has been determined before a shovel hits the dirt, Smith said. That is based on the values and the intellect of the people running the company and the projects. At EllisDon it's called the No Jackass rule, Smith said.
The construction sector and startups serving the business are always seeking capital investors but "I think if we get our software and our digital approach right, the capital is coming to our industry," said Smith.
Digital will not only disrupt the way the construction sector builds, Smith said, but "I believe it will demolish the structure of the construction industry that has existed for at least the last 75 years."
The two forces that are going to disrupt the construction sector, the two "seismic forces tearing apart what has existed for so long," are digitization and the drive to sustainability, and they are deeply entwined, Smith said. That's why firms in the sector have to "completely transform ourselves."
Try as experts might to predict future trends, it's impossible to get it right, Smith said. The best recent example is the rise of Chat GPT — even Google was surprised and had to scramble to catch up.
"All I'm saying is, let's go easy on making predictions," said Smith.
Smith said part of EllisDon controlling its own destiny specifically includes working with the best construction apps available.
The firm is in the middle of an accelerator program in which it has interviewed about 100 construction tech startups and it will choose a few of their apps to sponsor.
"We want to champion these businesses," said Smith. "We'll do everything we can to make them successful."
Follow the author on Twitter @DonWall_DCN.