Builders today are looking to construct projects in ways that are faster, more economical and kinder to the planet. Cold formed steel (CFS) meets many of these objectives. It's not new. The CFS concept has been around since the 1850s, but is gaining increased popularity today.
The cold forming of steel, sometimes referred to as cold roll forming, is a forging technique that shapes metal material at near-room temperature by passing it through a series of rollers in order to reach the desired length, profile and thickness. Since no further heat and GHG emissions are required to form the shapes, as with hot-rolled steel, CFS skips those associated carbon emissions.
In fact, CFS retains and even enhances the metal's tensile strength while still allowing high levels of intricate manipulation. The finished pieces can be used as the framework for buildings of every size and purpose, be that residential, commercial or industrial.
Great attention is given to wood and mass timber from an embodied carbon perspective. However, CFS has its own persuasive story to tell, particularly when it comes to recyclability. In fact, CFS consists of at least 25 per cent recycled metal and is itself 100 per cent recyclable at the building's end-of-life. 
As a result, CFS framing can qualify for up to six points under LEED™ criterion, including points for environmental product declarations, sourcing of raw materials, construction and demolition waste management and innovation.
That's just the start.
CFS frameworks are strong and lightweight. They flex rather than break, critically important in areas prone to seismic activity or extreme winds. CFS doesn't shrink or expand under varying climatic conditions and doesn't warp or crack over time. CFS framing units can be made airtight, delivering both excellent thermal insulation properties and exceptional acoustic performance.
The high strength-to-weight ratios offered by CFS framing means designers can take advantage of its spanning capability and narrower wall profiles to maximize indoor spaces and create unique shapes.
Today's world of construction also requires projects to be built quickly, economically and with minimal waste. CFS meets these objectives several ways.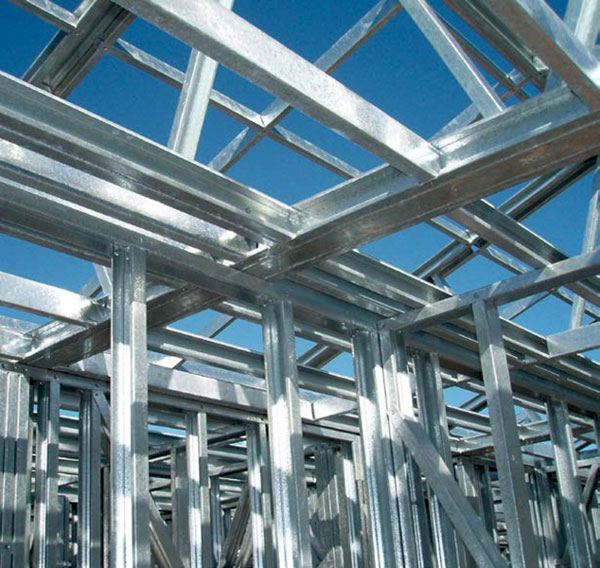 Using pre-manufactured CFS components reduces the amount of bespoke construction that is time-consuming, wasteful, labour intensive and therefore expensive.
"A significant portion of the construction expertise moves upstream to the design phase," says FrameCad, a supplier of automated engineering software and advanced roll-forming manufacturing equipment.
The off-site manufacture of roof trusses, wall frames and floor joists to exact measurements also speeds up the onsite construction process.
"A significant value of construction can be prefabricated offsite, meaning more unskilled and/or non-union labour can be employed, significantly reducing the overall cost of a project," says FrameCad. "No onsite welding or cutting is normally required. This means that the erection process is fast and simple – requiring less labour time onsite and heavy lifting equipment. Detailed design speeds up compliance, reduces engineering cost and minimizes room for error onsite."
Since the CFS frames are manufactured to precise dimensions, pre-made windows and doors will fit perfectly and quickly, minimizing time-consuming onsite adjustments.
Taking the concept of off-site manufacturing even further, CFS is ideal for creating whole-room volumetric units that can be craned into position. The more componentry created off-site in a controlled factory environment reduces the amount of disruption caused by seasonal and inclement weather.
The overall result is a building that can be completed faster from start to occupancy. That means a quicker ROI for the project owner. 
CFS framing design tools and resources are available to help contractors and building owners deliver advanced building designs meeting the latest LEED™ criterion and other sustainable rating systems, programs and standards.
For example, the Environmental Product Declaration for Cold-Formed Steel Framing, released by The Steel Framing Industry Association (SFIA), helps establish and verify the environmental benefits of CFS.  There's also the SFIA Specifications Review Service for steel framing which provides architects and engineers with a completely free check-up of their written specifications.
 John Bleasby is a Coldwater, Ont.-based freelance writer. Send comments and Climate and Construction column ideas to editor@dailycommercialnews.com.