Senior Ontario construction stakeholders at a recent construction tech conference called for major systemic reforms to the worker recruitment pipeline as the need for them becomes ever more urgent.
The workforce theme overshadowed technology discussions during a panel session at the Aug. 23 Building Transformations event held in Toronto.
At times the panel session turned into a direct call for delegates to take immediate action.
"Everybody has to decide whether, when you leave here, you can employ one more apprentice," said panellist Michael Sherrard, chair of Skilled Trades Ontario (STO).
The session was billed as Addressing the Labour Shortage in the Face of Growing Demand for Infrastructure. Ontario General Contractors Association president Giovanni Cautillo served as moderator and the other panellists were Bart Kanters, president of Concrete Ontario, and Richard Lyall, president of the Residential Construction Council of Ontario (RESCON).
The sector understands that by 2032, overall hiring requirements in the industry nationwide are expected to reach close to 300,000 due to the retirement of 245,000 workers, 20 per cent of the 2022 labour force, and growth in worker demand of more than 54,000. The data comes from an April 2023 BuildForce Canada report.
Each of the panellists discussed recruiting strategies but for Lyall, the key issue is to address systemic barriers.
"I can't stress enough that we can have all these programs we want," he said. "But we have to deal with the systemic barriers that are deeply rooted. We've got scopes of practice that are 50 years old."
The RESCON executive described how a recent fact-finding visit to Germany seemed like Groundhog Day when he realized Canadian training advocates had been making the trip regularly over the past decade to study how that country exposes its young people to the trades at the earliest opportunities.
"Germany's a nice place to visit," said Lyall. "I like to say that Canada is so rich that we can afford bad government.
"We have a crisis, and it's not just in housing, but more broadly speaking in public administration. There are things systemically that we still need to do. There have been some changes recently, we've been having improvements, but there are things that we still need to do to fix our education system and really introduce, at an early age, in public school, in high school, opportunities in skilled trades to young people and do it properly."
Eight of the top 10 countries in the world in trades training are European, Lyall said. In Canada, he said, there is inertia; high school guidance counsellors spend on average a half hour with each student, and the system does not identify visual learners who might be good candidates for the trades.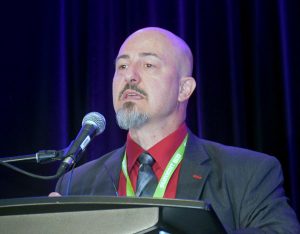 Addressing the theme of the conference, Lyall said in 10 or 20 years construction sites will be infused with technology, with skilled workers needed to run drones and operate robots.
"What are we doing about that? Who's looking forward to that?"
Systemic failures were at the heart of the decision by the Ford government to scrap the Ontario College of Trades in 2018, convene advisory councils who canvassed stakeholders and finally launch STO in January 2022, Sherrard recounted.
One of the main problems, Sherrard said, was the lack of a clear pathway to embark on a career in the skilled trades. High school students interested in university or college know exactly how to access information online but there was a mishmash for anyone contemplating the trades.
"That's number one," said Sherrard. "If you look, you've heard a number of speakers today talk about digital. You'll now know there's a digital portal run by Skilled Trades Ontario that is trying to make it easier for an apprentice and an employer to get together and have a registered trading agreement and move on to the process. That's a starting point."
STO will be unveiling its first strategic plan shortly and as Sherrard outlined it has already taken strides to revamp the apprenticeship system. Credentialling has to be improved to enable workers from every province, the U.S. and Mexico to work in Ontario; a program of career fairs for high schoolers has been established and will be extended; and young people and their parents need to be convinced that the sector has an advanced health and safety culture.
At the career fairs, Sherrard said, thousands of parents learn there are 144 trades in Ontario.
"They actually got to talking about where my kid might fit," he said.
Kanters listed a number of technologies and new strategies being used in his sector to transform the job of concrete driver, such as electronic ticketing and better safety evaluations, and said it's imperative that stakeholders create broader awareness of the numerous jobs available in that lucrative field.
It's got to be a joint effort to succeed, Kanters said.
"From a supplier standpoint, we need to support the efforts of the government and we need to support the efforts of the construction associations," he said.
Follow the author on Twitter @DonWall_DCN