C. David Moody may be the leader of one of the largest African American-owned construction companies in America today but things haven't always been easy and he has had his fair share of challenges over the years.
"We all will be knocked to our knees in our life, but we are so much stronger than we realize," Moody, owner of C.D. Moody Construction told virtual viewers at the Toronto Community Benefits Network's Building Diversity Awards held May 13. "We will all get up."
Moody attended Howard University and earned a professional degree in architecture in 1981. After graduating he started his career at Bechtel as a staff architect in the nuclear power division in Ann Arbor, Mich.
He recalls the day he volunteered to go on a power plant jobsite, trading in his suit and tie for jeans and a hard hat.
"That noise, that action, that's when I fell in love with construction," he said. "I didn't quit architecture, I pivoted. I changed direction."
He got married and decided to move to Atlanta, Ga.
"I got a job and two months later that company went bankrupt," he said. "What I thought was my worst day actually became my best day because four years later I went in business for myself."
Overcoming childhood trauma
It was not easy and there were many ups and downs over the years. Then, in 1992 he was confronted with a childhood trauma.
"I had this secret from childhood that I had planned on dying with," he explained. "Come early 1992 my wife finds out someone close to her had been sexually abused as a child and I blurted out my secret. That happened to me too. And I thought everything was going to be OK."
Within a couple of months he was having panic attacks and had a complete emotional breakdown.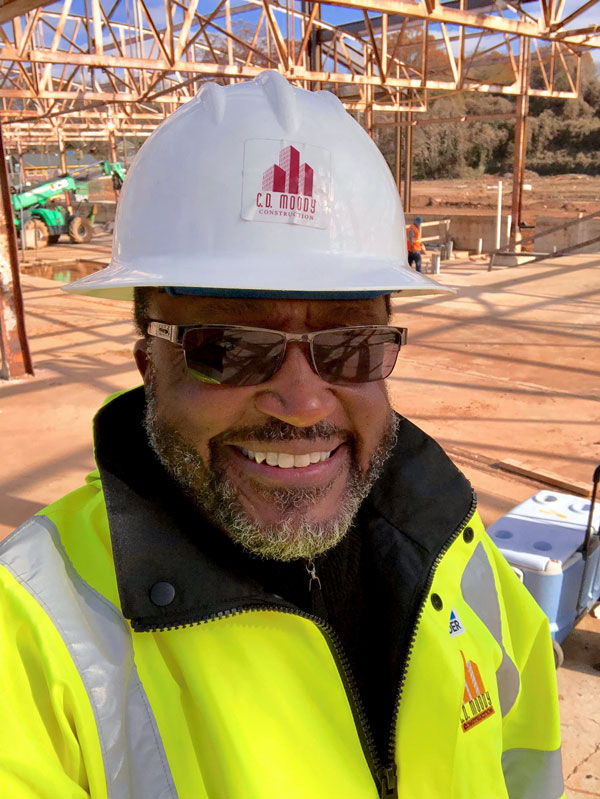 "I had to figure out how am I going to get through this," he said. "The reason I tell that story is that so many of you have something that's happened in your life and you wonder can you make it? Yes you can. We can turn trauma into triumph. We can still have incredible lives regardless of what we've been through."
Now, more than 30 years later, his firm has built and delivered more than 150 commercial projects valued at $2 billion including the Mercedes Benz stadium, the new home of the National Football League's Atlanta Falcons.
"I was 31 years old when I started my business," said Moody, who is also the first African American to be president of the Associated General Contractors of Georgia. "I didn't know anything about running a business because I had never seen anybody who looked like me that was a contractor…but I had a lot of people over time who allowed me to pick their brain and they shared so much information with me."
Things began to change for Black contractors when Maynard Jackson became the first African American mayor of Georgia in 1973.
"Before he became mayor only one or two per cent of work went to Black contractors," Moody said. "He came up with you had to have at least 35 per cent participation and our city has just blossomed. I want all the business people out there, all the major contractors, all the minority contractors, I want the government to understand when we have true inclusion everybody wins."
"Construction is about the people"
The awards evening also included comments from dignitaries and leaders in the construction industry.
"I think It's important to celebrate it to acknowledge it and name names," said Geoff Smith, CEO of EllisDon. "Leaders when they speak out, when they set an example, they change minds and when you change minds you change society."
Ehren Cory, CEO of the Canada Infrastructure Bank, said he recognizes the importance of diverse and inclusive work environments.
"Infrastructure isn't just buildings or bridges or roads," he said. "Infrastructure is the investment we make in building the economy and the society that we want. The decisions on what we build and where we build it and how we build it, those are decisions that really matter. That means we need to make sure that the people making those decisions represent us, represent Canadians."
Giovanni Cautillo, president of the Ontario General Contractors Association, said construction is about the people.
"Construction doesn't occur serendipitously. It doesn't just happen," he said. "There is effort and people who put it together and the companies that employ them and the groups that represent them. Tonight is a celebration of the people. They are the difference. They make it all happen."
Follow the author on Twitter @DCN_Angela.