One of the largest commercial solar installations in Washington, D.C., an 842-kilowatt (KW) system that can power 150 homes annually, was recently completed on the rooftop of an industrial warehouse complex in Brookland, a northeast neighborhood in the capitol.
A turnkey project by Real Property & Energy Solutions, the 54,000-square-foot installation is indicative of a growing movement in the city in which property owners are leasing rooftops to green power agents. The trend is fuelled largely by friendly regulatory measures and tax incentives.
Keaton Pavier, Real Property's senior energy engineer, says the project and other installations like it increasingly make economic sense because of federal government tax credits and solar renewable energy credits which solar proponents sell to Pepco, the power utility. Amortization is often in less than five years.
A solar array containing 2,106 photovoltaic solar panels, the Brookland installation is expected to produce 1,164 Megawatt-Hours of clean energy resulting in an offset of 1,818,501 pounds of CO2 emissions annually.  
Additionally, the retrofitted roof helps maintain cooler indoor temperatures for the 11 occupying companies during the summer, thereby reducing HVAC energy requirements.
Pavier says the industrial warehouse checked all the right boxes for a solar installation, starting with its location, free of sunblocking buildings.
"There are train tracks on one side and (lowrise) residential on the other."
The original roof was retrofitted and replaced with a white roof to keep the panels cooler for improved efficiency. 
The majority of the solar panel service is secured to the roof with a ballasted system of concrete blocks, but in a few areas screws anchor the panels to the roof. The roof can support two to three pounds of weight per square foot.
Pavier says each panel will be monitored for efficiency and is expected to last 20 to 30 years.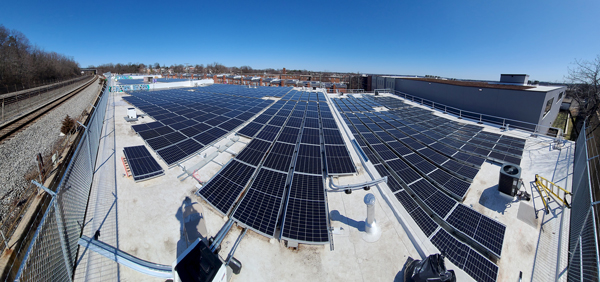 One of the key design challenges for the project's electrical consultant was configuring the maximum PV-array size and layout in accordance with setbacks, varying roof levels, existing equipment, pathways and the fire code, explains Manlove Engineering owner Michael Manlove.
He says integral to the success of large solar projects like the Brookland one is for consultants to establish a plan from the outset with the local utility company to ensure there is enough power service to the site and it that it is located centrally to the PV array network.
At Brookland, Real Property & Energy Solutions had to "site a transformer" because the existing one was not big enough, points out Pavier.
Licenced in 14 states, the Pennsylvania-based electrical engineer says there has been tremendous growth in demand for his services for solar projects over the past four to five years in D.C. probably because of the district's developer incentives that are making large solar projects like Brookland economically viable.
Most of his rooftop solar work outside of D.C. has been in Virginia and states north to New York.
It took about a year to complete the Brookland project but Pavier sees future installations taking only six-to-eight months to build. 
The pandemic's impact on the supply chain could, however, affect that timeline.  
Manlove says more clients are having to revise module specifications because of shortages and increased costs.
Other parts ranging from inverters to conduit panel boards also are in short supply.  
Pavier says projects like Brookland qualify for Community Renewable Energy Facility in D.C. because they provide power that local businesses and residences beyond the occupants in their building can use.  Pepco gives users a discount (roughly 10 to 20 per cent) on their energy bills.
He adds businesses are entitled to "bonus depreciation" on the aging panels when they file their income tax.
It is a good reason for why Real Property is eyeing more projects in D.C., starting with a one-megawatt project planned over the next year.
"It's not going to be as uniform as this one building is but there are not many roofs up there quite like this one we just completed."