A mini building boom is set to take place over the next decade at the sprawling Eastern Florida State College (EFSC) campus around Clear Lake in Cocoa, east of Orlando.
The college is embarking on a new era with an ambitious $87-million master plan to improve existing structures and add new academic buildings, student housing and a planetarium to the largest of EFSC's four campuses.
The blueprint, approved by the EFSC board of trustees at a meeting in April, is part of a transformation aimed at providing students and faculty with state-of-the-art education facilities and ensuring the campus is a vital center for higher education into the future with a focus on general and high-tech programs.
It is the largest planned capital outlay the college has ever made on any of its four campuses.
"This plan will transform the campus and help move our community forward in important ways, giving students first-class learning facilities and helping spur economic growth," explains EFSC president Dr. Jim Richey.
"It's an exciting, once-in-a-generation opportunity to reimagine the campus' role and what it can provide to students, Space Coast industry and the Cocoa community. I'm thrilled about its future. It's going to have a significant impact and benefit everyone."
To make way for the new facilities, old structures that date to the 1960s, are badly deteriorated and at the end of their useful lives will be razed. They include two classroom buildings and a gym and pool. The planetarium will also be demolished after an engineering study found serious safety issues.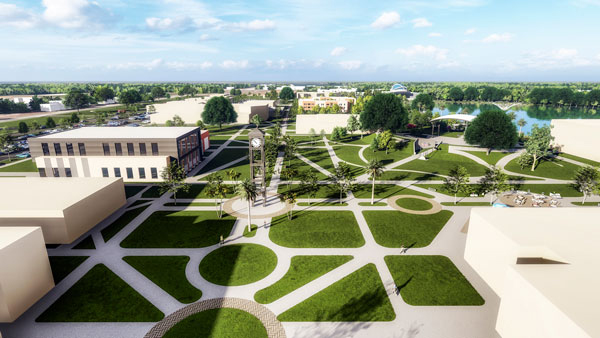 Plans to raze the four structures and pool are currently underway. Other work is already in progress, with the college spending $1 million this year to repaint campus buildings and improve landscaping.
"The master plan is a real game-changer that will spotlight the Cocoa campus in new and vibrant ways," says Richey. "I can't wait to see what it will look like when completed."
The new and renovated buildings will house classrooms and labs for health care, aerospace, engineering technology, advanced manufacturing and other programs.
More than $21 million of the funds is being set aside for the planetarium to replace an older structure that was closed after sustaining severe damage from Hurricane Irma in 2017, and $15.8 million is earmarked for renovating the Health Science Center for health care programs and dentistry at the campus.
Two separate amounts of $14.5 million are for constructing a new advanced technologies building for several programs such as aerospace and engineering technology, and also a new STEM building for science classrooms and labs.
A total of $16 million is for construction of a pair of student housing apartment units for on-campus living that will accommodate 192 students. A construction schedule for those projects has not been set.
Up to $5 million is being set aside for grounds improvements, including new walking paths around Clear Lake, lakeside pavilions, green space for students to gather and a revitalized amphitheater.
The student housing "will make Cocoa a destination campus where students can live and study," he says, noting apartments on the EFSC Melbourne campus are highly successful with waitlists to move in.
Most of the funding for the projects is being requested through appropriations from the Florida Legislature and follows $22 million the college has spent in recent years on a range of Cocoa campus upgrades.
The college says the plan reflects the workforce needs of area businesses and industry for highly skilled employees, including commercial space companies at Kennedy Space Center, other high-tech firms and health care providers.
The campus, meanwhile, will stay true to its long-standing mission for general education that allows students to earn a two-year associate degree before embarking on a firm career path or moving on to a bachelor's program at EFSC or other colleges and universities.
The campus will remain home to key college-wide services for EFSC's Melbourne, Palm Bay and Titusville campuses. Among them are the Career Planning and Development Center that prepares students for the job market; Military and Veterans Service Center that assists veterans, their families and active duty service members; financial aid; information technology; human resources; the registrar's office and accounting.
Furthermore, the campus will continue to host initiatives such as the Pentagon-sponsored Advanced Composites Learning Center that trains technicians in technologies for the Space Coast's aerospace and defense industries.