Open wide, Texas. Tim Hortons is riding into town, saddlebags filled with fast food treats and coffee from Canada.
Successful Texas franchise operators Ali and Emad Lakhany are leading Tim Hortons' entry into Texas, with the first outlet scheduled to open this summer. Two more are planned later in 2022.
The Lakhanys are Houston-born brothers and second-generation franchise operators. Their company, CSM (Continental Superior Management), already runs over 60 Popeye's Louisiana Kitchen restaurants, with another 60 or more in the pipeline for Texas and nearby states.
Both Tim Hortons and Popeye's are owned by multi-national fast-food giant, Restaurant Brands International (RBI). The Popeye's connection made CSM a natural choice when RBI began looking towards southern expansion for Tim Hortons.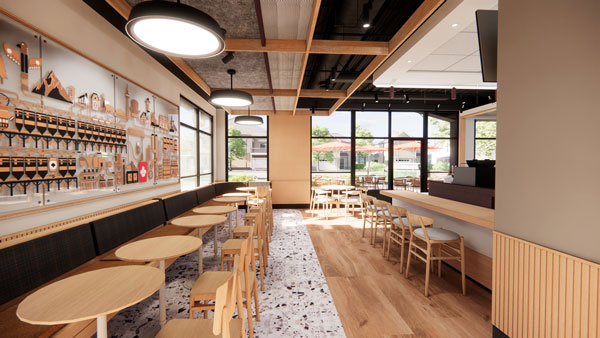 "We are thrilled to welcome the Lakhanys to the Tim Hortons family. We know they are just as passionate about expansion into Texas as we are, and they will be the perfect developer for this endeavor," said Tim Arpin, U.S. Head of Franchising for Tim Hortons in a news release.
Who is this Tim Horton character?
Tim Horton was an All-Star NHL hockey player in the 1960s and '70s. He opened his first drive-in coffee and donut shop in Hamilton, Ont. in 1964 as a sideline business. He teamed up with businessman and former policeman Ron Joyce in 1967. Joyce took full ownership after Horton died in a car crash in 1974.
The company quickly developed into a fast-food phenomenon after Horton's death, expanding beyond coffee and donuts to breakfast foods and soup and sandwich combos. Today, the chain is a national cultural icon, with Canadians across the country lining up daily at their local "Timmies." The Tim Hortons coffee-and-donut combination in particular has grown as close to Canadians hearts as pancakes and maple syrup.
RBI purchased Tim Hortons in 2014, expanding it to over 5,000 locations worldwide, including over 600 in the United States largely concentrated in the northeast.
Bringing Tim Hortons to Texas not only reflects the state's continued business growth overall but also acknowledges the estimated 3.5 million Canadians who have either moved permanently or spend winters in the U.S. South. Over 20,000 ex-pat Canadians live in Houston alone.
The Lakhany brothers had been considering the Tim Hortons franchise in Texas for a number of years and made their commitment after meeting with RBI management in mid-2021.
Texas franchisee spokesperson, Nate Attaie, told the Daily Commercial News the site-built outlets will be 1,600-square-feet in size, with indoor and patio seating and drive-through service. Interiors will be Texas-themed.
The Texas menu will include iced coffee favourites and breakfasts, and Tim Hortons' signature freshly-brewed Original Blend and Dark Roast coffee and its renowned Timbits. There will also be new drinks like Tim Hortons Refreshers and energy drinks.
Houston's first Tim Hortons has broken ground at 21811 Clay Road in Katy. The two other Houston locations will be at 5312 W. Richey Road, and at 13451 Northwest Freeway.