LOS ANGELES – Global project management and owners' representation consultancy MGAC has opened a new Los Angeles office located downtown at the AON Center.
Designed by global architectural firm SOM, the new space was unveiled at an in-person event on May 11 and was "created to serve as both a collaborative, functional office space and a model for the firm's full suite of service offerings," an MGAC release stated.
"MGAC's Los Angeles office embodies the idea of client service, landmark projects, and commitment to the highest corporate office standards. We want this space to not only be a strategic enabler for our business, but also a client-facing example of the thoughtful, meticulously planned approach we take on all of our projects," MGAC president and founder Mark Anderson said in a statement.
The 7,000-square-foot space is designed for a hybrid work environment with 25 per cent seating open for visiting team members and guests.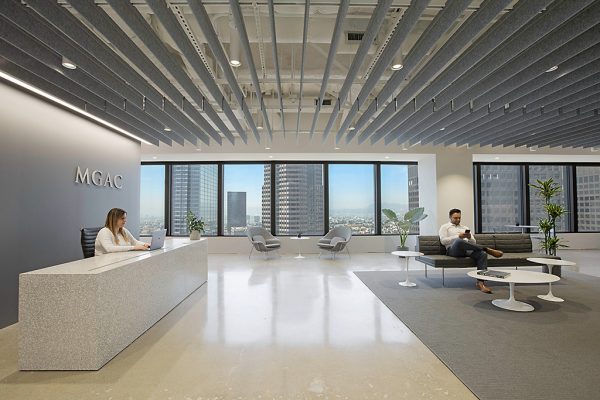 "A key feature of the living room space — in keeping with biophilic design principles — is an active green wall system by Green Oasis," the release stated, along with substantial daylight.
The general contractor for the project was HITT with mechanical, electrical and plumbing engineer Glumac working on an expedited schedule which resulted in project completion in three months. MGAC was both project manager and client.
"As we continue to welcome our team back to the office, this is a space that everyone can be proud of and look forward to using. Our strategy will remain flexible, but we aspire to provide our team members, clients, and industry partners with great shared spaces that are inviting and conducive to whatever the task may be," MGAC managing director Steve Hay said.