On the ninth floor of an office building in midtown Manhattan you expect to hear the din of the city below, but that is not the case in an office space aptly named PinDrop.  
PinDrop is a room within the offices of design firm AKRF where you literally can hear a pin drop. The size of a large boardroom, roughly 25-by-30-feet, it blocks out all external sounds. Even the HVAC system is dead quiet.
The space was designed by the firm's acoustics specialists to create "acoustic renderings" for building clients to experience what their own completed projects could sound like.
Normally, a building's acoustic design is based on calculations and numbers that leave clients "hoping for the best," says Benjamin Sachwald, co-leader of AKRF's acoustics practice group.
PinDrop is different.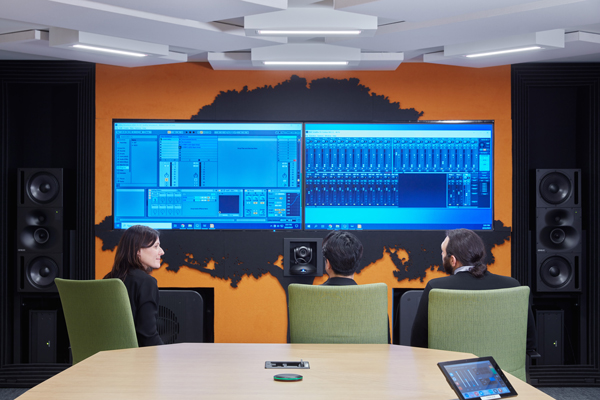 Sachwald, who compares the offerings of the soundproof space to that of the 3D renderings architects create for their clients, says AKRF's sound renderings are the culmination of acoustical measurements and models completed in consultation with architects, interior designers, developers and other project stakeholders.
"A floating space" isolated from the surrounding offices, PinDrop took months to design and build.
The room is elevated on layers of insulation and cement board placed on pads that isolate the floor from the building's structure below. Double stud walls and ceilings are covered with multiple layers of sheetrock, insulation and broadband acoustical panels that absorb a wide range of frequencies "very evenly," explains Nathaniel Fletcher, a senior acoustical consultant for AKRF.
He adds the room has "strategically located bass traps" and an extremely quiet HVAC system achieved largely through the use of an internal acoustical liner in ductwork. Low velocity air flow further adds to the hush. 
While some acoustical treatments absorb certain frequencies, others trap or disperse sounds throughout the room.
"This is a space for collaboration, not an isolated experience but one for a number of people…all sorts of project stakeholders," points out Fletcher.
Sachwald says designing PinDrop was challenging because the team had to mitigate noise from the subway, traffic on Park Avenue, six elevators in the building, and "a massive HVAC system. There was a whole orchestra of New York City sounds we had to navigate through."
PinDrop, which only recently opened for business, can be used for clients with projects ranging from noisy professional sports arenas to sound-sensitive mastering suites for film production studios, he says.
The acoustic team's starting point for retrofit projects such as an auditorium in a high school is to visit the site and create baseline recordings of the existing space.
Back in PinDrop, a professional-grade audio system allows clients to hear the full range of frequencies "at whatever volume is needed."
"We are going for an authentic, neutral sound response so when we play back the sound simulation, the room is not coloring it."
For new construction, the design team's approach is to first conduct modelling simulations of the space. The latest noise mitigation software technologies eliminate or minimize real-life sounds for the building's occupants.  
Sachwald says while the use of acoustic renderings isn't AKRF's invention, in the past such renderings had limitations because they were heard over headphones rather than in a space like PinDrop where a few to a dozen people can share experiences from audio recordings.
"You need a big space where you can have that kind of collaborative approach."
PinDrop was near completion when the pandemic hit, delaying its official launch until recently, but now the room is used regularly by clients and AKRF hosts continuing education courses for the American Institute of Architects.   
While Sachwald sees PinDrop as "a differentiator" for AKRF, he believes others will follow, as more clients see its value.
"It would be a good thing if more people (acoustic design firms) do this."