Plans have been unveiled for a massive, $1-billion redevelopment project on the 80-acre Southland Mall site in Cutler Bay, Fla., 20 miles south of Miami, that will feature more than 4,000 residential units.
The venture, called Southplace City Center, is one of the largest projects of its kind in the southeast part of the state. The ownership team envisions a city within a city for living, working, shopping and playing.
The project is being developed by Electra America, a real estate private equity firm, along with its U.S. affiliate American Landmark and BH Group, a Miami-based real estate development firm focused on luxury projects.
Preliminary plans include the redevelopment and reinvention of the current Southland Mall, with more than 500,000 square feet of retail, dining and entertaining venues and an additional 150,000 square feet of retail space and areas for food and beverage operators.
The project will also have green space, bike, golf cart and walking trails, a trolley system and easy access to public transit and the soon-to-be-opened station for the Miami-Dade SMART Plan mass transit route.
"We're delighted to work with the Town of Cutler Bay and its residents to breathe new life into a property that has been underutilized for decades, and in so doing, create thousands of new jobs, as well as help alleviate the housing crunch facing many Miami-Dade residents today," said Electra chief development officer Ron Gaither.
"Southplace City Center will provide a wide range of market-rate housing options, and its location close to major thoroughfares and mass transit, yet away from residential communities, minimizes traffic and facilitates the use of public transportation – two key priorities for this community. We're looking forward to continuing working with the community to ensure this project reflects the values and character of Cutler Bay."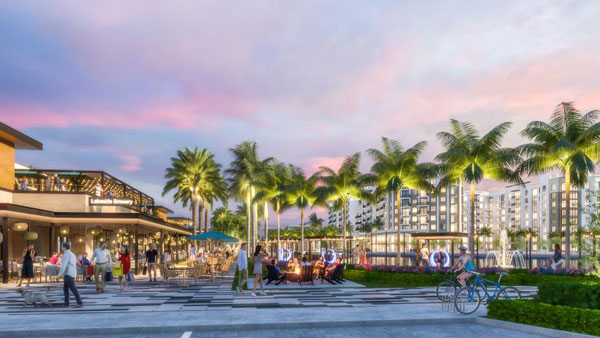 The venture will be completed over a seven-year time frame and is expected to create approximately 2,700 new jobs and generate $44 million in property taxes and other revenue in the first five years.
Cosmetic improvements will be made to the existing mall and several new high-quality retailers will be added.
Nearly 4,400 new market-rate apartments will be built over a period of several years.
The development will also feature several new retail and restaurant concepts, situated around a series of man-made lakes and open spaces.
Additionally, plans call for a new specialty grocer, a 150-room hotel, 60,000 square feet of medical office space and a terraced community amphitheater or bandshell.
A new access ramp to U.S. 1 will be built, along with an entrance square with large fountain and extensive green space. A pedestrian bridge will connect the community to the new bus rapid transit stop.
Groundbreaking on the first residential building is expected in mid-2023 and will take about 10 months to build.
Cutler Bay Mayor Tim Meerbott said he's looking forward to rollout of the project and ensuring it aligns with the community's vision.
"It's going to be a positive step for Cutler Bay. I'm excited about the changes occurring. Change is inevitable and you can either wait for it to happen or help guide it. I can assure you that Cutler Bay is going to help guide it."
The site has been in need of renovation for some time now and town staff and council have made many efforts to get the ball rolling.
"The site is ready for change and this project will check so many boxes on our community's wish list—thousands of jobs, more restaurants, entertainment, and a fresh look, to name a few," said Meerbott.
The development team acquired the mall and adjacent parcels of land this past May. The developer's plan is in accordance with the town's building code, so no additional approvals are needed.
The site is conveniently bordered by the Florida Turnpike on the east and U.S. 1 on the west, placing it on major commercial crossroads in suburban Miami-Dade County, directly along the new South Corridor Rapid Transit Project which is expected to open in late 2024. The corridor will provide a 20-mile mobility connection between Miami's central business district and the county's southern-most communities.
Design team for the venture includes economic advisors Florida Economic Advisors, retail consultants CPH, master planner/designer MSA Architects Inc., landscape planner Insite Studio, and civil/traffic engineer Kimley Horn.