The media that covers land issues in California needs some schooling, says Abbey Sanderson.
"There are too many one-sided stories about land use," said Sanderson, who is community and government relations co-ordinator, western division in the San Diego office of Vulcan Materials Company, a large producer of construction aggregates.
"Californians need to know producers go through detailed CEQA (California Environmental Quality Act) and NEPA (National Environmental Policy Act) assessments before they start a project," she said.
Sanderson made her point while speaking at one of the sessions of the 2022 education conference of California Construction and Industrial Materials Association (CalCIMA).
The theme of the conference, which took place in late October in La Jolla,
was breaking new ground.
Also presenting with Sanderson was Ryan Rauzon, managing director of Summit Strategy Group, a public relations firm in Torrance.
The point of their presentation – What the Media Gets Right and Wrong When It Comes to California Land Use Issues – was that journalists who cover California land use and permitting issues and battles over CEQA don't always get their stories right. 
"Something the media does get right is that California is having a debate about land use and there are competing sides," said Rauzon. "But it often presents only one side of the argument."   
Adding another layer of complexity to the land use debate is California's uniqueness, he says.
California has big, ambitious development needs and, at the same time, big, ambitious goals for preserving the natural environment. Sometimes the two wants come into conflict.
California is in serious need of new civil infrastructure, such as water, roads and public transit, says Rauzon.
"They are needed now more than ever," he said. "We also face a serious homelessness problem; there's a desperate need for housing in California." 
Many Californians are strong supporters of the environment and sustainability and regulations to enhance them, until they might be inconvenienced by them.
"There's a lot of NIMBYism in the state," said Rauzon.
Rauzon cited recent opposition by Berkeley residents to increasing the enrollment at University of California Berkeley. Citing CEQA, they said more students would lead to more trash, more noise, more homelessness and more traffic.
An organization called Save Berkeley's Neighborhoods sued the university for adding too many students too quickly, without considering how bad students are for the environment.
The courts sided with the residents and froze the university's enrolment at 2021 levels, forcing it to potentially cut back in-person admission for thousands of students.
Sanderson says California aggregate producers are very aware of the NIMBY phenomenon.
"Producers like Vulcan don't get to choose where the resources are," she said. "One of the biggest issues with land use regulators is the extra traffic created by resource extraction."
Sanderson says unbalanced media coverage is the result of journalists lacking information as well as occasional anti-development bias.
"Journalists need to be educated," she said. "They need to learn, for example, that we lack the resources, such as nickel and lithium, that are required to manufacture car batteries and various kinds of electronics, and we need to get them somewhere."
The construction materials industry should take the initiative and reach out to journalists.
"That's what our opposition does," Sanderson said. "Producers should also reach out directly to legislators at the local, state and national levels, and tell them what it takes to acquire the materials we need to live our lives."
Sanderson says Vulcan invites local politicians and media to its annual Quarry Crusher Run at Chula Vista.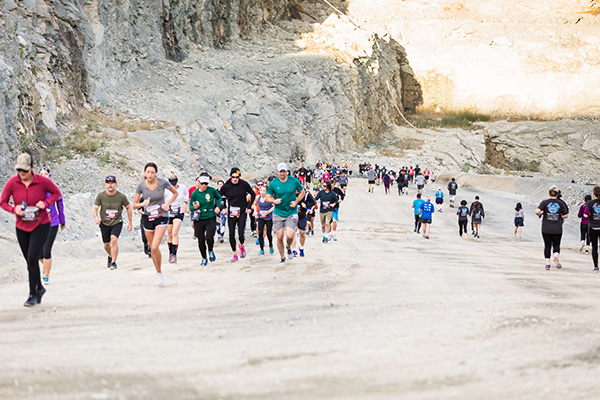 "In addition to attending a fun event, they got to see how a quarry works," she said. "And we get some good stories in the media."
Robert Dugan, president and CEO of CalCIMA, says the organization's
education conference is an annual event that brings together professionals to discuss a wide range of issues.
At this year's conference, some 250 attendees listened to 46 speakers and examined the wares of 20 vendors.
CalCIMA is the statewide voice of the construction and industrial materials industry.  The roots of the organization go back to the 19th century post-gold rush period and the California Lands and Mining Association.
"The continued availability of our members' materials are vital to California's economy, and ensures California meets its renewable energy, affordable housing and infrastructure goals," said Dugan.