Most buildings standing today will be in use decades from now.
Deep retrofitting of these existing assets will play a significant role in reducing the carbon emissions associated with major cities. 
According to the United Nations Environment Programme, cities are responsible for an estimated 75 per cent of all global greenhouse gas emissions (GHG), most of it carbon.
Reducing emissions though deep retrofits involves more than simply switching over to LED lighting. It requires serious planning that addresses all aspects of a building's energy consumption and interior comfort.
Time is of the essence if global reduction goals are to be met. Some major U.S. cities aren't waiting for property owners to reduce emissions on their own schedule. If they don't act soon, there will be a tax to pay.
For example, beginning in 2024, New York City will penalize buildings over 25,000 square feet if they fail to meet energy efficiency and GHG limits. The limits and penalties will increase in 2030 and 2035, with the objective of reducing emissions from large buildings by 40 per cent by 2040 and 80 per cent by 2050.
For a city the size of New York, that's a lot of buildings, some 60,000 in total. Furthermore, an estimated 70 per cent of these buildings use natural gas for heating, a major source of carbon emissions.
One obvious pathway to reducing a building's carbon emissions is to change to electricity. However, that's easier said than done in many instances. Furthermore, it's not clear if the city's electrical grid is ready for a mass transition to electric heating in the short term.
There may be an answer – Carbon Capture for Underground Storage or CCUS.
CCUS technology has been around for 50 years and is seen as an integral part of overall global CO2 emission reduction plans. The process involves removing carbon dioxide before it enters the atmosphere and either storing it underground or using it for industrial purposes.
Only 21 CCUS commercial projects exist today, according to the International Energy Agency. They are limited to large-scale plants with massive air contactor systems and giant fans. However, innovation is spurring carbon capture systems on a smaller affordable scale.
One such development comes from a company called CarbonQuest. The company's carbon capture equipment has been specifically designed for capturing CO2 emissions from large individual buildings.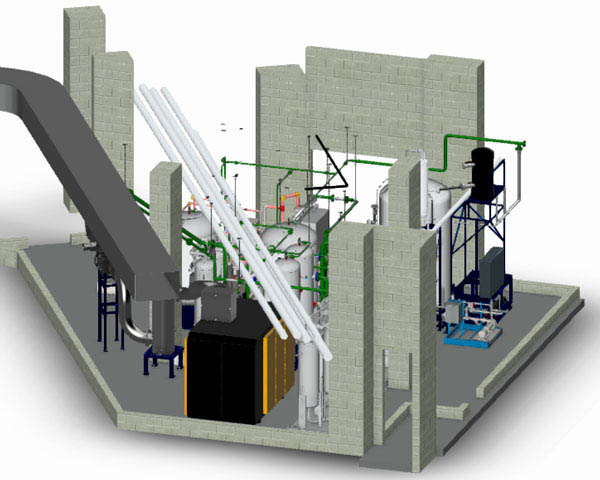 CarbonQuest is a three-year old company originally based in the U.S. Pacific Northwest with offices now in New York City. As reported in the Spokane Journal, some of its founders had earlier developed Demand Energy Inc., an energy storage company holding contracts with New York real estate developer, owner and manager Glenwood Management. 
Glenwood owns several luxury apartment buildings including the Grand Tier, an upscale residence overlooking Central Park. Glenwood recently installed CarbonQuest's CCUS system, a step deemed necessary in the face of New York City carbon penalties estimated at $97,630 annually between 2024 and 2029 and $368,812 annually between 2030 and 2034. Carbon emissions associated with the building's use of natural gas are now expected to be reduced by 60 to 70 per cent.
"Onsite carbon capture is a solution that dramatically reduces emissions now, without waiting for the 100 per cent clean grid," Josh London, senior vice-president at Glenwood, said in a media release. "It is an exciting and crucial addition to other measures we are undertaking to reduce emissions in our buildings. Carbon capture systems could act as a bridge technology that moves the needle further on real estate decarbonization while the country and world transition to a lower-carbon economy with more renewable energy."
CarbonQuest's system will be installed in Grand Tier's basement, occupying the equivalent space of three parking spots and will operate continuously and autonomously without tenant disruption under CarbonQuest's management. CarbonQuest will also sell the liquefied CO2 to a Brooklyn-based manufacturer of concrete blocks that utilizes the captured carbon processes of Canada's CarbonCure Technology.
CarbonQuest is working with several other NYC property owners requiring near-term carbon reduction solutions.
John Bleasby is a Coldwater, Ont.-based freelance writer. Send comments and Inside Innovation column ideas to editor@dailycommercialnews.com.