The Associated General Contractors of California (AGC of California) recently announced the winners of its annual constructor and achievement awards.
The awards were made at the AGC of California's black-tie installation and awards gala at the Hotel Fairmont San Francisco. Some 600 guests were on hand to honor the best in the state's construction industry in 2022.
Dina Kimble, 2022-2023 AGC of California State Board president, said in an announcement, "Every year, AGC of California celebrates the construction industry's innovators who are leading the way in building our state. This year, we recognize a diverse group of people and projects that represent how many facets of California life construction affects."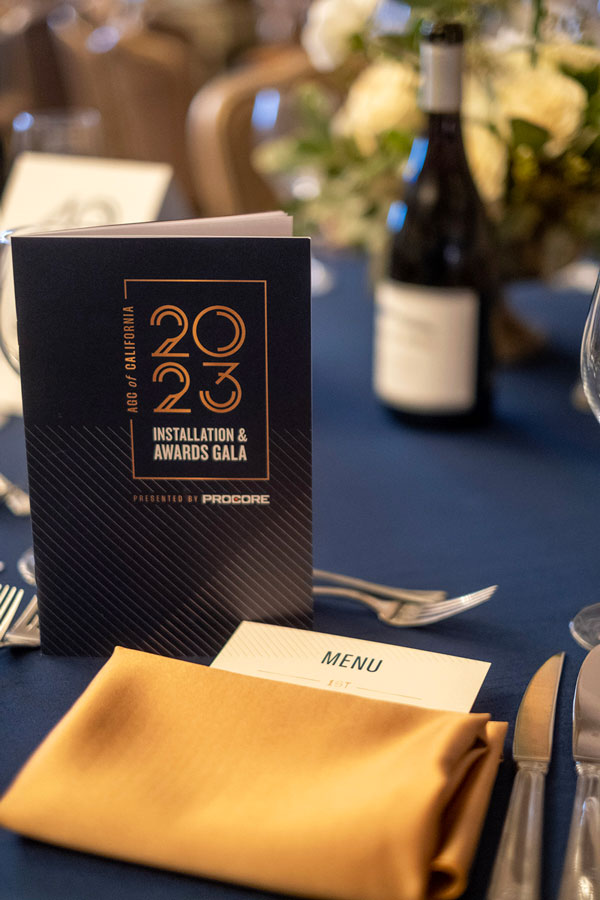 The awards are in two categories: Constructor Awards and Achievement Awards.
The Constructor Awards program recognizes members' achievements for their skill, unique undertakings and ability to address the most difficult challenges contractors encounter during project development.
Each winner in a category receives a Constructor Award sculpture.
The Achievement Awards honor individuals for outstanding contributions to the construction industry.
The Construction Education Friend Award recognizes individuals who make outstanding contributions to construction education efforts and the development of the future construction workforce.
The awards have been made since 1988.
Peter Tateishi, chief executive officer of AGC of California, said in an announcement, "This year's award recipients represent the diverse ways that people and the projects they build contribute to our communities. Each of our winners reflects the ingenuity and originality that the construction industry needs to build a brighter future for the state of California."
AGC of California's 2023 Constructor Awards
Specialty Under $10 Million – Caliagua Inc., AMC: Site Work and Rail Systems Project.
Specialty $10 Million and Over – Royal Electric Company, SFO Runway 10L-28R.
Heavy Civil $15 Million and Under – Granite Construction Company, Highway 101 Multi-Use Path Over-crossing at Adobe Creek.
Heavy Civil $15 Million to $100 Million – Flatiron Construction, State Route 710 Freeway Widening and Rehabilitation.
Heavy Civil $100 Million and Over – Skanska, Regional Connector Transit Project.
Builder $15 Million to $75 Million – Otto Construction, Stanislaus State Vasché Library Renovation.
Builder $75 Million to $200 Million – Hensel Phelps, LAX Airport Police Facility.
Builder $200 Million and Over – Turner Construction Company, New Natural Resources Headquarters.
Excellence in Partnering – Granite Construction Company, State Route 99 Cosumnes Bridge Replacement Project.
AGC of California's 2023 Achievement Awards
Harry Eckstein Safety Professional of the Year Award – Tod Decker, Blois Construction Inc.
S.I.R. Achievement Award (Skill, Integrity & Responsibility) – Jose Mejia, California State Council of Laborers (Retired)
Construction Education Friend Award – Emiliano Sanchez, Oakland Unified School District.
Associate Achievement Award – Dr. Giovanna Brasfield, Brasfield and Associates.
Specialty Contractor Achievement Award – Nataline Lomedico, Giroux Glass Inc.
Contractor Achievement Award – Dan McGrew, Griffith Company (Retired)
Tateishi says there were approximately 40 award nominations this year, which went through a preliminary round of judging before making it to the final round.
Finalist judges were Erwin Villegas, chair of the awards committee (Frank Schipper Construction Company); Bert Somers (Ferrovial Construction US Corporation); Terrence McNamara (Teichert Construction); Chris Handley (Tullis Inc.); Ural Yal (Flatiron Construction); Matt Seals (Seals Construction Inc.); Jim Blois (Blois Construction Inc.); Greg Timmerman (ISEC Inc.); and Randy Iwaski (Amazon Web Services).
The winners of the AGC of California awards are eligible to compete for AGC of America's Build America Awards, which will be announced at the National Convention in March in Las Vegas, Nev.
"Our award winners will compete against other projects from across the country within the AGC family," said Tateishi.
Nominations for 2024 awards will be open in June. Deadline for nominations is September.
For more information and details about the 2023 Constructor Awards and Achievement Awards click here.