Every year students at an inner-city high school in the south Bronx build a full-sized house in the school's former gymnasium.
It is part of the curriculum at the Bronx Design and Construction Academy (BDCA), a trade school within the Alfred E. Smith Career and Technical High School.  
While public high school trade programs are not new in New York City, the BDCA is the only one to teach five primary building construction trades: carpentry, plumbing, electrical, HVAC and architectural drafting/pre-engineering. It also offers a four-year architectural design program.
Architecture students design the 1,000-square-foot house and the carpentry class uses their design drawings to frame and complete the wood structure, explains Scott Pagan, electrical instructor at the Bronx academy. 
"Electrical (students) then service it, plumbing then does a full-size bathroom and HVAC installs heating and ventilation."
The house, which is taken down at the end of each school year and reconstructed the next year, is designed and constructed to meet New York City's building code, one of the most stringent in the U.S. 
"One year we even had it appraised at $365,000, if it was out on the street," says Pagan, noting many of his students go on to jobs as apprentices in the unionized building sector in New York.
Founded in 2011, the academy is a four-year career and technical education (CTE) public school within the New York City Department of Education. CTE students are required to complete academic and trade courses to meet high school graduation standards for admission to college.
"It's challenging because it is intensive," Pagan says, pointing out along with meeting their academic obligations the students are immersed in well over 600 hours of one of the five trades.
"They have very little room for error to fall behind."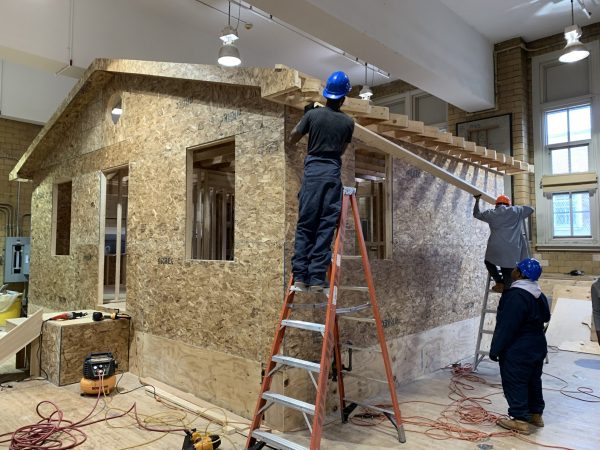 Jeffrey Smalls, president of Brooklyn-based Smalls Electrical Construction Inc., one of the BDCA's founders and an industry partner, calls the academy one of the leaders among high school trade programs in the city.
"It is impressive to see 17 and 18-year-olds constructing a home that meets city code."
Noting it is in the poorest Congressional District in the U.S., Smalls says the school offers young and sometimes disenfranchised people an opportunity to build a foundation for a successful career.
"What I love to see are youngsters who had no idea about this industry, give it a shot and find out it is something they are really passionate about and they become successful tradespeople in New York City."
Smalls has hired more than half a dozen graduates from the Bronx academy over the years. He says he has not been disappointed in their work.
"I think a lot of that has to do with the mentorship (for hard and soft skills) they get from the instructors in their shop classes. They are prepared for the industry."
The timing to learn a trade couldn't be better in New York because the city is experiencing a pressing shortage of skilled people in many building trades, says Pagan.
"Most contractors are hiring but they can't find qualified people," adds Smalls, who started training as an electrician at a high school in Brooklyn when he was 14.
Instructors at the Bronx academy keep the curriculum up-to-date so their graduates will be prepared to work in today's construction environment, says Smalls, whose company does a multimillion-dollar business annually in New York.
He says as an example, students in electrical are taught theory and practical for wiring and making connections by hand for closed circuit security monitoring systems commonly installed on construction sites today.
"Because of what they learn at Bronx Design, they often know more than the average journeyperson in the field does."
Graduates in the electrical program are credited with two years of work experience at such employers as the city's mass transportation authority and they receive two years of work experience towards a New York Master Electrician's License, says Pagan.
"A lot of our (electrical) students get jobs at the New York City transit system, with the construction unions and some work for UPS as electricians." 
Others, Pagan says, go onto college majoring in programs such as construction management or electrical engineering.
As for the academy's future direction, he says plans are in the works for a student project outdoors on school property.
"We'd like to incorporate more sustainable construction, something the school can benefit from as well as the community."