The creation of physical objects using 3D printing was invented in the 1980s.
However, it wasn't until the early 2000s that the technology began to capture the world's imagination. Since then, the question has been, "How big can we go?"
The answer may be, "As big as house or even larger."
One of the more promising announcements comes from Florida-based Lennar Corporation, a leading U.S. homebuilder with revenues over $27 billion in 2021. Lennar has teamed up with ICON, a pioneer of advanced large-scale 3D printing. Together, the construction of 3D built houses is nearing completion in the Wolf Ranch master planned community north of Austin, Texas.
Each of the 100 homes will be built entirely by 3D concrete printers. Prices start in the mid-$400,000s.
The proposed designs, available in eight different floorplans from 1,574 to 2,110 square feet, look nothing like some of the rudimentary 3D concrete homes seen in recent years.
"Blending contemporary Texas ranch-style esthetics, the community of 3D-printed homes features elevated architectural and energy-efficient designs that highlight the benefits of resiliency and sustainability with the digital possibilities of additive construction," ICON said in a November 2022 media release.
"For the first time in the history of the world, what we're witnessing here is a fleet of robots building an entire community of homes," said ICON founder and CEO Jason Ballard.
While the world waits for construction to take shape, not all design and building experts share Lennar and ICON's level of enthusiasm.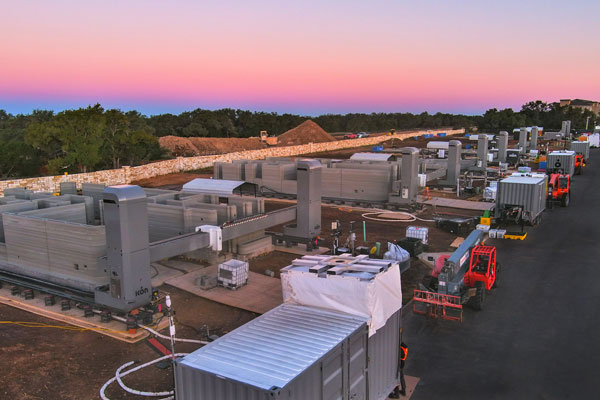 Former architectural designer and current managing editor of Dwell Magazine, Jack Balderrama Morley, admits the attraction of 3D printed buildings looms large in the imagination of the public.
"The pictures look nice, and 3D printing naturally has a futuristic aura out of 'The Jetsons' or 'Star Trek.'"
However, creating smaller pieces that might be part of an overall assembly like a car or machine is one thing. Using 3D's extrusion or excretion technique to create a full-sized house or larger building is another, in Morley's opinion. They described the 3D buildings they've seen as, "basically dumb printed boxes with traditional bric-a-brac tacked on. It's still not clear if the technology is going to save the world or be another decorative footnote of architectural history."
Morley references buildings created by Chinese 3D leader WinSun. They might look habitable, they say, but aren't really that attractive, "unless you have a thing for creepy-cave chic."
Despite Morley's harsh critique, 3D printed buildings have attracted the attention of wealthy countries in the Middle East like Dubai. There, WinSun has created what is being called the world's first printed office building, although it appears to be a series of disconnected, single-storey pods.
NASA might have the best idea. It's sponsoring a contest for 3D printed domes to be created from Martian ice when habitation of the red planet becomes more feasible. Morley points out using native material on another planet would eliminate multiple transportation and logistical issues.
Back on our planet, 3D printed buildings for larger commercial purposes face more earthly challenges.
In a recent interview, Patti Harburg-Petrich of U.K.-based engineering firm Buro Happold's Los Angeles office, said building code approvals are the biggest hurdle. 
She cited the fire, water and structural testing the 3D material had to undergo when she was working on a building project in Oakland, Calif. Similar issues confronted engineers entered in the annual U.S. Department of Energy Solar Decathlon competition at Woodbury University in Burbank, Calif. Building department officials stood in the way of approvals because horizontal rebar was not incorporated into the design, as per code requirements.
Codes are for safety, which is a good thing of course. However, innovations like 3D printed buildings will likely confront and confound local building codes, adding to the time and expense of the project.
Mass timber construction went through the same learning process, Harburg-Petrich said.
"It's something that resolves with time."
John Bleasby is a Coldwater, Ont.-based freelance writer. Send comments and Inside Innovation column ideas to editor@dailycommercialnews.com