Surprising as it may seem, drywall tapers in Illinois take home more pay than other skilled trades such as carpenters, but they also top the wages of people working in management positions in the homebuilding sector in the state.
It is one of the findings of a report titled The Best-Paying Jobs in Homebuilding, published by Fixr.com, a home improvement resource that connects homeowners with professionals by providing cost information and industry related news. 
The report, which identifies the top 20 paying occupations in several job class categories across the U.S., is based on data from Occupational Employment and Wage Statistics, recently released by the U.S. Bureau of Labor Statistics, says Fixr's Charlotte Granville, author of the report and a home remodeling specialist.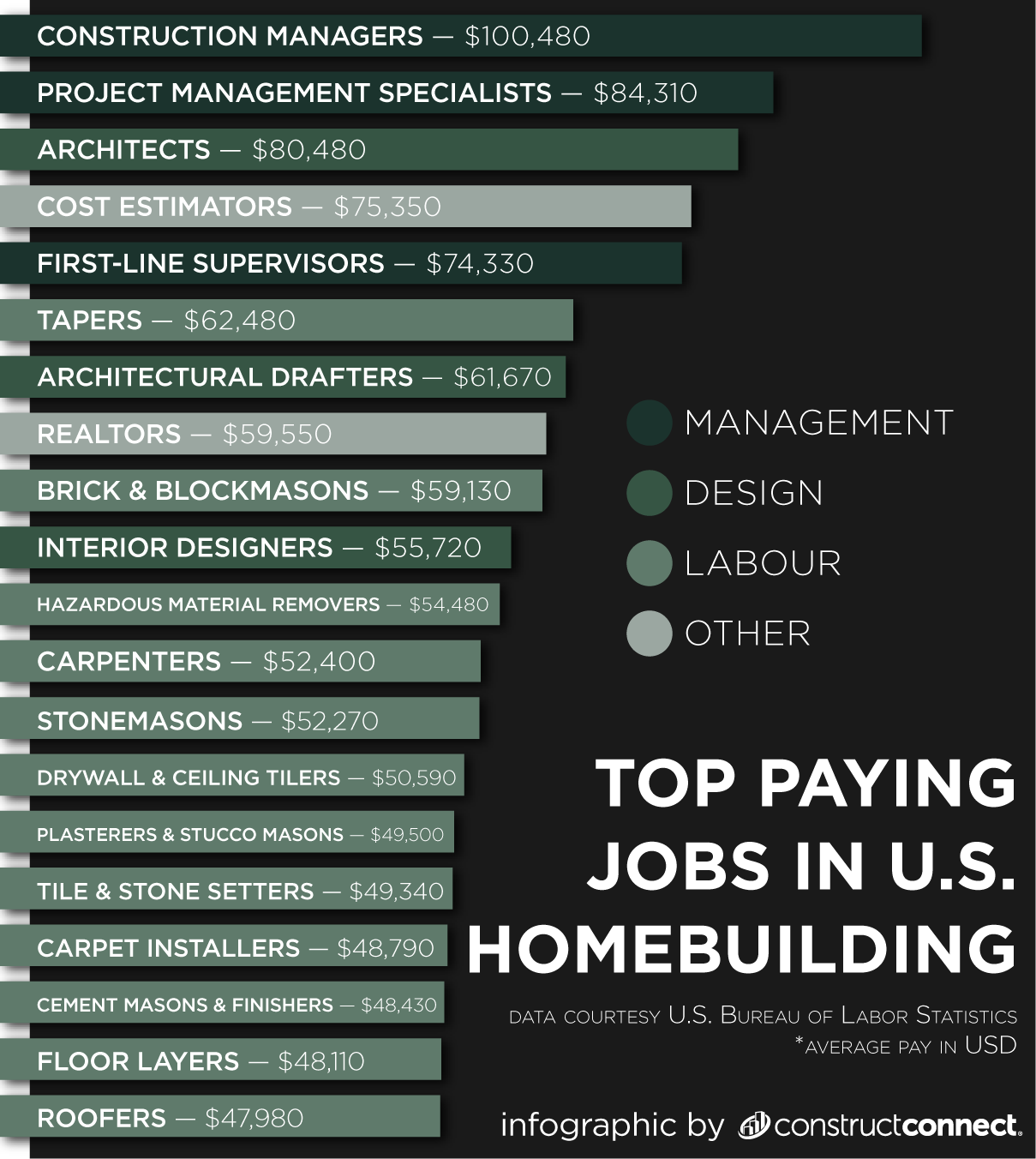 The report is broken down into four job categories:  management, design, onsite labor (trades) and other, which includes cost estimators and realtors. Fixr includes a map in its report showing the locations of the best-paying jobs, state-by-state.
In the trades category, tapers were the highest paid, averaging $62,480 a year while brick and block masons were close behind at $59,130 across the U.S. Hazardous waste removal workers came in third at more than $54,000, about $2,000 more annually than carpenters who placed fourth in Fixr's report. 
At the bottom of the top 20 occupations and in the trades category are floor layers at $48,110 and roofers at $47,980.
Fixr gathered the latest data and extracted annual median salaries of the most relevant occupations in the homebuilding industry this year, says Granville, adding the report also breaks down variations in salaries for each occupation across the U.S.
The best-paying region for construction managers is the northeast, with New Jersey averaging $138,000 annually. While most states in the region were close behind, Alaska was the second highest paid in the U.S. at only $3,000 less annually than New Jersey.
Overall, construction managers were first on Fixr's top 20 list, coming in just over $100,000 across the U.S.
Granville says it was surprising to see construction managers have a higher annual salary than architects in every U.S. state except Mississippi. Although construction managers do not require as much education or training as architects, their salaries are almost $20,000 more annually on average in the country.
After construction managers in its job category are project managers who average more than $84,000 annually. They are best paid in New Mexico, Alabama and Georgia, making the southern regions the most lucrative for the occupation, Granville says.  
In the design category, behind architects are draftspersons at $61,670 and interior designers at $55,720.
By analyzing the geographical data provided, Fixr calculated the highest annual median salaries in the homebuilding industry in each state, she explains. Variations in wages were identified for the same occupations throughout the U.S., which were then compared to the median household income of the respective states in order to determine the extent of the fluctuations despite this factor. 
As a case in point, construction managers in New Jersey earn 71.5 per cent more than in Tennessee, even though the median household income in New Jersey is only 53 per cent higher than Tennessee. 
In another category Fixr has cost estimators at $75,350 and realtors at $59,550, but real estate brokers in Washington, D.C., were the highest paid occupation in homebuilding across the U.S., making an average $180,470, more than double D.C.'s average median household income.
Fixr.com was founded in 2008 to eliminate frustrations in home renovations. It has published several reports on best-paying jobs in homebuilding in the past and it offers more than 700 cost guides and articles with ballpark figures on improvement costs for all types of residential renovations.