It was the first planned regional shopping center in the world and now it will be restored, with a few twists, to its former glory.
Northland Center in suburban Detroit opened in 1954, a new concept in shopping that drew retail attention from the world over.
"Retailers came from Europe to see it because nobody had seen anything like that on such a vast scale," said Bruce Kopytek, chief architect with Contour Companies, which is redesigning the 159-acre site, now in its second year of reconstruction.
The original open air shopping center, which eventually was turned into a mall, was significant in a number of ways. Besides an entirely new concept in retailing, it marked the beginning of the suburbanization of post-Second World War America and, in Detroit, the depopulation of the city center to the vast suburban municipalities that surround it, contributing to urban blight and from the 1960s, white flight.
Kopytek, a Detroit native and student of some of the great North American retail empires, said there had been shopping centers of a type, pre-war.
"But they were hybrids," short stubby strip centers, he said.
Northland uniquely came together because of the vision of the owners of one of America's greatest department stores, J. L. Hudson, which dominated downtown Detroit for decades with its 25-storey retail showcase, the one-time world's tallest department store.
The owners, by happenstance, met architect Victor Gruen, the "father of the modern shopping mall," a refugee from Nazi Germany, who pitched the idea of a shopping complex that would be a "cultural, social and service center."
The focal point would be the department store itself, replicating in part the vast downtown building with its famed red Norman brick. Individual retail shops under canopies would spread out from it with an outdoor parklike mall of walkways, planters and benches.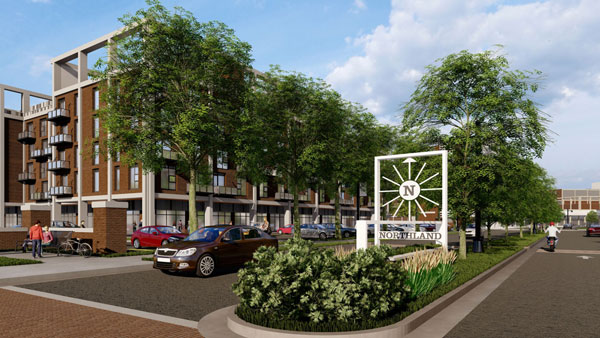 That space would eventually be enclosed.
According to Kopytek, who has written a 550-page book on the history of J. L. Hudson Co., Gruen wanted to replicate a European town market.
"They called it a market square where pedestrians would walk along lanes and go past storefronts and shop."
For decades Northland was metropolitan Detroit's leading suburban shopping mecca.
It was located in the city of Southfield, a first ring suburb bordering the northwest border of Detroit itself.
Three other shopping centers with similar geographic names — Eastland, Westland and Southland – would also eventually be built. By the 1970s, Northland was converted to an indoor mall, losing much of its "mid-century modern" outdoor features, Kopytek said. And by the 1980s and '90s, because of further suburban expansion, traditional retail decline and crime, the mall diminished in importance and eventually closed in 2015.
Kopytek's Contour Companies bought the site in 2021, complete with 7,500 parking spaces that surrounded the buildings.
It was "vacant, bankrupt, vandalized, derelict in the worst possible way" including where a pack of coyotes lived, he said.
Contour began the process of rehabilitation and finding new tenants.
What Kopytek's firm came up with was a refreshed vision of that original town square model but with a mix of residential and retail, almost a small city or village.
Fourteen five-storey apartment buildings would be constructed where the vast parking lot used to be, surrounding a refurbished Hudson building and the original mid-century outdoor mall. Around it would be a "series of nicely landscaped boulevards, obviously very walkable, so that we could almost put (Victor Gruen's) original vision back in place," he said.
There will eventually be 1,500 apartments and some 2,500 residents, creating a "hopping downstairs" proximity to retail, entertainment and dining, parks and walking trails.
One corner of the site has been sold to Costco Wholesale, which is building a 160,000-square-foot Costco Business Center.
The mall centerpiece, the original 500,000-square-foot Hudson store, is being rebuilt as a kind of "marketplace" with national retailers, individual vendors and restaurants.
The original Hudson store was designed in a "racetrack" format so Kopytek suggested it could be converted into a food hall "on either side with different food vendors."
A lower gourmet market could open to the outdoors. The signature red Norman brick and terracotta cladding will be preserved. The development is being called Northland City Center or, as a promotional pamphlet calls it, a "city within a city."
As well, a tentative boutique hotel on the Hudson's third-floor roof would provide ample views of downtown Detroit in one direction and the northern suburbs in another.
Apartments would be "market range," Kopytek said, and would provide contemporary amenities.
"The esthetic goal is to make the (one time) shopping center area look very much like it did in 1954," Kopytek said. "The only thing we've toned down is anything that was not original to Gruen's vision."
As Northland City Center's pamphlet says, the development "will allow Northland to once again be a prime destination for living, laughing and enjoying life."