One of Detroit's last remaining derelict skyscrapers is undergoing a $75 million conversion.
The United Artists building, so named because it was attached to a movie palace by the same name, is being converted from its original office use to the city's latest residential skyscraper as the demand for downtown living continues in Detroit as in many other cities.
The almost 100-year-old 18 storey building was designed by famed Detroit theatre architect C. Howard Crane but has sat empty since the 1970s on the northwestern edge of the central business district almost beside the Grand Circus Park rotary.
"For nearly half a century, the United Artists Building has been one of our city's iconic images of blight and abandonment," Detroit Mayor Mike Duggan said when the project was first announced.
But a Detroit-based group of African American businessmen, many who have independent experience in realms such as development, construction and financing, came together under the umbrella Bagley Development Group, sought public and private financing, and is finishing construction with a move-in date of first quarter 2024.
Called The Residences @ 150 Bagley (the name of the street) the tower will see 148 units, 20 per cent described as affordable, along with restaurants and retail on the ground floor. It also marks another rehabilitated building in the so-called The District Detroit, a vast area encompassing several towers and sports stadiums and being redeveloped by the Ilitch family, owners of the Detroit Red Wings and Detroit Tigers. Bagley has a 70-year lease from Ilitch.
Bagley managing partner Emmett Moten said the theatre was too far gone to be saved and had to be demolished to secure financing.
"For a building idle like the theatre sitting there, deteriorating, they would not place a $43 million mortgage," he said.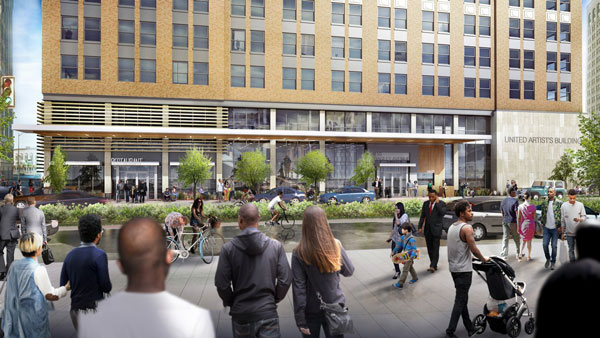 For Moten, who has been involved in redeveloping other downtown buildings like the award-winning Fort Shelby Hotel and Residences, finding new uses for derelict buildings is part of his group's commitment to the city.
"We've known one another for years and we have a lot of respect for one another," the businessman said. "So, let's do something constructive in our community that would be beneficial in the downtown area of Detroit."
Moten said the building had good bones and therefore easily converted floorplates from offices to apartments with "high end" finishes.
But he stressed having the right team in place, including contractors and architects – in this case Detroit's Brinker/Christman and Ann Arbor's Hobbs + Black respectively – is important.
"You have to have a good strong architectural team, a good contractor who's been through this and understands buildings like this, because you may get in the situation where 'I've never seen this before,' so you're not learning, you have experience with you," Moten said.
Detroit may have gone through harder social and economic times than other cities over the last several decades with its downtown virtually emptying out and rotting skyscrapers the focus of photographers' "ruin porn." But other circumstances are similar.
Moten said many cities are now converting offices to residential. But that doesn't mean downtown has disappeared.
"Our downtown is effectively dramatically different than what it was in 1980 – totally different – but it's still downtown Detroit," he said.
Now the demand is residential, hotel and hospitality.
He said nostalgia for the CBD of old with lots of white collar and retail won't bring that back.
"So either you sit there on your hands or you do something about it."