It may be hard for an outsider to believe, given the city's modern legacy of crime and blight, but for three years in a row, USA Today has named Detroit's RiverWalk as the best urban riverfront in America.
And, this fall, work was completed on the trail's critical east end, long an industrial wasteland that has otherwise imposed numerous development complexities.
That leaves two miles along the river's western downtown core, where work is already underway, to knit up a continuous pathway almost bookended by two bridges – the well-known Ambassador Bridge between Windsor, Ont. and Detroit, and the MacArthur Bridge, connecting Detroit's mainland to the city's 1,000-acre island civic park, Belle Isle, designed by Frederick Law Olmsted.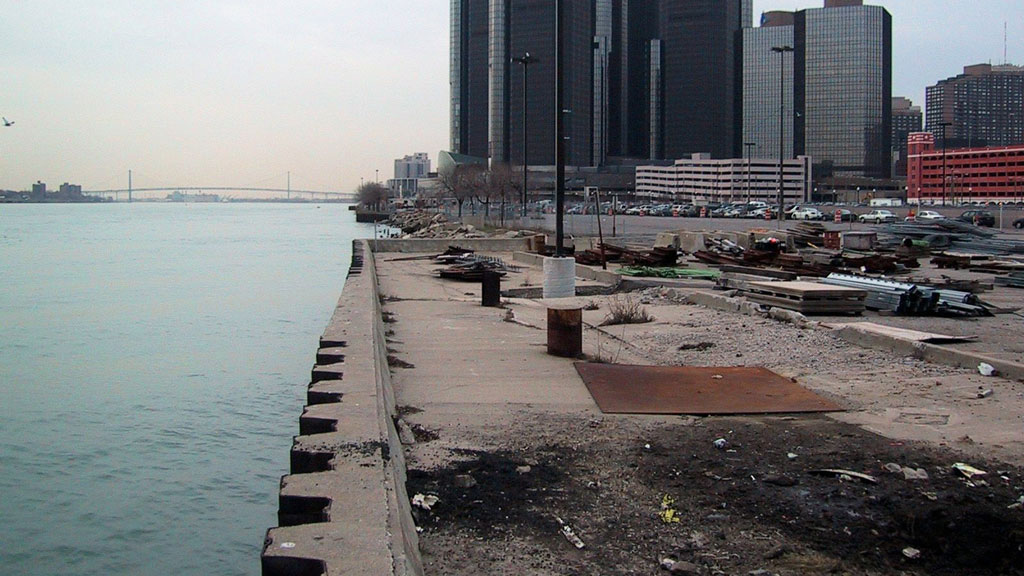 And speaking of Windsor, the nicknamed Rose City was a major influence on its American neighbors across the way. Since the 1950s Windsor has had the foresight to reclaim almost 10 kilometres of waterfront as contiguous parks, long before most other cities launched similar initiatives.
"We would look across the river," Detroit Riverfront Conservancy spokesman Marc Pasco said. "In Windsor they have a great riverfront."
There have been numerous attempts to revive Detroit's city centre in the wake of the city's notorious race riots of the late 1960s, some successful others not. But the RiverWalk is without question a major coup.
While the RiverWalk officially is a linear pathway beside the river, the term broadly incorporates a network of urban trails, also mostly new, that connect various long vibrant established neighborhoods and pedestrian corridors to the river and that are managed by the conservancy.
How did it come about?
Detroit may have the appearance of being economically destitute. But it is still a major manufacturing hub. Michigan is home to several Fortune 500 companies and the region has a well-honed history of philanthropic old money and charitable foundations coming together to improve civic life.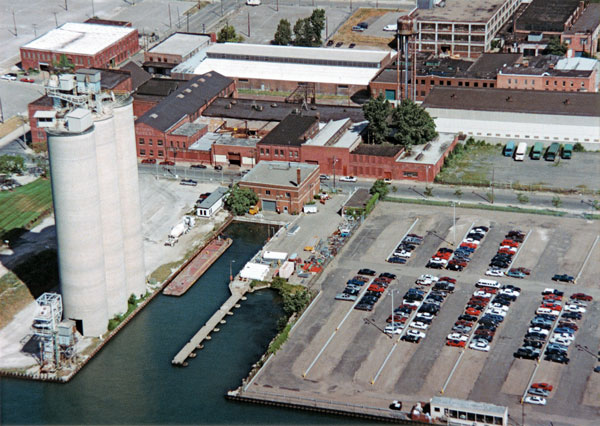 That, and a resurgence in public financing over the past 20 years, has seen some $300 million pumped into this people place, which Pasco says has generated $2 billion in investment like new residential and commercial.
"In 2003, I think that's when the planets really kind of aligned and we had that momentum and the people in place and the funding in place to be able to start transforming our riverfront," he said.
Specifically, three groups – General Motors, which symbolically also has its headquarters in the 73-storey Renaissance Center immediately along the river, the home-based Kresge Foundation, and the City of Detroit, launched RiverWalk.
The just completed eastern end is called the Uniroyal Promenade, named after a vast former Uniroyal tire manufacturing plant that once occupied 40 acres of land. The site has bedevilled numerous would-be private developers, including Detroit native and former Pittsburgh Steeler Jerome Bettis, because of its complexities from an environmental standpoint. But the city luckily purchased its portion decades ago and therefore could proceed rather seamlessly.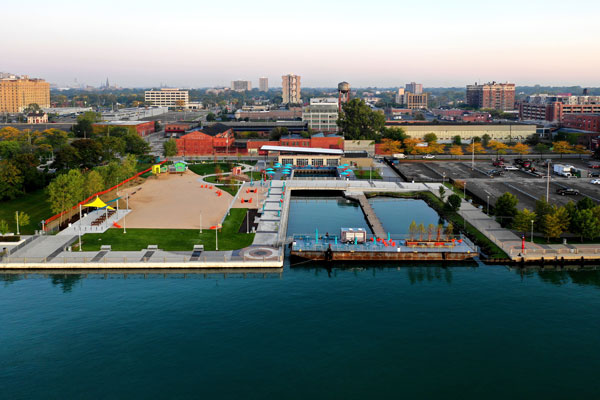 "That stretch of the RiverWalk has been cleaned up and we actually worked with the EPA to remediate the soil and water," Pasco said.
The pedestrian-cycling path varies in width depending on how much it's hemmed in by abutting private property. But street furniture, light standards, security call boxes and a marine themed railing are consistent.
RiverWalk is not just a trail but a pathway that links numerous parks. Think of them as islands along the route. Some are long established parks refreshed, others are new. Three share some designs like tensile tent structures and blue buildings.
Commercial and entertainment nodes are also connected, like downtown's Hart Plaza, the east river's vast Stroh River Place, Roberts Riverwalk Hotel and the Aretha Franklin Amphitheater.
Linked to these are an impressive new variety of inland trails, the oldest being the Dequindre Cut, a subsurface purposed graffiti-washed canyon which once housed Grand Trunk Railway tracks, leading to the city's vibrant Eastern Market. Newer ones are the Dennis Archer and Southwest Greenway, connecting respectively to east side neighborhoods and the revitalized west side Ford Motor mobility campus and the city's Hispanic neighborhood.
The final phase is still under construction. Ralph C. Wilson Jr. Centennial Park, between downtown and the Ambassador Bridge, is being imagined as a major urban events space.