Publish a Certificate or Notice
You can now submit and pay for certificates and notices with our online tool that promotes higher accuracy and faster time to publication. Click on the appropriate form below to begin.
In Ontario
Form
Online
(Fastest processing)
Alternative
Outside Ontario?
See the Outside Ontario submission page. Not sure which form to use? Let us help!
NEW! Submit your CSP online for fastest processing.
No more printing, scanning or faxing. Secure and convenient forms.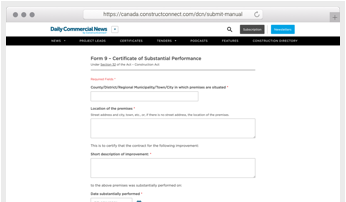 Step 1.
Submit your form
Submit your form online for fastest processing. Alternatively, email it to:
dcncertificates@constructconnect.com or fax it to: 1-800-947-7966 (please include cover sheet). For assistance, call 905-752-5516.
Step 2.
Confirmation email
Our team will review the content submitted for quality assurance, and will reach out to you if there are any questions. You will receive an email confirming your order as we approve the content for publication.
Step 3.
Certificate/Notice published
Your certificate or notice will be published in the DCN's digital newspaper and website. You will receive an email shortly after publication with links to your Proof of Publication and your online ad.
---
Frequently Asked Questions
How long will it take to publish my certificate or notice?
If your ad is received at our office by 11:59 a.m. EST Monday through Friday (excluding holidays), it will be published 2 business days later, as long as all the required content has been provided and your account is in good standing.
What are the benefits of submitting my certificate or notice online?
By submitting your certificate or notice online, you can review the content prior to submitting, ensuring that there are no errors. Additionally, you will be prompted if you forget to enter any mandatory information, adding another layer of protection. These factors enable us to approve and publish your ad faster. You will now also get your Proof of Publication electronically, which means you can file your paperwork and fulfill your obligations under the Construction Act sooner.
How much will it cost to publish my certificate or notice?
All certificates and notices published in our newspaper are a flat fee of $300 (plus tax). Special Affinity Pricing of $200 per certificate is available to all ConstructConnect subscribers and members of the Toronto, Hamilton, Barrie, Thunder Bay and Sault Ste. Marie construction associations. If you are an existing customer or affinity member, please reference this offer at the time of order placement.
---
Disclaimer
Those placing certificates or notices are responsible for ensuring the Daily Commercial News' receipt, whether by fax or otherwise, of all necessary information and for reviewing the Daily Commercial News upon publication for any errors or omissions and advising the Daily Commercial News at once. The Daily Commercial News will make good any errors or omissions attributable to it in the next available issue but will otherwise bear no liability whatsoever for any error or omission, including failure to publish any certificate or notice, however caused and even if arising from the Daily Commercial News' own negligence.