Design Build Research (DBR) is a Vancouver-based not-for-profit institute that is based, it says, on the premise that every child in sixth grade knows how to draw and build.
DBR was formed in 2014 when three Vancouverites – architect Michael Green, structural engineer Eric Karsh and social entrepreneur Scott Hawthorn – put their heads together and came up with a plan for enabling young and would-be designers to put their ideas into action.
"By Grade 10, only half of the students in a class will raise their hand and say they have those skills," said Green. "By Grade 12, only a small handful feel they have the art and design skills, and talent, to pursue a design career."
DBR's goal is to enable young people to develop their inherent skills and put them into practice in design and other professions when they get older.
"We believe design skills lead to design thinking in other professions," said Green.
Course instruction is led by the directors and staff of DBR, members of Michael Green Architecture, DBR alumni, industry guest experts and tradespeople.
Since it was founded, DBR has put through about 250 Vancouver-area students in several intakes per year. 
Some of the students are high-school age, but most have been in university or are recent graduates.
They get hands-on experience designing and building local projects, learning how to use high-tech design and wood engineering equipment safely.
"In the future, we intend to open our institute to kids from Grade 6 and up through to intern architects, practicing designers and architects and, ultimately, retired designers, builders and architects," said Green. "We hope they will help us mentor and teach a next generation of hands-on and socially-vested young designers."
Green says design professions have a tradition of passing on skills from generation to generation.
"DBR was founded to champion that tradition in a new model of teaching," Green said.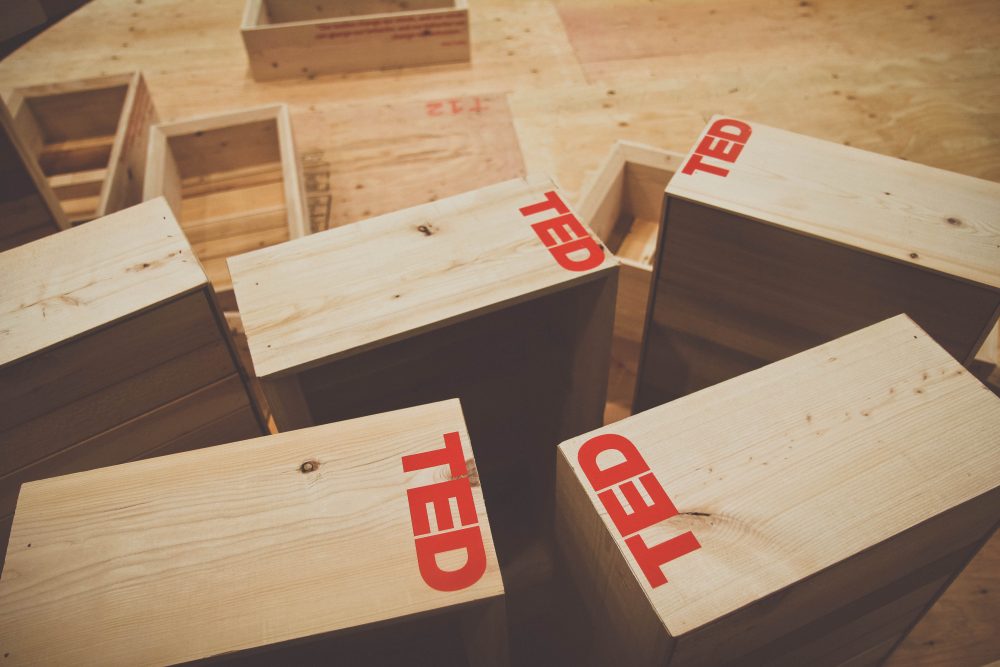 Since 2014, when the main TED (Technology, Entertainment, Design) conference moved to Vancouver from California, DBR has built projects for TED that are put into other uses after the conference.
TED is a media organization that posts talks online for free distribution, under the slogan "ideas worth spreading."
TED's early emphasis on technology and design has broadened to include scientific, cultural and academic topics.
In 2014, for example, 23 architecture and interior design students spent eight weeks designing and building the TED Community Theatre Stage. Using donated wood from B.C. forests, they built 400 planter boxes that were then assembled as building blocks for the stage and backdrop.
After the conference, the planters were donated to school programs and non-profit organizations in Vancouver to encourage growing plants and sharing ideas.
TED PAUSE is a pavilion that was designed as a temporary installation for the TED 2017 conference.
PAUSE began as an international design competition to create a pavilion "that questions the concept of personal space and interaction."
After receiving over 60 submissions from 21 countries, the jury selected a submission from Alsu Sadrieva, a student at the Kazan State University of Architecture and Engineering in Russia.
The PAUSE pavilion was pre-fabricated using cross-laminated timber panels. The structure's roof panels were assembled from dimensional lumber and weatherproofed with shrink wrap.
Approximately 150 stools hang from the walls of the structure. They were cut from Birch plywood with CNC technology and cushioned with either preserved moss or donated wool felt.
In addition to design-build training, DBR has a second arm that focuses on research, by means of global competitions, into using engineered wood products "in building for climate, environment, disaster and global shelter needs."
DBR also recently hatched a third component called TOE, short for Timber Online Education.
"The focus of TOE is online global education," said Green. "World-leading experts in designing wood buildings will discuss in their own languages the full spectrum of issues around designing in wood. Their talks will be translated into 30 different languages."
The talks will be aimed at several different audiences: building owners, regulators and policy authorities, designers, contractors and building material fabricators, the general public and environmental groups.
"TOE is developing courses in all categories," said Green. "It's a start-up that's in the process of scaling up to meet its goals."
TOE is being financed by grants, including a grant from the Ontario government, and private donors.