Industry leaders are calling out the B.C. premier for mixing pipelines with politics.
More than 70 businesses, associations and other stakeholders gathered in downtown Vancouver on April 12 at an event titled Confidence In Canada to announce a joint letter written to Prime Minister Justin Trudeau, British Columbia Premier John Horgan and Alberta Premier Rachel Notley to end the dispute over the Trans Mountain Pipeline Expansion Project.
While Notley and Trudeau have voiced their support for the pipeline, Horgan opposes the project. Kinder Morgan recently suspended all non-essential construction and related spending on the pipeline and said it would halt expansion of the program if legal challenges were not resolved by May 31.
"I think this is a critical 'coming together' of broader stakeholders, not just in the construction industry but also the broader business community and municipalities," said Progressive Contractors Association of Canada president Paul de Jong.
"If special interest groups or political leaders block a process, that simply can't happen. If we can't rely on the rule of law, we don't have democracy."
De Jong added there is a stark difference between the Province of British Columbia's position and that of the rest of the country.
"B.C. is offside on this," he said.
Speakers at the event referred to the ongoing dispute as damaging to Canada's reputation and to confidence in British Columbia and the rest of the country as a safe place to invest.
"At the BC Chamber of Commerce our purpose is to know what's on B.C.'s mind, and I can tell you investment is what is on its mind. Our members are wondering if Canada and B.C. are still sound places to invest," said BC Chamber of Commerce president and CEO Val Litwin.
"They are concerned our reputation as a top tier market to do business in is being demoted, and they wonder if federally approved projects deemed to be in the national interest can really get built."  
Others worried about the cascading effects of the suspension on investment in key industries such as forestry.
"We've had uncertainty around large capital projects, and it's devastating. People have gone through very rigorous multi-year processes; if you get to the end of that and the permission to do it is not worth the paper it's written on, it's a huge problem," stated BC Council of Forest Industries president and CEO Susan Yurkovich. 
"You're seeing hesitation with people putting money here and wondering if this is a place that's really welcoming to new investment. That's a problem for every British Columbian, whether you're a business, a community or a person bringing home a paycheque."
BC Roadbuilders and Heavy Construction Association president Kelly Scott echoed concerns about marketplace uncertainty.
"Our contractors are from all areas, and the international contractors are asking if they should be staying around in Canada, or B.C., and they've been here a long time. Confidence has been shaken and that's what they're looking for," he said. "They've been investing in Canada, our communities have benefitted from that investment, but they're just wondering what the future holds."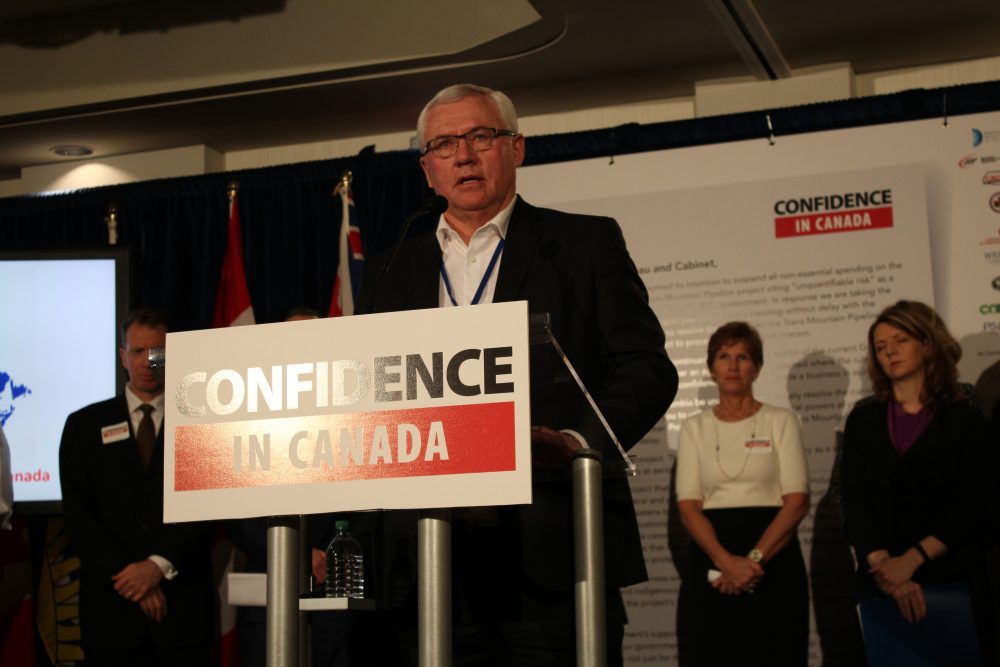 City of Abbotsford Mayor Henry Braun said his municipality is in favour of the pipeline and that the city took a position early on that the pipeline is in the national interest.
"Kinder Morgan has been a great corporate citizen, we had 100 issues and we went through that list and resolved all of them," he said. "We are the largest geographical municipality in the province, Kinder Morgan's line is 29 kilometres in Abbotsford, and our residents by and large feel this is good for our economy."
"Do contracts not mean anything anymore? I get that people are opposed to the decision that was made, but the decision was made following the regulatory processes that we have. We don't get to pick and choose which laws we're going to obey," he added.
"If everyone's going to do what's right in their own eyes, that means we'll have chaos."