WorkSafeBC's Certificate of Recognition (COR™) safety program has been delivering demonstrable results in reducing the number and severity of workplace incidents since it was introduced in 2003. As the Certifying Partner for the construction industry, the BC Construction Safety Alliance (BCCSA) wants to ensure that any evolution to the program is similarly driven by empirical data.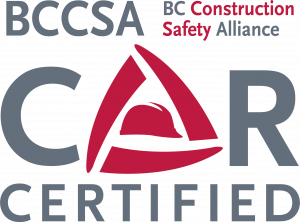 BCCSA's executive director Mike McKenna notes that, although any industry group can seek COR™ certification, the program was developed by the construction industry in Alberta. "It's a third-party audit of a company's health and safety management system," he says. "It ensures that each company is doing what it can to assess hazards and put processes in place to promote safety, instead of simply saying they do."
Employers who achieve COR™ certification are eligible for an annual financial incentive cheque from WorkSafeBC of up to 10 per cent of insurance premiums paid, based on their ability to satisfy auditing requirements. The program has been enthusiastically adopted by BCCSA member companies, but that wasn't quite enough for some members of BCCSA's own board of directors.
"They wanted us to demonstrate through hard numbers how their investment in the program was delivering improved safety," says McKenna.
At the same time, WorkSafeBC sought empirical data that would evaluate the positive impact of COR™. This data also supported the approval of a policy to set the framework for the program.
Dr. Christopher McLeod, an associate professor at UBC specializing in the evaluation of occupational health and safety policies, was tasked with designing research projects to assess the value of COR™. Ongoing research to date shows that COR™-certified firms demonstrated, on average, a 12% decrease in short-term disability, long-term disability and fatality rate between 2003 and 2016 compared to non-certified firms, and an 11% decrease in the serious injury rate.
The evolving studies were carefully designed to ensure that those companies who were achieving better safety records following COR™ certification weren't achieving them simply because they had already developed a strong safety culture.
"While certain aspects of the program might be improved, we see a strong association between companies who do well on third-party COR™ audits and their safety performance," says McLeod.
Chris Back, director, industry & labour services with WorkSafeBC, is responsible for the team that administers the COR™ program. He notes that, while a WorkSafeBC financial incentive encourages employers to participate, the voluntary nature of the COR program is one of its fundamental principles.
"There are other safety management systems under organizations such as the International Standards Organization and the Canadian Standards Association," he says. "We are incorporating aspects of these national and international standards, but we are not adopting them in their entirety. Many employers wouldn't have the capacity or resources to implement those management systems to the full extent. Province-wide, we now have over 4,000 COR™-certified employers focusing on health and safety using a systematic approach. If the program were to become too onerous for employers to manage, the financial incentive won't be enough to encourage them to implement the COR™ program voluntarily."
COR™ was recognized as an approved WorkSafeBC policy in November 2018.
"As a data-driven success, COR™ has demonstrated itself to be a jewel among safety programs," says McKenna. "Like any program, COR™ can be improved, but we advocate for improvements that don't attempt to fix what isn't broken. Any evolution of COR™ should be based on empirical data."
While financial and safety performance incentives drive many employers, so does the pride in achieving certification.
"When we recognize COR™-certified members at our regional contractors' breakfasts, you can see the sense of pride of achievement as they're acknowledged by their peers," says Vernita Hsu, director, COR™ & injury management with BCCSA. "Every company that's recognized wants to share its story with us."
This content is an Industry Special by BCCSA in collaboration with ConstructConnect™ Media. To learn more about BCCSA, visit www.bccsa.ca.