BC municipalities are turning to wood construction and energy efficient design to reduce carbon emissions and boost economic growth.
Climate change and its associated effects may be a global challenge, but BC municipalities are taking action to reduce its impacts at the local level. One way cities and towns across British Columbia are doing this: encouraging low carbon construction using light-frame wood and mass timber, along with high-performance energy-efficient design.
Timber on the rise in BC municipalities
Wood construction is a central component of the Union of BC Municipalities (UBCM) housing strategy for British Columbians. And in the summer of 2020, the City of Vancouver made amendments to allow mass timber construction up to 12 storeys for residential and commercial use, doubling the current height allowance for wood from 6 storeys. As the City points out, "this will make it easier to build with low carbon materials, support housing affordability, and remove barriers for the construction industry at a time of economic recovery."
By far the most economical way of constructing new rental housing is mid-density wood frame development. Wherever practical, government financed initiatives should utilize and showcase BC wood products. This is especially important when it involves less traditional uses for wood, such as taller buildings.
~ UBCM  | Report: A Housing Strategy for British Columbia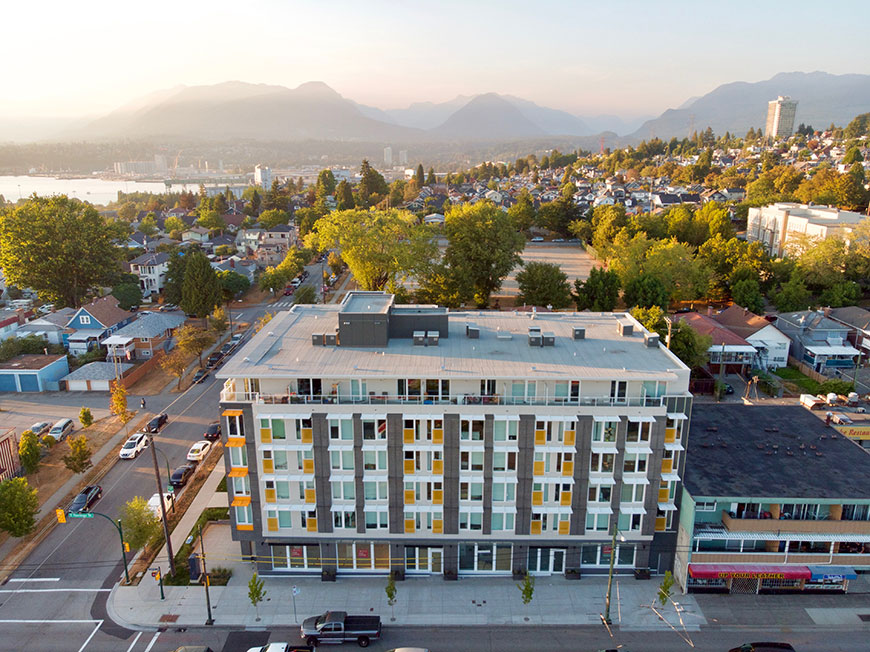 Surrey, the province's fastest-growing city continues to make timber central to its infrastructure expansion and urban design. Along with more than 50 other municipalities, it was an early adopter of the Province's Wood First initiative that recognizes wood's social, environmental and economic benefits and makes it the material of choice for public buildings.
Other municipalities, big and small, are also encouraging more low carbon timber-built construction. More than 370 buildings in the province feature mass timber and thirteen BC communities have signed on as early adopters of mass timber for taller wood building.
At the provincial level, mass timber is being encouraged as part of its capital construction programs and the expansion or replacement of public facilities such as the Royal BC Museum and BCIT's student housing project.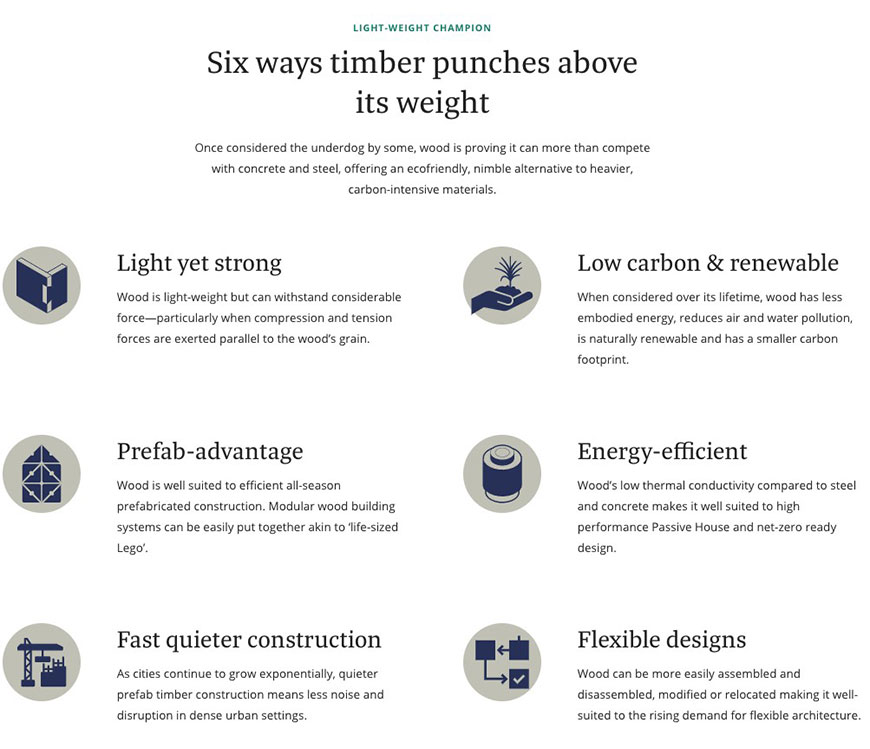 Reducing carbon emissions with the help of sustainable forest management
Municipalities have the power to impact roughly half of Canada's total greenhouse gas (GHG) emissions. From schools and health facilities to public infrastructure and housing, building more and taller with wood in BC can play an important role. Wood construction, when paired with sustainable forest management practices, can offer significant emissions reductions for the province, according to the Pacific Institute for Climate Solutions. Under the best-case scenario modelled by BC researchers, combining sustainable forest management with long-term carbon storage in wood products could contribute up to 35 percent of the province's 2050 emissions target.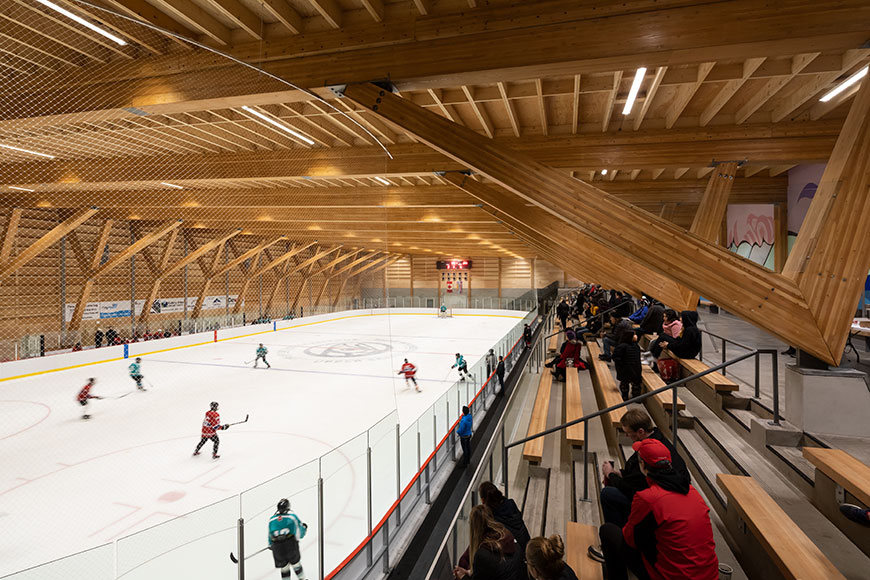 Industry responds with innovative wood construction  
BC has a longstanding history of building with wood and over the last two decades emerged as a leader in mass timber construction. Industry has responded with a growing list of climate-smart wood construction. This is demonstrated by such flagship projects as Brock Commons Tall Wood House, the Wood Innovation and Design Centre, more than a dozen mass timber projects built by post-secondary institutions along with a growing list of multi-family and mixed-use commercial projects. And more and more public, cultural and civic projects are turning to wood as a central feature—such as the Audain Art Gallery, the Upper Skeena Recreation Centre and VanDusen Botanical Garden Visitor Centre to name a few.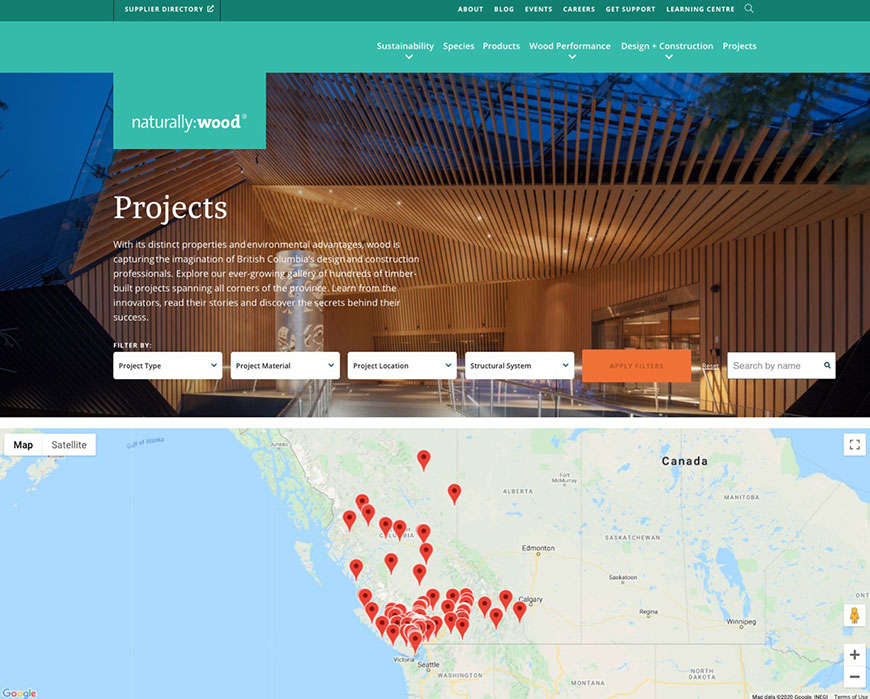 From architects and engineers to developers and contractors, the BC industry is well-positioned to respond to the rising demand by BC municipalities for climate-smart construction—including the call to build larger and taller with wood.
This is an Industry Special by naturally:wood in collaboration with ConstructConnect® Media.  To learn more about naturally:wood, visit www.naturallywood.com.