Advances in timber engineering technology are leading to new design possibilities from long-spanning roof structures to tall timber towers. Improvements to wood products and prefabrication methods, and the suitability of mass timber as a low carbon material that can fit within fire regulations, has led to a re-branding of wood construction as a viable, economical alternative for the industrial development sector.
Mass timber products offer flexibility and efficiency
Traditional wood construction has a proven track record of longevity and durability, and aesthetic appeal. But recent innovations in engineered wood products have broadened the application of mass timber so that it makes sense in an industrial environment, too. These products are factory made, using computer-aided design with CNC machinery, and components are precision cut, reducing waste and on-site inefficiencies—resulting in a more cost-efficient project. Because components are made in a temperature-controlled facility, progress can be made in the winter months, keeping to schedule. Cross-laminated timber (CLT), used in floors, roofs and walls, and strong glue laminated timber (glulam) used for posts and beams, and large open spans, are two better known examples of mass timber products that are allowing larger buildings with wood. Other engineered products, such as laminated strand lumber (LVL), laminated strand lumber (LSL) and parallel strand lumber (PSL), are strong products that are often used in header applications, where high bending strength is needed.
Wood industrial construction makes a comeback
Wood industrial buildings are nothing new: prefabricated mass timber design builds upon a long history of wood industrial construction. Many century-old brick and beam multi-storey buildings—with timber beams and columns and masonry exteriors—have survived and been converted to highly marketable residential lofts and commercial spaces. There are more recent examples that demonstrate why wood should again be the go-to material for industrial applications, says the Wood Industrial Buildings report, written by Equilibrium Consulting and Hemsworth Architecture for BC Wood and FPInnovations.
The reasons for going with wood (or a hybrid of wood and another material) almost always involve cost efficiencies, speed of construction, reduced waste of materials, use of a local resource, energy efficiency and—although not always a chief design concern for industrial buildings—aesthetics.
Wood is also much lighter than concrete and steel, and easier to transport. New wood products also have the strength and durability comparable to conventional materials and meet fire code requirements.
Public industrial buildings demonstrate wood's capabilities
In the last decade, a series of important public industrial buildings have demonstrated the high-tech capabilities of wood, which is an abundant resource in the province. The single-storey glulam post-and-beam Wood Innovation Research Lab in Prince George, B.C., is the first industrial building in North America to be designed to a Passive House standard. Built in 2018, the nearly all-wood building is a striking example of architectural design. Its mass timber components were made in a dry, temperature-controlled factory environment. This meant the typical shrinkage or swelling of wood that occurs on an outdoor job site wasn't a concern.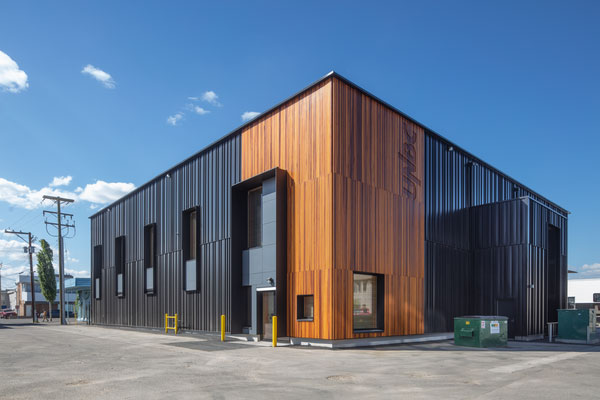 The Alexandra District Energy Utility Expansion—a geothermal utility building—is also a striking hybrid/wood post-and-beam structure built from prefabricated mass timber. Constructed from glulam columns and beams, with CLT roof and walls, the build took just five days to put up.
The University of B.C.'s Campus Energy Centre could have been an understated water boiler facility, but because of the unique application of mass timber, it's a contrast of operating mechanics and warm Douglas-fir glulam timber that glows from within through massive windows. The building is also responsible for reducing the university's greenhouse gas emissions by 33 percent. The campus' Bioenergy Research building, where wood chips are converted into fuel, is a study in exposed glulam timber columns, beams and CLT panels. It makes for an extremely pleasant work environment, but not just visually. The thick wood panels also reduce the sound transfer of loud equipment. And the system also fulfilled the province's building code requirement for non-combustible construction in a facility of this type.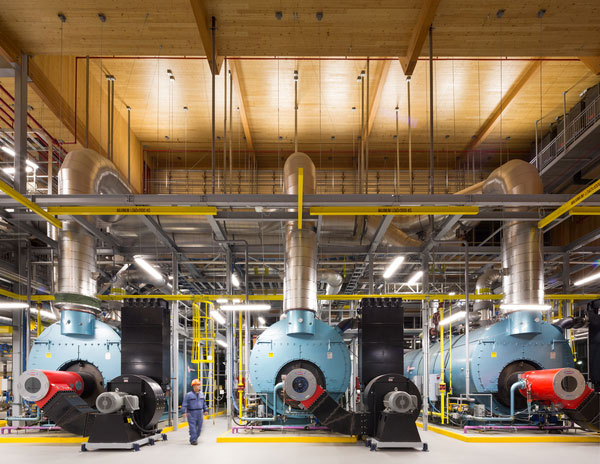 In all examples, the use of prefabricated mass timber enabled a faster—and more cost efficient—construction process through computerized design of building components.  Read the report to learn more about industrial timber buildings.
This is an Industry Special by naturally:wood in collaboration with ConstructConnect® Media.  To learn more about naturally:wood, visit www.naturallywood.com.