From improved indoor air quality and disease prevention to versatile and student-centred design, now more than ever, the architecture of schools is under scrutiny. Whether it's early childhood to senior secondary facilities, how we build schools is rapidly evolving to meet the ever-changing needs of our fast-moving world. The school of the future is more flexible, versatile and adaptable to the wider community it serves. It supports hybrid learning models, equipping students to seamlessly access online and bricks-and-mortar resources. It reduces its carbon footprint using renewable materials, promotes health and well-being, inspires new ways of learning and teaches students environmental values and citizenship.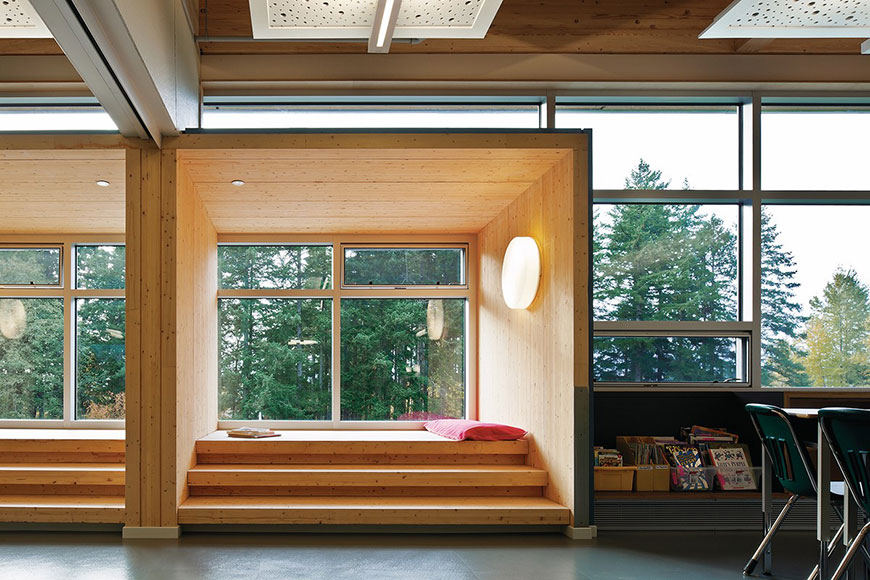 An unconventional school design, ahead of its time
And for some BC schools, the future is already here. For the better part of a decade, innovative school designs have been cropping up across the province, characterized by an abundant use of wood, sustainable technologies and unconventional open floor plans flooded with sunlight. In some instances, they incorporate unusual features such as retractable garage doors, little to no traditional desks and minimal hallways. Such designs that once might have seemed ahead of their time—even quirky—are proving functional and timely in 2020, affording adjustable classroom configurations, fresh, natural ventilation and better indoor-outdoor connectivity.
Such is the case with the 480-student Lord Kitchener Elementary School located in Vancouver's Point Grey neighbourhood. Completed by the IBI group in 2012, the project entailed a rehabilitation, seismic upgrade and adaptive reuse of an existing century-old wood structure along with the construction of a new building. The added facility, constructed of glulam timber post-and-beams, includes community-use facilities and does away with the traditional division between classrooms. Mechanical garage doors line one wall of each classroom, opening on to a shared common area.
The design accommodates collaborative teaching methods and gives teachers opportunities to work one-on-one in a designated quiet room with their students while their colleagues watch their classroom from the common area. The two-storey space features a grand staircase that links the two levels of learning studios. The main entrance area is spacious enough to accommodate student drop-offs, informal meetings and more formal concerts and performances. Extensive glazing draws in light while connecting students to outdoor learning areas. A community garden for the students reinforces a strong link with nature.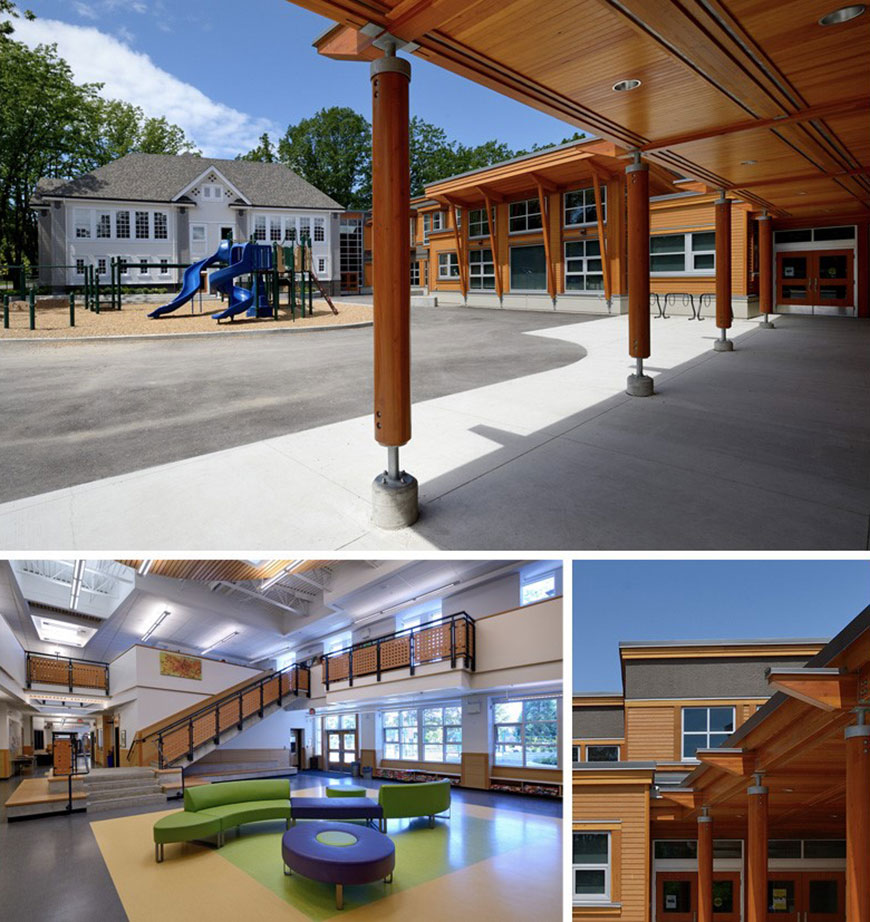 Timber-built BC high schools top of the class
The province's high schools are also increasingly adopting more sustainable construction, natural materials, such as BC-sourced timber, along with less conventional, forward-thinking designs.
One of the newest to join the list is École Salish Secondary in Surrey, BC's fastest-growing municipality. The 13,000-square-metre facility features immense collaborative spaces that can be partitioned off with sliding glass walls, an open-air rooftop yoga studio, and whiteboard desks, along with state-of-the-art technology, including a theatre, ubiquitous WiFi, and huge screens for students to project work onto.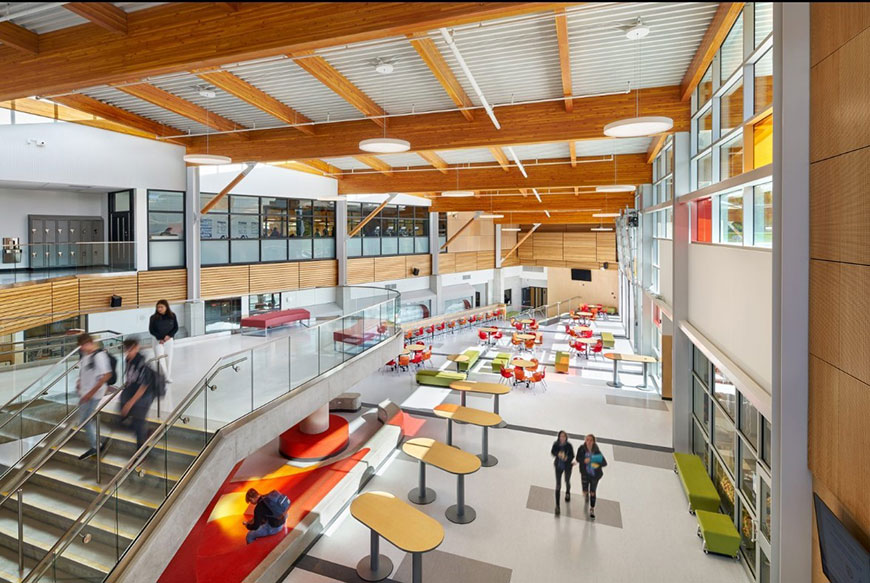 Designed by KMBR, the firm set out to re-envision a new school from the ground up. This required a fresh perspective, according to the firm, starting with new names for traditional spaces. Music, arts and drama are "MAD Labs" and the metal and wood shops are "TED (Technology Engineering and Design) Labs". Learning spaces incorporate discovery labs, break-out and multi-purpose gathering spaces, and a learning commons with creative areas called "Makerspaces". The result is a design that accommodates "anytime-anywhere, collaborative, project, and inquiry-based learning," according to the design team.
The energy-efficient facility features argon-filled windows and automated motorized shutters to reduce solar heat gain and loss. This in turn minimizes the use of HVAC systems.  A double-height atrium features exposed glulam beams and interior wood finishes along with large operable overhead doors—a boon for improving natural ventilation and increasing outside airflow throughout the building.
Other high schools throughout the province are also demonstrating innovative and sustainable designs such as Southern Okanagan Secondary School and Abbotsford Senior Secondary School.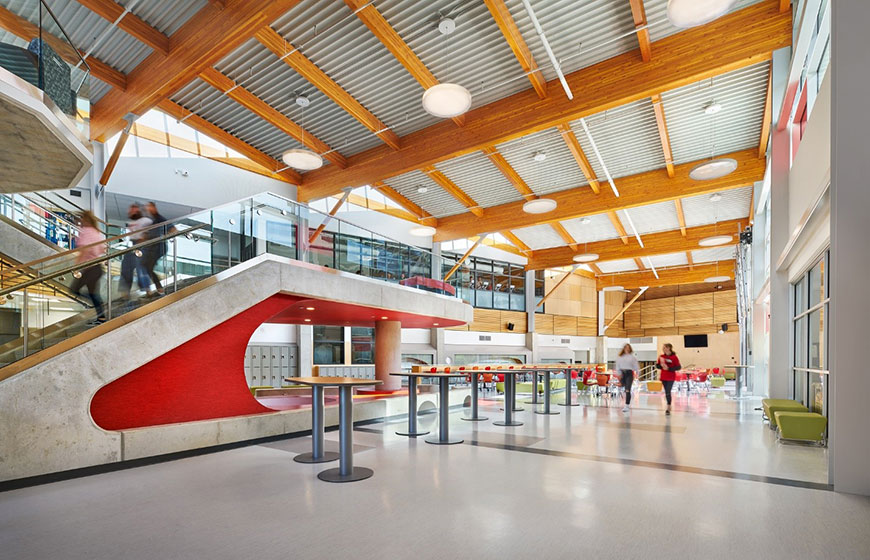 Learn more at info.naturallywood.com/schools
This is an Industry Special by naturally:wood in collaboration with ConstructConnect® Media.  To learn more about naturally:wood, visit www.naturallywood.com.