Leaders in Manitoba's construction sector discussed issues they are seeing with material cost increases and shared strategies to deal with them during a recent discussion hosted by the Winnipeg Construction Association.
All parties agreed more communication is needed to mitigate these risks.
Mark Kennedy, vice-president of Star Building Supplies, believes issues with high material prices won't be as severe in the coming months but will continue.
"For price volatility, we all know in the past few years it has probably been the most challenging that we have seen in our industry," he said.
Some of the factors impacting price are harsh winter conditions in the province, lingering effects of COVID and extremely high demand. This has caused increases as high as 30 per cent for roofing products, insulation and drywall.
Kennedy noted manufacturers are indicating that the fall months will bring another round of increases.
"This is not over and it's putting constraints on quoting jobs. Getting cost certainty just isn't there," he said, explaining manufacturers simply don't have what they need.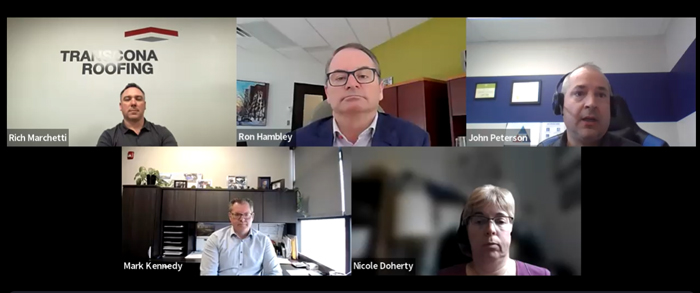 "The manufacturer can't get access to enough of the raw materials to produce enough volume. I know everyone is struggling with tons of business out there, but we don't have enough products to supply you all."
Rich Marchetti, president of Transcona Roofing, said collaboration is key to dealing with cost issues. He has already seen up to 30 per cent in material cost increases and his suppliers are saying costs will be going up another 10 to 15 per cent soon. 
His business is also getting hit with fuel surcharges and increases in labour. 
"Everyone is having a hard time finding that entry-level, cheap labour, which is a bit of a hangover from government programming, but it's also the cost-of-living increases," said Marchetti. "We have all grabbed fuel and picked up groceries lately and inflation is real."
These issues are making it harder and harder for subcontractors to make a profit. 
"Suppliers are charging pretty much market pricing when it lands regardless of what price they have quoted," he said. "It's super difficult to know our material costs at the time of estimating. And it's tough to build in enough risk to offset that because the prices just keep going up."  
Some have resorted to ordering high volumes of materials to lock in prices. Marchetti has three rented warehouses he rents around Winnipeg all packed with materials. 
He believes the industry needs to work together to overcome these challenges. 
"I think for discussions during the tender process, everyone needs to be involved and strategize what makes sense based on schedule and budget," said Marchetti. "Decision-makers need to be open to product substitutions based on availability and budget constraints."
Marchetti also praised general contractors that have allowed companies like his to order materials at the time of award so they can lock in the price and get the supplies faster. 
John Peterson, a regional manager for Ledcor, spoke about the bigger picture. While life is returning to normal in many parts of Canada, COVID continues to impact the workforce. 
"We are still lacking 10 to 15 per cent of our workforce on any given day due to illness, so that's a direct result that is ongoing." 
Larger global events are impacting the Winnipeg area as well. Strict lockdowns in Shanghai have clogged up global supply chains. 
"They are a major supplier of a lot of goods and it's also a transportation hub," he said. "There are still a vast amount of ships in the ocean waiting to go into port and get loaded."
And while the highly visible war in Ukraine is impacting prices, Peterson noted that lesser known geopolitical events, like a labour dispute at a South American copper mine, are also happening. 
Fossil fuels also present a large challenge. 
"Every single contractor, trade contractor and supplier rely on fossil fuels to create the cities that we live in, so we need to think of that in a bigger scheme," he said. "It's not just the supply and demand side, it's also taxation. That is a driving factor in material escalation." 
Peterson also fears that extreme climate events like B.C.'s atmospheric river event or the ice storm in Texas will continue to threaten the sector. 
"The ice storm in Texas is still impacting the supply of all the resins that we use to make insulation," he said. 
He advocated for fixed-price contracts and stressed the importance of the bid validity period. 
"That is 100 per cent risk to a project, so the longer we draw out that award period, the more all these risk factors will impact it," he said.
Follow the author on Twitter @RussellReports.