Hospital projects are at the forefront of the 2022 Vancouver Regional Construction Association (VRCA) Awards of Excellence Silver winners in the Mechanical Contractors over $9 million category.
At the Oct. 26 event three winners will be in the running for Gold. Here's a look at the nominees.
Christman Plumbing & Heating Ltd., Kelowna – Penticton Regional Hospital – Phase 2
The 40,000-square-foot Penticton Regional Hospital Phase 2 project required renovating vacated areas of the hospital to enable expansion of the emergency department into a space almost four times the size of the original facility.
The project was complex. The hospital was built in the 1950s, with additions and renovations that were made in the 1980s.
New spaces included individual patient exam rooms, isolation rooms, a trauma bay, new canopy coverage for ambulances, soiled/clean utility rooms and a mental health area.
Low ceiling heights presented a challenge as did the co-ordination of electrical and information technology systems.
One of the biggest challenges the team faced was to ensure the work would not affect the operation of the 20 emergency department beds.
Phased turnovers for occupancy meant full commissioning of each partial turnover as the job progressed.
That required planning and co-ordinating shutdowns when tie-ins to infrastructure were being made for each phase.
For example, when tying into the medical gas systems, there was no way to isolate the line.
So the project team needed to temporarily back-feed the intensive care unit with medical gas while the entire system was shut down to add valves and complete tie-ins for the renovation.
There were also significant challenges with abatement of hazardous material. To do that the team ensured all of the infection controls were monitored constantly. 
Division 15 Mechanical Ltd. – BCIT Health Sciences Centre For Advanced Simulation
The BCIT Health Sciences Centre For Advanced Simulation is a new four-storey advanced, state-of-the art educational facility.
It is part of the Health Sciences Centre on the Burnaby, B.C. campus.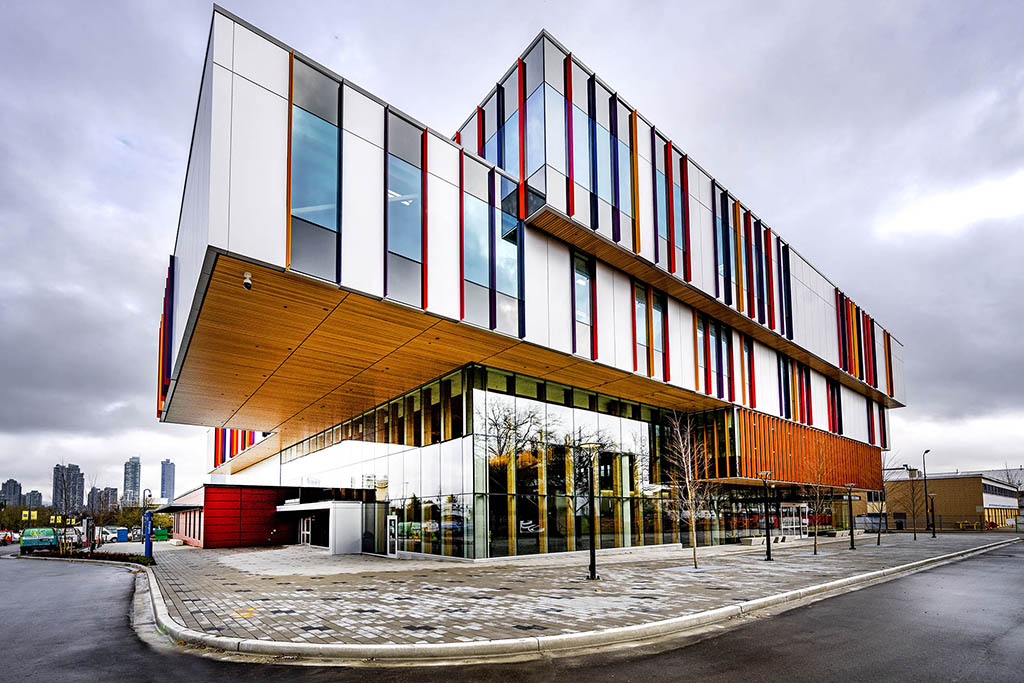 The building contains classrooms, educational laboratories and imitation health care facilities for college-level health science students.
The new centre is a net-zero carbon emission building. It is also the most sustainable building on the BCIT campus, thanks to mechanical systems and controls strategies that optimized the building's energy performance.
The building is targeting WELL Gold certification. WELL is a rating system that focuses on people's health and wellness and requires sustainable design and construction.
Division 15's scope of work on the project included plumbing systems, HVAC systems, medical gas systems, a de-ionized water system, fire protection and controls.
All mechanical services were 3D-modelled, including mechanical rooms, service corridors, common areas, classrooms, rooftop equipment and piping.
3D modelling and offsite fabrication facilitated an accelerated schedule, maximized efficiencies and reduced waste.
Two rooftop mechanical room enclosures were fully modelled and fabricated off-site and delivered fully built for final connections onsite.
The project faced and resolved numerous challenges.
These challenges included starting work in early 2020 just as COVID-19 was recognized as a global pandemic; labour force shortages due to illness and self isolation; and material shortages due to supply chain interruptions.
Despite these and other challenges, Division 15 completed the project on schedule. 
Pitt Meadows Plumbing & Mechanical Systems 2001 Ltd. – Royal Inland Hospital Patient Care Tower – Phase 1
The Royal Inland Hospital Patient Care Tower is a 300,000-plus-square-foot addition to the Royal Inland Hospital campus in Kamloops.
To the growing campus the hospital added a dedicated floor for surgical services, with 14 operating rooms; maternal, neonatal and child services; 85 patient rooms, including a psychiatric unit; respiratory services; education spaces; and a rooftop helipad.
Pitt Meadows Plumbing's (PMP) scope of work comprised heating and cooling, ventilation, drainage, plumbing, medical gas, controls, insulation and RO (reverse osmosis) water.
It had been projected that the construction work would take 40 months to complete. PMP finished its work on time, achieving substantial completion in January 2022.
BIM was used for all mechanical systems on the project. This allowed PMP to prefabricate most of its services off-site at its shop in Maple Ridge, B.C.
Examples of off-site construction on the project include prefabricated in-wall assemblies, an in-floor heating manifold and a multi-trade rack (MTR).
Challenges included dealing with the COVID-19 pandemic, a tight construction schedule, supply chain problems and flooding on the Coquihalla Highway.
Because the Royal Inland Hospital was an out-of-town P3 project, it was going to be challenging. However, having just completed Penticton Regional Hospital, PMP was ready for the challenge.
But it hadn't expected COVID-19, supply chain glitches and the highway closures, all of which came together to challenge the project.
PMP mitigated these challenges by means of COVID-19 tracking systems, alternate hiring strategies to replace employees who were not at work, alternate employee engagement strategies to replace in-person gatherings, alternate suppliers and alternate freight routes.