A massive, multi-year construction and expansion project at the Fairview Container Terminal operated by DP World in Prince Rupert, B.C., will begin next summer and employ hundreds of workers in various  trades.
Maksim Mihic, general manager of DP World (Canada) Inc., said capacity at the country's second largest container terminal will be increased by nearly a quarter its size to accommodate growing demand.
"Prince Rupert is quickly becoming a major gateway for Pacific trade," he said. "We are quickly running out of capacity at the port and when you get to 75 or 80 per cent capacity, which is where we're at now, you start to think about building because it will take a certain amount of years to complete an expansion."
The terminal will be expanded to 1.8 million TEUs, or twenty-foot equivalent units, from the present 1.35 million. A TEU is a shipping term that's commonly used to describe the capacity of container terminals.
Mihic said a 500,000-TEU expansion was completed at the port in November and the upcoming project will be 450,000 TEUs. The new project will take up roughly the same amount of land as the first.
"The next step," he said, "is obtaining the permits and we expect to start construction in middle of next year."
The company does not traditionally release the cost of its projects, but Mihic said it will be about the same size and scope of the earlier expansion.
On the manpower front, the project will require about 800,000 hours of construction work, or the equivalent of 150 full-time workers over a three-year period, he said, and create 300 full-time positions at the terminal. DP World is working with First Nations communities and intends to hire local workers first.
The project is being done in two phases.
The present container yard at the terminal will be expanded to 41 hectares from its current 32 hectares and two new rubber-tired gantry cranes will be added as well as an eighth dock gantry crane. Existing maintenance and administration buildings will be relocated to create additional container storage capacity.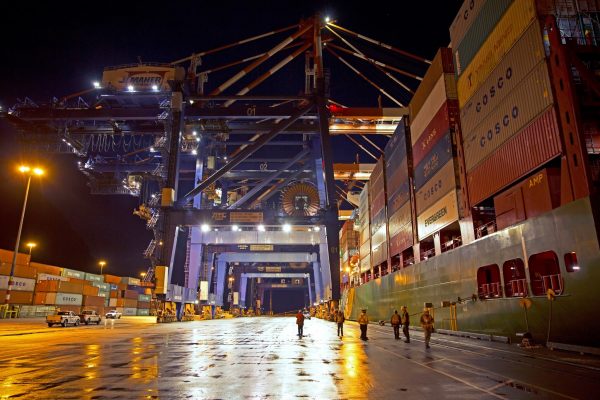 A truck gate at the south end of the terminal will be moved and expanded and on-dock rail capacity will be increased with the addition of 6,680 feet of track. The on-dock rail capacity will be 24,680 feet by 2022.
"We will have a lot of marine work done and there will be blasting for the infill," said Mihic. "We will have a new maintenance building and operational building. You will have electrical trades in there and paving, pretty much all trades from the construction industry."
Scott Bone, CEO at the Northern Regional Construction Association in Prince George, B.C., said he likes what he's heard so far and believes the project will be good for the province, but he's still waiting for more details.
"We are certainly looking forward to the investment decision made by this group," he said. "We're looking forward to seeing what their workforce development plan looks like."
Bone said the project will obviously boost construction employment in the province because it's such a huge venture.
With the construction industry booming in B.C., though, he's eager to see detailed plans for the project as well as the manpower plan so that contractors can prepare to make sure they have enough skilled trades.
Contractors are working on Site C and are waiting for word on LNG Canada's $40-billion proposed  liquefied natural gas export facility in Kitimat, B.C., he noted, "so there's a lot of construction activity, not only in the north, but across the province right now.
"The challenges with construction obviously brings issues around trades, which we're constantly monitoring and working on."
Bone said he's eager to work with representatives from DP World on training opportunities and, once it's known how many construction workers will be required, market the project to trades across the country.
"Until we really see that, it's really difficult to do," he said.
Brian Friesen, director of trade development and communications at the Prince Rupert Port Authority, which oversees the movement of cargo and passengers through the port, said the expansion is welcome news.
The Fairview Terminal is one of the fastest growing terminals in North America and in 2017 its container volumes grew 26 per cent, he said.
In addition to the construction and full-time jobs, he noted, the project will create additional jobs in trucking, trans-loading and logistics services to support the growth of the facility.
"The expansion is important to Prince Rupert, but also critically important to the province of B.C. and Canada as a whole," he added. "The Port of Prince Rupert represents a strategic gateway for Canada with access to growing markets in Asia and enables two-way trade that supports many different sectors across Canada."