Vancouver Island keeps on building.
The Vancouver Island Construction Association (VICA) recently released its Construction Report for Q2 – 2018, which details the total value of building permits between April and June at $806.9 million, a 42 per cent gain over the previous quarter.
Total spending on residential construction rose 45 per cent across the Island to $698.2 million while non-residential increased 23 per cent to $108.6 million.
"I think the boom has been going on for a while now. When I came on board one-and-a-half years ago, we already saw an upward trend in construction," said VICA CEO Rory Kulmala.
He attributed several factors to the continued climb in construction.
"What's keeping it going is an exceptionally low vacancy rate on the whole Island driving a lot of construction with single family, multi-family and then coupled with that institutional and commercial building to support residential work," he said
Kulmala also noted a strong migration rate to Vancouver Island from other B.C. cities and across the country.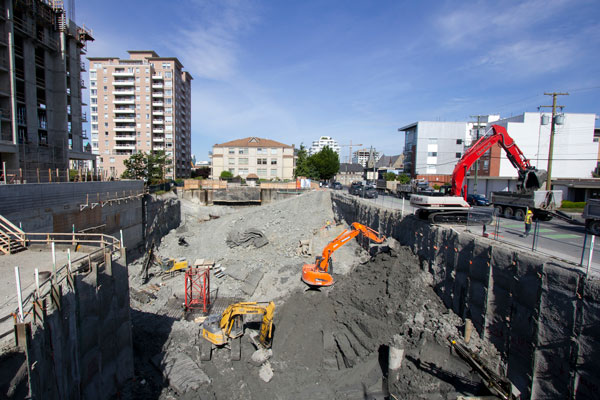 Nanaimo saw the highest amount of construction activity with a 48 per cent increase in building permits, followed by the Capital Regional District with a 47 per cent increase in permits.
Total investment in non-residential construction in Victoria only increased one per cent in the quarter but was up 16 per cent over the same quarter the previous year.
"The momentum around residential is strong and will continue to be for the next few years," Kulmala said.
With a that said, labour availability has been a bottleneck, he noted.
"The labour market has been a challenge to getting more work done," Kulmala said.
"We're seeing projects underway now getting completed. We have a strong workforce, but we're not bringing droves of carpenters and tradespeople to the Island, so projects take longer and there is a waiting list."
Construction employment increased by 8.6 per cent across the Island in the first half of 2018, with Victoria in the lead adding 1,800 more workers in the second quarter.
With construction booming all over Canada, he continued, "it's harder to attract tradespeople to the Island. We also have a housing crunch and higher cost of living, and that must be acknowledged.
"One of the takeaways is that we do have some of the lowest unemployment rates in Canada on the Island, and we continue to promote and drive people to join the trades because it's vital and our economy is proving that," he added.
Kulmala said while the report shows the construction industry is booming on Vancouver Island, it only paints part of the picture.
"The report only captures projects with building permits, but there are municipal and infrastructure projects that don't come with a permit and those are contributing to the construction economy," he explained.
The Major Projects Inventory rose three per cent in the quarter to $60.6 billion, and Kulmala pointed to work in progress such as Union Bay Estates, a 346-hectare residential and resort development in Comox Valley with 2,949 mixed residential units, 375,000-square-feet of commercial space and a marina all developed over the next two decades.
Total building permits in 2018 are estimated to rise 20 per cent, with 2019 looking less positive and, according to the report "a slight drop in residential construction expected and possible negative external developments related to trade disputes."