The accompanying table records the 10 largest construction project starts in Canada in October 2019. Also included is the latest trend graph on starts. This looks at 12-month moving totals of the civil and non-residential building categories in Canada.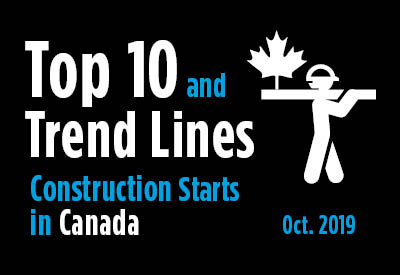 There are several reasons for highlighting upcoming large projects. Such jobs have often received a fair amount of media coverage. Therefore, people in the industry are on the lookout for when job-site work actually gets underway. And, as showcase projects, they highlight geographically where major construction projects are proceeding.
Also, total construction activity is comprised of many small and medium-sized projects and a limited number of large developments. But the largest projects, simply by their nature, can dramatically affect total dollar and square footage volumes. In other words, the timing and size of these projects have an exaggerated influence on market forecasts.
Top 10 construction projects of the month – October 2019
REGION
(East to

West)

TYPE OF
CONSTRUCTION
DESCRIPTION

Sq. Ft.
000s

Dollars
000,000s

Quebec
Montréal
Residential
Solstice Condominium Apartment Building
2,000
$700
(3 structures; 62 storeys; 1750 units) rue de Bleury & rue Sainte-Catherine O
Fonds immobilier solidarité FTQ/Devimco Inc/Fiera Immobilier Inc
Gatineau
Commercial
Federal Government Office Complex – Envelope Rehabilitation
*
$175
(1 structure) multiple locations
Public Service and Procurement Canada
Ontario
Wawa
Engineering/Civil
East-West Tie Transmission Line Project
*
$777
(1 structure) multiple locations
NextBridge Infrastructure
Brampton
Industrial
Design Build – Canadian Tire Industrial Warehouse Building / Brampton
1,300
$150
(2 structures; 1 storey) 10254 Hurontario St
Panattoni Developments
Alberta
Edmonton
Engineering/Civil
Trans Mountain Pipeline Expansion (TMX)
*
$7,400
(2 structures) multiple locations
Canada Development Investment Corp
Calgary
Commercial
The Dorian and Courtyard Marriott Hotel
200
$100
(5 structures; 27 storeys; 300 units) 525 5 Ave SW
PBA Land & Development Ltd
British Columbia
Burnaby
Residential
Lougheed Town Centre Redevelopment – Phase One – Towers 1-4
1,117
$182
(2 structures, 53 storeys; 1543 units) 9850, 9855 Austin Ave
Shape Properties
Vancouver
Commercial
The Stack Office Tower
540
$140
(3 structures; 36 storeys) 1133 Melville St
Oxford Properties Group
Courtenay
Engineering/Civil
Prequalification-Design Build Services for the Comox Valley Water Treatment
*
$126
(1 structure) Lake Trail Rd
Comox Valley Regional District
Vancouver
Residential
375 E 1st Ave Mixed-Use Buildings
463
$100
(5 structures; 23 storeys; 412 units) 375 E 1st Ave
Onni Group of Companies
TOTALS:
5,620
$9,850
*A square footage measure does not apply for alteration and engineering work.
Data source and table: ConstructConnect – CanaData.
Trend lines of construction starts in Canada – October 2019
Moving totals of the latest 12 months*
(ConstructConnect Insight Forecast Figures)


*For example, the October 2019 figure is the sum of the monthly numbers for November 2018 through October 2019.
Data source and chart: ConstructConnect Insight – CanaData.