These days, I'm often asked if I foresee a V-shaped recovery. While there are reasons to suppose it's possible, I'm skeptical. I think a solid V encompasses a considerable degree of wishful thinking.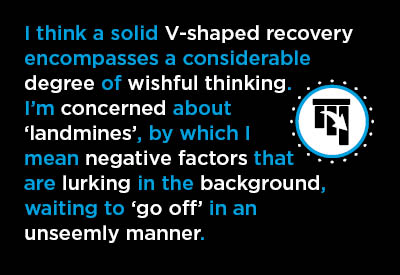 Plus, it derives mainly from the notion of large percentage increases in economic indicators coming on top of low 'base' figures. In other words, the denominator in the math calculation is now so depressed.
The big percentage jumps will happen, but they won't mean that things have completely returned to 'normal'.
Arguing in favor of V is the massive amount of stimulus, both monetary and fiscal, that is being injected into the system. Plus, re-openings have lifted consumer spending sentiment and confidence.
Summer, which is what we're heading into in North America, is a time when everyone takes a mental (and summer vacation) break. Therefore, July and August probably won't be truly indicative of what's to come in the fall, when our children would normally be heading back to school.
I'm concerned about 'landmines', by which I mean negative factors that are lurking in the background, waiting to 'go off' in an unseemly manner.
Here's a listing of potential trouble spots that are being acknowledged to varying degrees by pundits and the media.
Presently just two U.S. states are showing declining trends in coronavirus infection rates. Several states and major cities are placing a pause on re-opening initiatives. The 'first wave' of COVID contagion has yet to be defeated, never mind a possible 'second wave' as the weather begins to cool down again and flu season returns as per usual.
We'll have to see what happens when the kids return to class. If it's determined that vast numbers must continue with home schooling and learning over the Internet, due to concern about congestion in classrooms and lecture halls, that won't be a minor inconvenience. With respect to elementary school, at least, many parents who might want to return to work will be required to continue caring for their children at home.
Government income supplement programs, plus measures to help industries and small business owners, will soon reach their limits both in terms of dollars allocated and time horizons. More financial help may be forthcoming, but that will present additional challenges, as set out next.
Two pathways into the thickets branch off from huge government debt.
First, there's the matter of interest rates. The Fed has said it will do whatever it takes to keep yields near zero. And the Fed has an advantage over all other central banks globally thanks to the U.S. dollar being the world's reserve currency. Even in the worst of times, currency traders seeking a haven will hoard dollars. But at some point, credit rating agencies, which need to redeem themselves after their lax oversight during the 2008-09 fiscal crisis, will be speaking out. Downgrades in debt quality will surely result and that will mean interest rate hikes whether the President or the Fed likes it or not. (Also, with interest rates already at zero, the Fed has limited ability to provide extra stimulus.)
The second pathway into the brambles will come on the cost side of the economy. Yes, there's the danger of inflation roaring up long-term because of infusions of money from quantitative easing. But economists said that last time and it didn't happen, primarily because high-tech stepped in and, through innovation, managed to keep costs down in many corners of the economy ‒ e.g., Uber and Lyft versus the taxi industry. To deal with government debt, however, all manner of tax increases must be anticipated, probably starting with state sales taxes.
A sobering round of mortgage payment defaults and commercial and residential rents being in arrears is about to strike. Business bankruptcies and mortgage foreclosures will throw cold water on the recovery. Many analysts are counting on pent-up demand in the housing sector, and a resurgence of home starts, to significantly lift the overall economy. Mortgage foreclosures, however, will elevate the inventory of vacant supply. Also, second properties in the condo market that were purchased to earn income according to the Airbnb model are proving less desirable now, with business and tourism travel so limited. Also, many foreign students have returned to their home countries, freeing up residential space.
Population growth, which has become increasingly dependent on immigration, is grinding to a halt. Throughout history, rapid population gains and gross domestic product advances have gone hand in hand. More people, provided they're gainfully employed, means more spending.
Finally, pickups in some crucial pockets of the economy will be smacking into a wall until an effective coronavirus vaccine is developed and widely distributed, not just in the U.S., but everywhere. Professional sports, trade shows, business conferences, even elaborate weddings for that matter (with consequences for caterers, photographers, florists, etc.) will be facing an uphill climb for a long while. In the travel sector, underutilized airports mean lower hotel and motel occupancy rates, fewer limo hires, less rental car activity (hence Hertz going into bankruptcy protection), and cuts to motor vehicle fleet purchases from automakers.
---
Alex Carrick is Chief Economist for ConstructConnect. He has delivered presentations throughout North America on the U.S., Canadian and world construction outlooks. Mr. Carrick has been with the company since 1985. Links to his numerous articles are featured on Twitter @ConstructConnx, which has 50,000 followers.