ConstructConnect announced today that the latest month's volume of construction starts, excluding residential work, was $20.8 billion, a decline of -30.9% versus November's $30.2 billion (originally reported as $28.9 billion).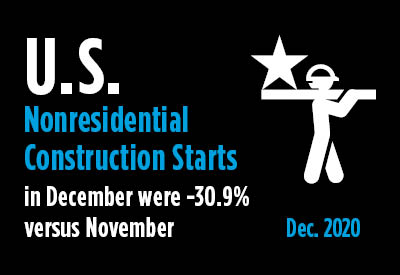 Click here to read the complete December 2020 Industry Snapshot article, Nonresidential Construction Starts Falter in December; Full Year 2020 -27% vs 2019 – below is a short excerpt.
In a year of starts that was severely diminished by the coronavirus pandemic, perhaps the most striking feature was the collapse in 'mega' projects (i.e., groundbreakings of a million dollars or more each). In 2019, there were 35 mega project initiations summing to $79.1 billion. Last year, there were only a dozen such projects, combining for a value of $21.0 billion. The drop in mega project dollar volume was -73.5%, or nearly three-quarters.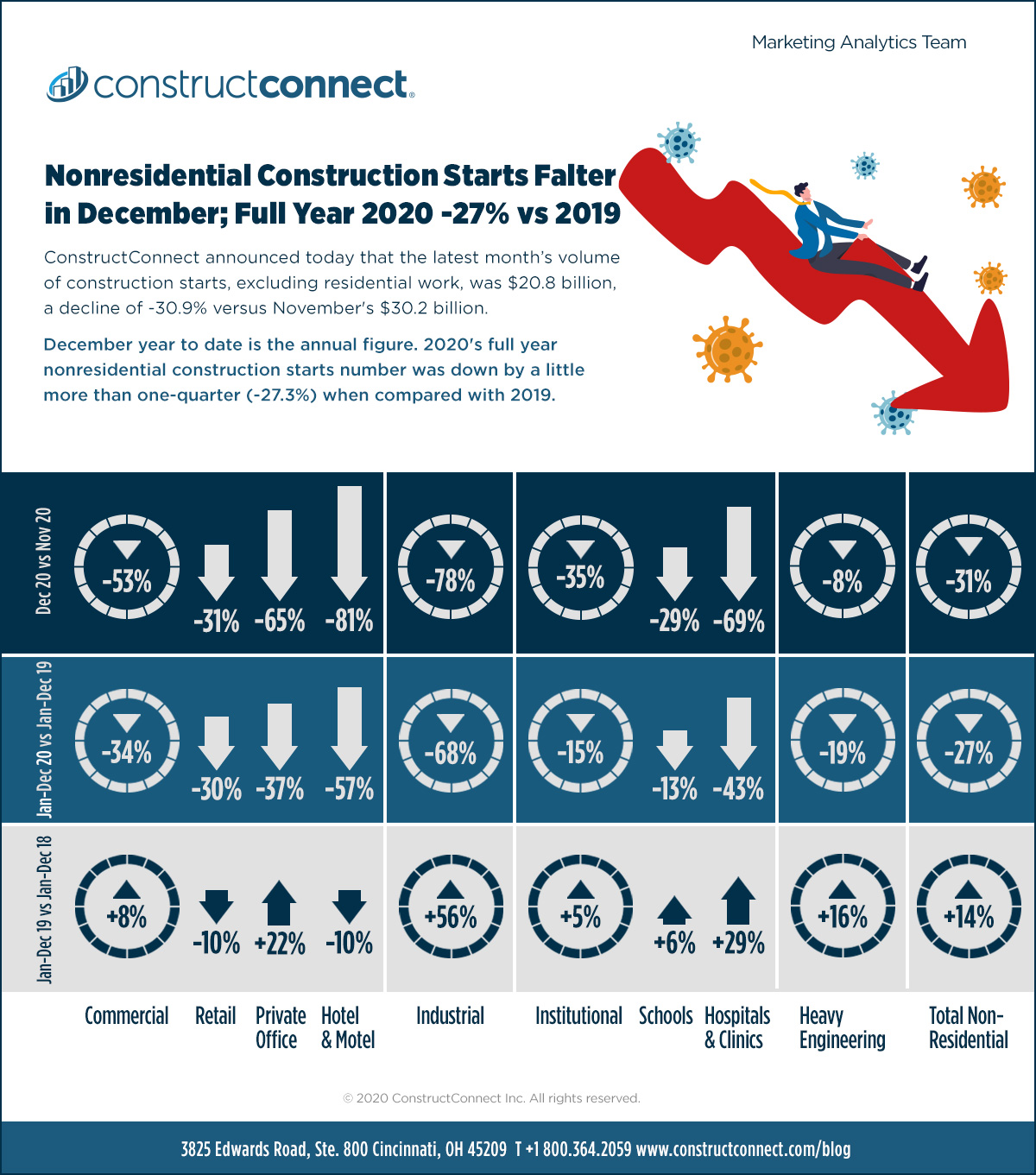 View this information as an infographic.
Emphasizing how bad the final month of 2020 was for total nonresidential starts, their decline relative to December 2019 was -46.0%. In other words, they were down by nearly half.
As for 2020's full year starts, they were off by a little more than one-quarter, -27.3%. December year-to-date numbers are the full year or annual figures. 'Institutional' was the type-of-structure category than managed the smallest annual retreat, -14.6%.
Rays of Optimism in the Outlook
There are several good reasons to feel somewhat more optimistic about the economic outlook. They can be summarized as follows:
However hesitantly, effective coronavirus vaccines are being rolled out;
Personal savings have soared to a record high which will facilitate spending on …
Pent-up demand that has accumulated for single-family housing, recreation, travel, elective medical procedures, etc.;
The price of oil has climbed back to a reasonable level, above $50 USD per barrel;
China is ramping up infrastructure spending, which will help lift all commodity prices.
Click here to download the Construction Industry Snapshot Package – December 2020 PDF.
Click here for the Top 10 Project Starts in the U.S. – December 2020.
Click here for the Nonresidential Construction Starts Trend Graphs – December 2020.
---
Alex Carrick is Chief Economist for ConstructConnect. He has delivered presentations throughout North America on the U.S., Canadian and world construction outlooks. Mr. Carrick has been with the company since 1985. Links to his numerous articles are featured on Twitter @ConstructConnx, which has 50,000 followers.
---
Interactive Visual
---
View this video to see how to use the filters in the Interactive Visual.