The great debate concerning whether the U.S. is already in recession or is about to head down that path continues. 2022's Q1 and Q2 gross domestic product (GDP) performance figures are now estimated to be -1.6% and -0.6% respectively. But economy-wide unemployment is at a historic low and, as ConstructConnect is finding, many firms are feeling confident enough to go ahead with massive construction projects.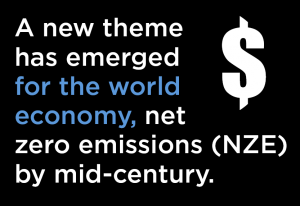 Much of the mega-sized work is being spurred on by government initiatives that have become more strategic in nature. Europe placed its economy in harm's way by willingly embracing a dependence on Russian natural gas. The folly of that decision is presently playing out and it's likely to be a very difficult winter across the Atlantic for families trying to heat their homes and companies and utilities wishing to keep their operations functioning at costs that don't send them into receivership.
Two particular areas of strategic thinking by Washington stand out. The first, as embodied in the CHIPS Act, is a concerted effort to re-shore computer chipmaking capacity. Plants valued at tens of billions of dollars have already been initiated, with imminent start-ups on more having been announced.
Second, China dominates the world in supplying the lithium-ion components of electric vehicle batteries. Major electronics firms from other nations, plus all the international car manufacturers, are now spending vast sums on North American EV production lines and battery assembly plants.
A new theme has emerged for the world economy, net zero emissions (NZE) by mid-century. This will have a profound impact on the labor skills that will be in most demand, the make-up of commodity markets, the need for more electric power generation, and a host of other matters including which big construction projects will be given priority authorization.
In the meantime, there are the day-to-day statistics to follow and draw on for tentative conclusions.
From Graph 1, the latest weekly initial jobless claims numbers aren't raising any alarms. On the contrary, after inching upwards for several months earlier this year, they have recently been reclining again, a positive indicator for business activity.
The stock market, though, has been behaving somewhat erratically. From Graphs 2 and 3, investors in July apparently were thinking the Federal Reserve's resolve to keep raising interest rates might be weakening. Some elements of inflation (e.g., energy prices) have been easing. Investors, therefore, jumped back into the market, providing a little lift to share prices.
But that turned out to be short-lived. Fed Chairman, Jerome Powell, in a speech presented in Jackson Hole Wyoming, expressed a clear intent to keep raising interest rates until inflation is beaten into the ground, while acknowledging the potential pain this might cause the economy. The Fed was slow to act when inflation first began to heat up. Now there's the danger that it might 'overtighten'.
Graphs 4 through 6 capture some of the extraordinary changes occurring on the U.S. retail scene. The total dollar volume of retail sales in the past three years has become much higher than one would have expected based on the pattern over the preceding eleven years. Inflation, which jacks up the price of many purchases, explains some of the surge. But it's not the whole story.
Buying things over the Internet quickly became a form of entertainment, or a diversion at least, when COVID-19 came to town in the Spring of 2020. Have a look at how non-store retail sales have moved from one trajectory to a whole new higher trajectory in Graphs 5 and 6. For the construction industry, the corollary has been a boom in the building of fulfilment and distribution facilities.
Canada's retail sales, as set out in Graphs 7 and 8, have not shown anything like the departure from past trend as America's figures, although a bit more of an upwards jog has appeared lately.
Finally, there are sales by building material suppliers to consider. Stay at home directives really encouraged do-it-yourselfers to take on home and backyard projects in second half 2020 and parts of 2021. The year-over-year sales numbers, though, have now returned to more normal patterns.
With the affordability of a new or resale home purchase deteriorating, but wages in many sectors rising nicely, the motivation to fix up one's present 'humble abode' becomes more appealing.
Graph 1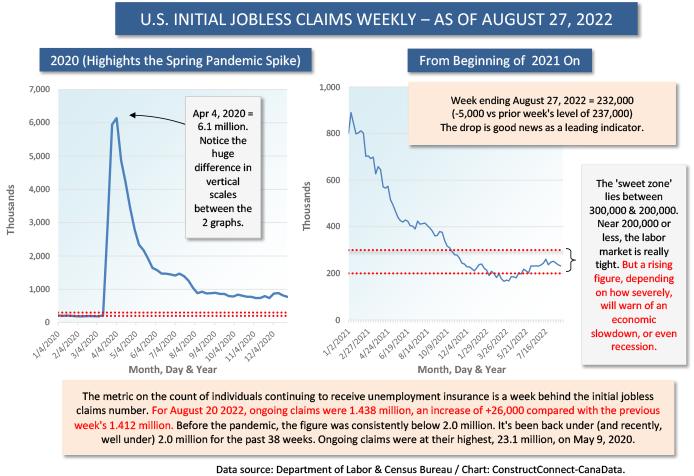 Graph 2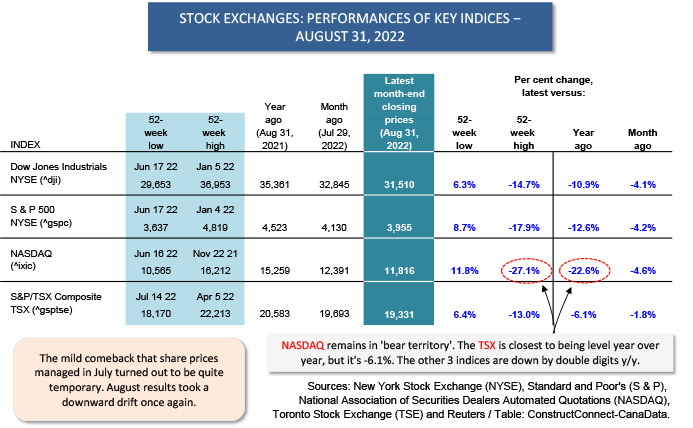 Graph 3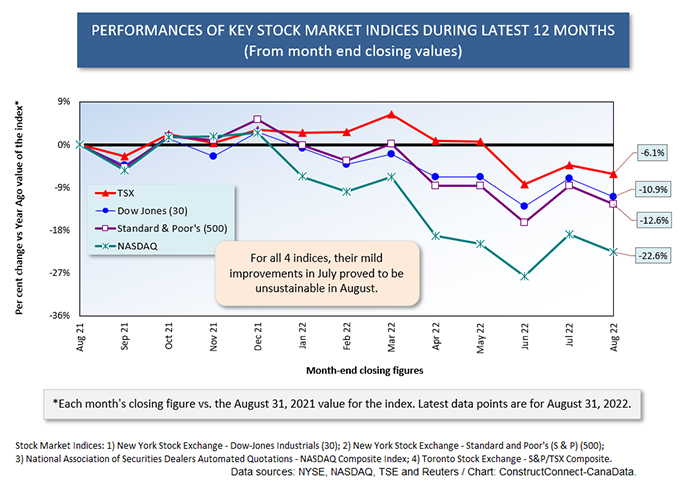 Graph 4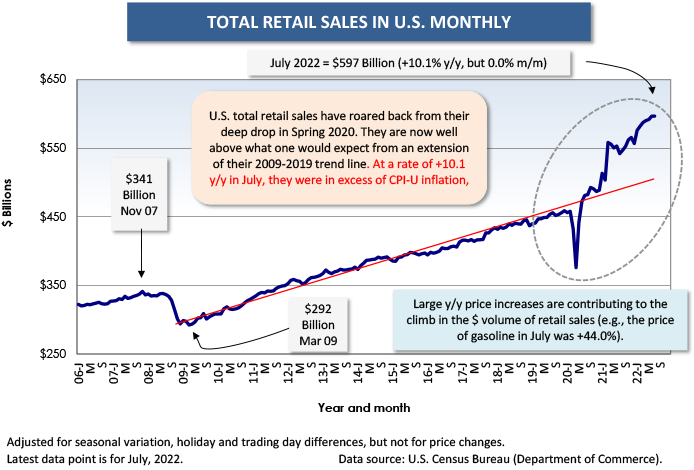 Graph 5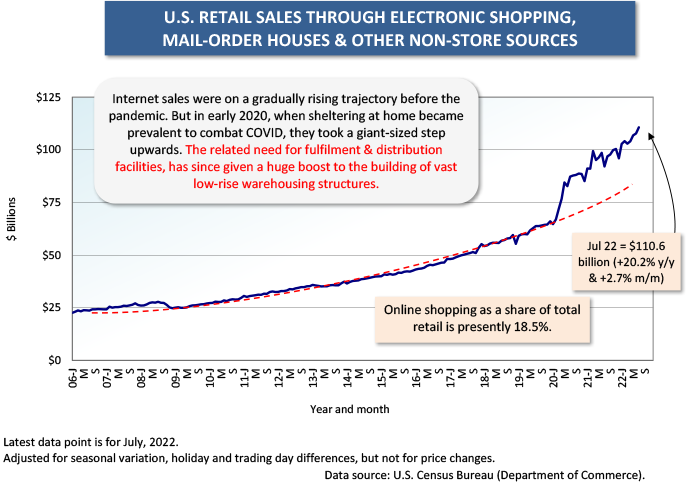 Graph 6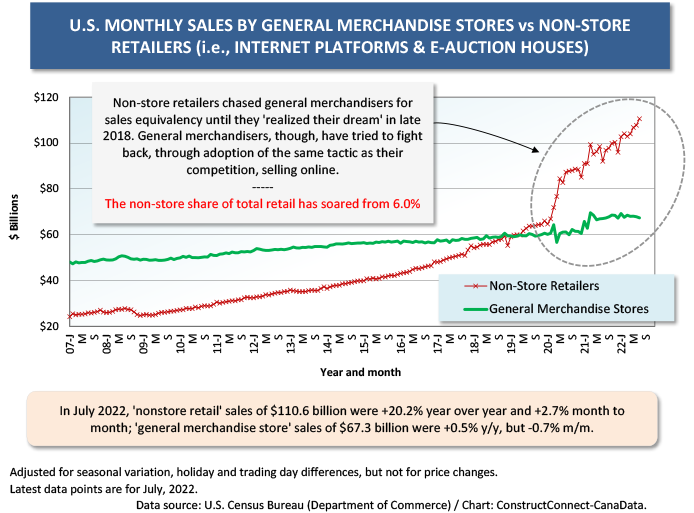 Graph 7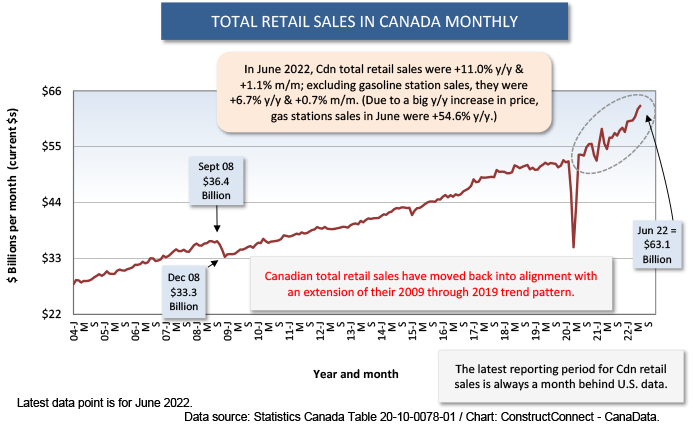 Graph 8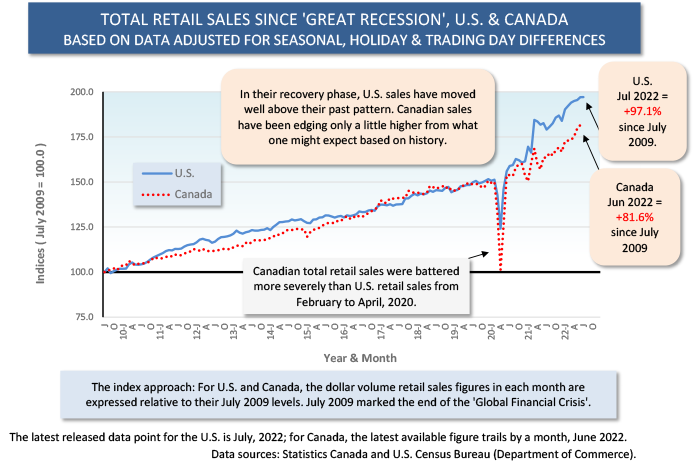 Graph 9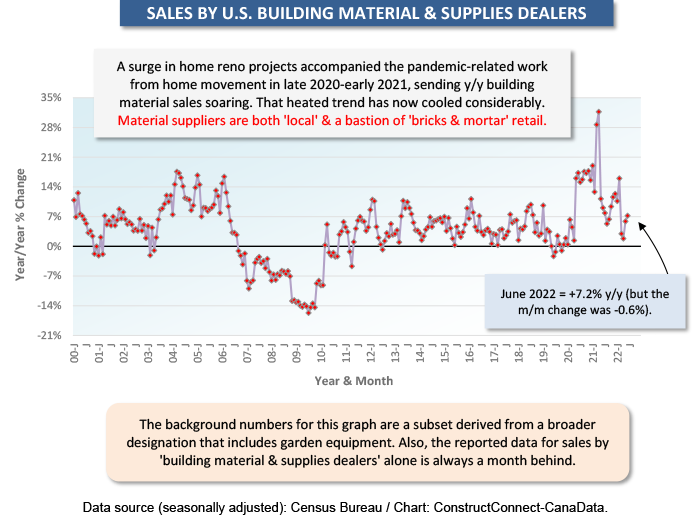 Graph 10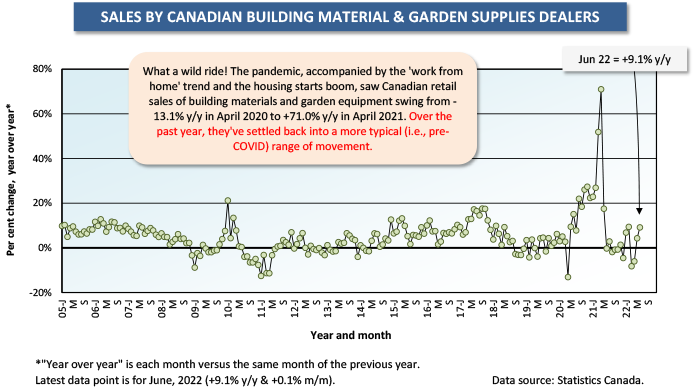 ---
Alex Carrick is Chief Economist for ConstructConnect. He has delivered presentations throughout North America on the U.S., Canadian and world construction outlooks. Mr. Carrick has been with the company since 1985. Links to his numerous articles are featured on Twitter @ConstructConnx, which has 50,000 followers.