At Veterans Cemetery in Esquimalt, B.C., there's a simple grave marker, a white wooden cross, that honours four young sailors who died at sea in 1867 while protecting Canada.
They were part of the crew of the HMS Zealous, which was sailing from England to Vancouver Island to ward off a threat to Canada from Fenians active in San Francisco.
The cross reads: "James Scully, Ordinary Seaman, 21 years, drowned; E. Butland, Leading Seaman, 30 years, fell from aloft; Joseph Medlin, Leading Seaman, 22 years, died at sea; J. Hannaford, boy, 17 years, fell from aloft."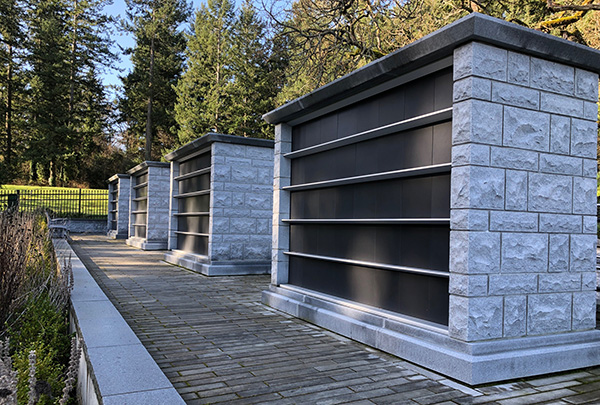 That these poor souls and thousands of other veterans are remembered at gravesites across the land is a testament to the continuing work of many including families, cemetery caretakers, Veterans Affairs Canada, the Department of National Defence, allies like the Royal Canadian Legion, and professionals in the building sector who strive to ensure respect for the memories of Canada's veterans through cemetery design and construction.
For 45 years Erik Lees of Vancouver landscape architectural firm LEES + Associates has largely focused his career on building up cemeteries across Canada in the public and private sectors, inspired, he says, by a sense of responsibility to Canada's veterans.
The registered planner and landscape architect holds collaborative meetings with veterans groups when designing new installations for facilities such as Beechwood Cemetery in Ottawa and relishes impromptu conversations with veterans and their families on sites where his firm has done work over the years, such as the Esquimalt cemetery or Mountain View Cemetery in Vancouver.
The firm, with offices in Vancouver, Toronto and Whitehorse, has done design work, memorial and commemoration design, feasibility analysis, master plans, business plans, inspections and mapping for dozens of cemeteries across Canada.
Beechwood is the site of the National Military Cemetery of the Canadian Forces, purchased by the Department of National Defence in 1944 for interment of veterans of the Canadian Forces. The cemetery is notable for its uniform grave markers and a central military monument. It is also a National Historic Site.
"We are very proud of our relationship with all the cemeteries we work in but most especially those with fields of honour where our vets and their service are commemorated," said Lees.
"I am honoured with that responsibility and feel like it's a privilege to work in those spaces. Our mission is to create meaningful places of memory and meaningful landscapes."
Veterans Affairs maintains 250,000 veteran grave markers in 7,800 cemeteries across the country. In August the department announced the completion of a five-year project to repair veterans' grave markers across the country. The government spent over $24 million from the department's Grave Marker Maintenance Program to undertake over 54,000 repairs, eventually following with upgrades to an additional 60,000 veterans' grave markers for a total of 110,000 markers.
Included in the project were two departmental cemeteries: Fort Massey in Halifax and Veterans Cemetery in Esquimalt.
Clarence Dawe, a 78-year-old Armed Forces veteran who serves on the Royal Canadian Legion Nova Scotia executive council, said he welcomed the improvements to the cemeteries.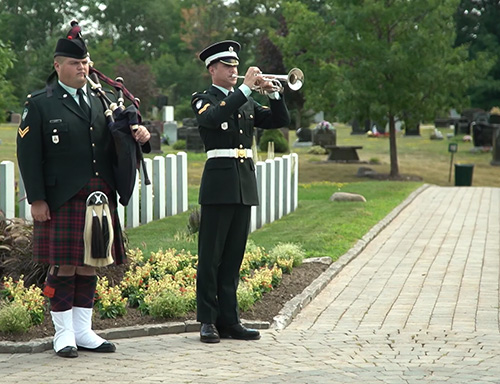 "I very much appreciate it," said the resident of Cape Breton. "It's a sign of respect for veterans. It shows that we still care."
Dawe's father served in the Second World War and Dawe's five brothers followed their father into military service along with Dawe.
"Not only does it improve the cemeteries, it shows the families, the loved ones of those who were buried there, that people still care about the veterans," said Dawe.
The Esquimalt cemetery, often referred to as God's Acre, was a "forgotten little gem" in the national system, Lees said, when the firm was hired years ago to prepare a redevelopment plan. Later, when the cemetery was expanded, the firm was commissioned to design extensive new infrastructure including 1,400 new columbaria, a scattering garden for ashes and space for burying cremated remains. As well there were new roadways, paving, curbs and signage.
"Cemeteries are where the community narrative is literally written in stone," said Lees.
"And in the case of fields of honour, and Commonwealth war grave sites, it's not only a service to the community but a service to the country and indeed, democracies around the world. It's really a history lesson, written in the landscape."
The history of the Esquimalt cemetery started in 1868, when Rear-Admiral George Fowler Hastings purchased one acre from the Puget Sound Agricultural Company. One of its architectural highlights is a small chapel constructed of wood from around the Commonwealth, including camphor, teak, ironwood and mahogany.
The life stories abound, recorded by Veterans Affairs. In 1892, a Japanese naval officer named Haruma Kusano was serving on board HIJMS Kongo when he died of pneumonia while the ship docked at Vancouver Island. He was buried in Esquimalt with a granite ledger stone bearing a chrysanthemum symbol later placed over his grave. There is still a tradition of visiting sailors from the Japanese Navy trekking to the grave for a commemorative ceremony.
Nov. 11 will be an important day for Lees. The communal sharing of grief, he said, is a powerful experience.
"Remembrance Day means to me and my family an opportunity for us as a community to collectively share the grief and the remembrance of these men and women that helped build this country and protect it."
Follow the author on Twitter @DonWall_DCN