NORTH BATTLEFORD, SASK. — Twelve community airports across the province of Saskatchewan are getting a funding lift for repairs and upgrades through the Community Airport Partnership (CAP) program. 
Airports on the receiving end of funding include:
Carlyle: $14,920 for runway and apron crack filling;
Kindersley: $4,000 for runway asphalt preservation;
Lucky Lake: $61,669 for runway preservation, crack sealing and slurry seal;
Melfort: $52,478 for rewiring and lighting upgrades;
Moose Jaw: $30,000 for runway and taxiway crack sealing as well as the replacement of the aerodrome beacon;
North Battleford: $275,000 for runway rehabilitation;
R.M. of Eldon: $40,966 for runway, taxiway and apron crack sealing, fog seals and line painting;
Shaunavon: $10,000 for lighting upgrades;
Swift Current: $46,500, which will go towards the re-designation of runway, asphalt maintenance, lighting upgrades, runway and taxiway markings;
Tisdale: $27,000 for runway patching and crack sealing;
Weyburn: $8,800 for line painting and fence installation; and
Yorkton: $128,667 for an apron extension.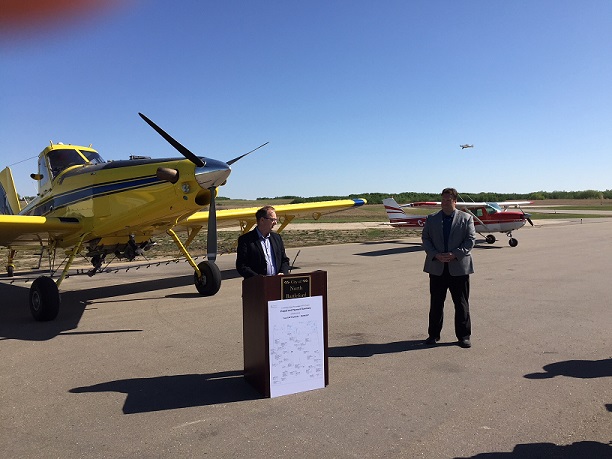 The grants are cost-shared up to a maximum amount of $275,000 as the CAP program is designed to help offset the capital costs of rehabilitation and infrastructure improvements, explains a release.
Since 2007, $14 million has been invested in airport rehabilitation. 
Eligible projects can include both construction and engineering services but must have approvals from appropriate agencies. 
According to the CAP program guidelines, applicants are required to solicit competitive bids for the work, and those without contractor estimates are not accepted. The evaluation and ranking of projects is completed by an independent review panel made up of representatives from the Saskatchewan Aviation Council and operations specialists from the Regina Airport Authority, the Saskatoon Airport Authority and the Ministry of Highways and Infrastructure.