Hundreds of millions of dollars in culvert, roads and bridges construction are needed in B.C. to fix rural flood damage and help municipalities to flood proof as climate change brings rising water levels.
The work is preparing for what a new B.C. government report on severe event flooding and wildfires is calling the "new normal". Addressing the New Normal: 21st Century Disaster Management in British Columbia sets out the problems facing communities and makes wide ranging recommendations including the need for better infrastructure and new technologies.
In flood-struck areas such as Grand Forks, Peace River, and the Okanagan, work has already started. Contracts are not billion dollar deals, but smaller contracts, as governments look at replacing bridges, culverts, and roads to accommodate increased water flows.
In the Peace River, the Ministry of Transportation and Infrastructure (MoTi) has embarked upon a multi-year plan to replace culverts and constructing new bridges following the 2016 flood. To date, $82 million has been spent, a MoTi email said. Thirteen new structures have been either built, are in construction, or planned. Construction companies working on projects include: Brocor Corporation Ltd. (Rolla Road bridge), Surespan Construction ($12.4 million for Tippy Corner, Willow Flats and Stone Creek bridges) and Formula Contractors ($7.1 million Bowlder Creek bridge). Bridges are constructed to a 200-year flood level.
Five more projects will be constructed over the next two years. They include the $25 million 8th Street Bridge in Dawson Creek being designed by Associated Engineering. The project, according to MoTi information, is expected to go to tender in the spring 2019 and will take two years to complete as it replaces culverts.
Other projects are the Fur Thief Bridge (construction starting in summer 2019 with Parsons Engineering acting as consultants); Parnell Road bridge (construction starting in summer 2019 with Klohn Crippen Berger as the engineering consultants); Gladys Bridge (construction starting in late 2019 or early 2020 with Parsons Engineering as consults); and the Gibbons multi-plate structure (construction slated for late 2019 or early 2020 with Parsons Engineering acting as consultant).
The Boundary Flood Recovery (BFR) team, which includes hard-hit Grand Forks, is looking for flood recovery funds to begin its flood upgrade. In May 2018, parts of the Granby, West Kettle and Kettle River exceeded the 200-year flow level causing $38 million in damages to agricultural operations and buildings ranging from residential to industrial.
Grand Forks has a five-year $60 million flood recovery plan in place and is seeking funding from different levels of government. In January, the city applied to Infrastructure Canada, through the BFR, for $49.9 million in funding for flood mitigation projects that will pay for re-establishing wetlands, building dikes, raising roads, installing pumps for storm water drainage, and bank stabilization. The total time to implement all stages of the proposed plan is five years after receiving funding approval. Funds are also being sought under the National Disaster Mitigation Program for further works.
In the Okanagan where flooding has occurred for the past two years, Don Dobson P.Eng. of Dobson Engineering, has already issued an alert for the South Okanagan area it has reached saturation levels of groundwater "creating an increased potential for flooding during freshet in 2019".
The Regional District of Central Okanagan, one of three regional districts, has recently completed mop-up damage from the 2017 flood in six of its regional parks where bridge, trail, parking lot or boat launch damage was incurred by flooding and contracts let to repair damages ranged from $100,000 to $500,000. Kelowna is looking to repair damaged culverts and a longer range plan, pending ministry approval, is replace the culverts with a larger open bottom arch culvert. The project is in the design state.
The shift to upgrade grass-roots infrastructure is tied to increased level of precipitation more often.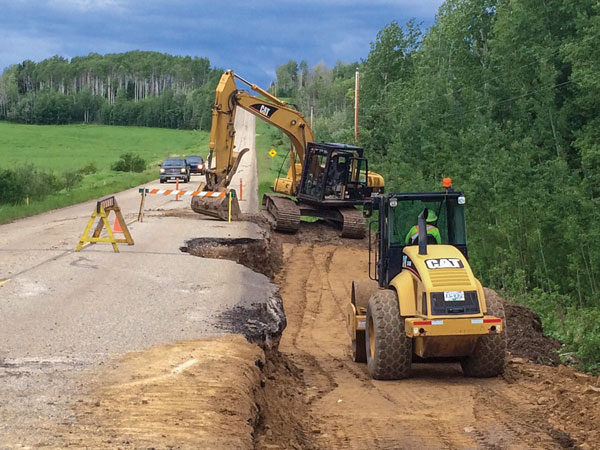 "Climate change has always happened," said Dobson, "But, what we are seeing is that things are changing more rapidly."
There are also more extreme events occurring. He said that engineers have used the best available data when designing dykes, roads, bridge and culverts. Culverts have a 50-100 year life while bridges up to 75-100 years. Engineers have in the past designed to a 50, 100 or 200 year extreme occurrence but as the Grand Fork's flood demonstrated, it surpassed the level anticipated for a 200 year event.
Within the past decade, increased rainfall and warmer temperatures have resulted in data spikes showing higher lake and river levels rise, he said. Engineers now have to eye data more critically when retrofitting a bridge or culvert or building new structures.
"How has that data changed? And, does that change mean we have to re-visit and re-size the bridge or culvert?" he said.
Northwest Hydraulic Consultants engineer Des Goold, P.Eng., said all the replacements happening of culverts and bridges cannot be blamed entirely on climate change flooding. In some cases, the structures were undersized from the beginning based on limited flow information.
"With respect to the flooding in the Peace and Okanagan, some of the infrastructure is very old and designed at a time when we didn't have a lot of water and flow data," he said.
Engineers may have had only 20 to 30 years of data to aid them in designing culverts or smaller bridges. "It was more of a guessing game," he said.
Today, there is a longer history of recording such information. Generally, he said, there is a shift towards upsizing culverts or replacing culverts with bridges. But, that move is also dependent on other design factors such as providing bridges with clear spans so mid-stream piers do not trap debris, or providing larger sized culverts with debris deflects to avoid clogs.
The B.C. government, the Engineers and Geoscientists BC, the Association of Consulting Engineering Companies B.C. plus other organizations have produced guidelines or best practices for accommodating climate change in structures. "Generally, the design of bridges haven't changed a lot," Goold said, aside from the piers may be dug deeper, larger-sized rip-rap used to stave off scouring or erosion, and structures may be more elevated.
But, preventative design solutions are being explored. The BC MoTi in rural areas, many of which service access roads needed forest access or fighting fires, are dealing with rock and timber from debris flows or landslides leading to blockages and road washouts.
There is no doubt that we are looking at new standards and new concepts
— Mark Woods
Regional District of Okanagan-Similkamee
At Grizzly Creek, near Chetwyn, in northern B.C. a 900 mm culvert was overwhelmed creating flooding and washing out parts of Highway 97 in 2016. McElhanney Consulting Services Ltd. reviewed crossing replacement options and with Atlantic Industries Ltd. selected to build a bolt-a-plate horizontal ellipse structure.
Northwest Hydraulic Consultants Ltd. (NHC) recommended additional armouring of the culvert invert plates to better withstand abrasion from gravel and rocks. (The armouring plates are attached on the bottom half to further prevent scouring and are easier to replace than the metal lining inside the concrete culvert).
As a further deterrent for debris, NHC also recommended and provided preliminary design of a V-shaped steel trash rack which deflects debris to the sides of the culvert and prevents jams. McElhanney completed the detailed design of the trash rack.
Mark Woods, community services manager for the Regional District of Okanagan-Similkameen said the regional districts within the Okanagan area have all banded together to provide gain greater flood mitigation solutions and determine what needs to be done to infrastructure.
Currently, LIDAR technology is being used. LIDAR is an aircraft born radar system that maps elevations.
"We are trying to determine where the water will flow when there is a substantial run-off and where the low-lying areas are and how that changes the landscape," he said. That information can translate into information which can form wetlands, how to engineer roads, bridges, culverts and residential areas within the regional districts.
"There is no doubt that we are looking at new standards and new concepts of how we do things and we need the consulting engineers to read the latest article and design accordingly," he said.
One recent study has come from Korea. 'Flood fragility analysis for bridges with multiple failure modes' is currently one of the few studies looking at bridge failures caused by floods rather than seismic failure. The study by researchers at the Ulsan National Institute of Science and Technology uses a new method to calculate the potential risk to a bridge in rapid flowing flood waters on pier or pile ductility, pier rebar rapture, pile rupture, and deck loss.
Bringing together all the information on new solutions, historical flow data, potential for debris flows, climate change impact on rising oceans, and the impact on surrounding forest cover and wildfires is not without challenges.
"It is an enormous task," said Grand Forks mayor Brian Taylor when he speaks about redesigning a city infrastructure to become flood-proof in the changing environment and trying to do it with the best information possible and in a way the public can understand.
Taylor said the city enacted new bylaws that raised buildings higher and that saved some buildings, but many still remain in flood plains, areas now restricted from new construction. No bridges were washed away but a rising river carrying a tree stump dented a utility pipe carried by a bridge. As well, the city's public works yard was cut off from downtown when the connecting road flooded and a dyke road had to be constructed.
Taylor said that cities hire the best professional to provide guidelines, based upon the best available data but, despite all these measures, there is still an element of uncertainty facing many B.C. rural cities.
Over-harvesting is occurring in many parts of B.C. as the province attempts to remove salvageable mountain pine beetle-killed trees, which leaves less living forest with roots to absorb ground moisture and hold the ground intact. The growing prevalence of wildfires has also caused rural cities to remove forest cover around them.
"There is a confluence of factors that lead into this," he said as the issue goes beyond high snow-packs and rainfall.
Grand Forks, he said, is taking the lead in devising a plan to mitigate flood damage in the future and is fortunate to have the support of the provincial government to help both with funding and planning. He doesn't believe Grand Forks will be the only community that will need to upgrade and change as water levels rise.
"We are really writing the floor plan for disaster areas in the future," he said.