It's a cold winter's day in Brock, Sask., a small village of about 150 people roughly 165 kilometres southwest of Saskatoon, and the operator of a giant orange Liebherr mobile crane is preparing to make a lift.
The operator pushes on the levers, the motor on the machine revs up and a giant section of bridge deck begins to rise from the back of a nearby flatbed truck.
The load, attached by four thick cables, is swung by the crane — slowly that is — and guided by two workers with ropes over a frozen causeway. Once in position, the giant hunk of metal is gently lowered onto a couple of abutments.
Mission accomplished.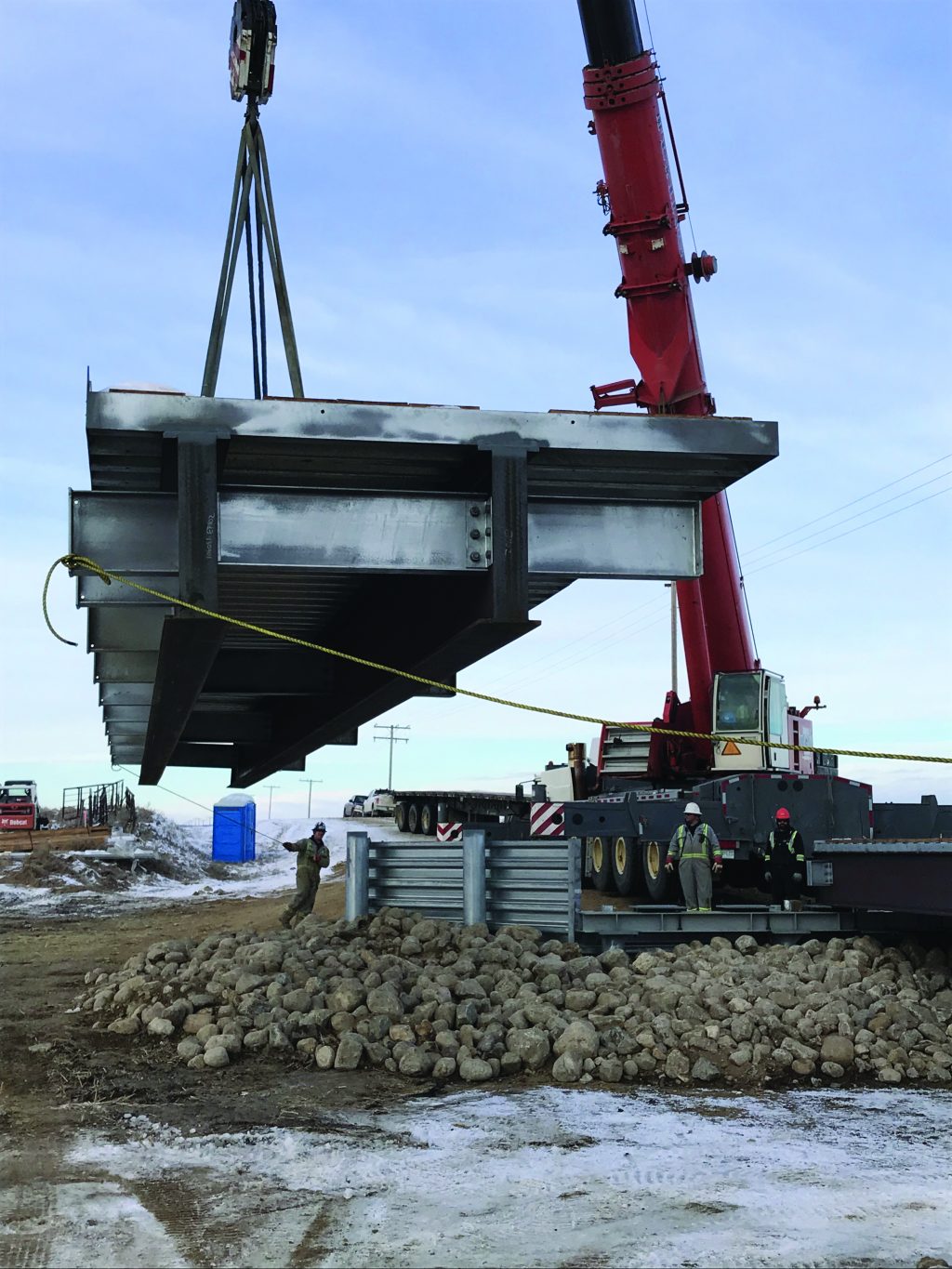 A total of three sections were lifted and installed in a little less than three hours.
The structure was a Bridge-in-a-Box, a pre-assembled steel modular span developed by Armtec-Canada, a division of WGI Westman Group Inc.
The company engineers and pre-fabricates modular bridge structures that can be delivered to a site in single- or double-lane configurations.
The pieces snap together like a giant Lego set, with spans from six to 25 metres.
Instead of building or erecting a bridge over a stream or pathway, the Bridge-in-a-Box can be pre-engineered in the factory based on specifications provided by an engineer and then delivered to the jobsite.
The all-steel bridges are an ideal solution for rural, forestry, and remote locations as they have little impact on the environment.
Scott MacRae, development and engineering manager at Armtec-Canada, says the whole idea of the bridges is to lower costs and speed up construction on a jobsite.
Typically, the pieces arrive at site on one or two flatbeds, depending on the size. The sections are lifted into place and connected. A guardrail or guiderail is then installed and a running surface is then laid on top of the deck.
MacRae says the smaller bridges are often used as pedestrian walkways to cross streams while the larger double-lane versions up to 2.5 metres wide can be used by rural municipalities that have a lot of low-volume backroads and gravel roads that traverse waterways.
The bridges comply with the Canadian Highway Bridge Design Code for pedestrian and highway live loads.
A typical bridge consists of two to four girders, two to three secondary beams, guiderail posts, bridge planks and deck, and side and end dams.
A typical Bridge-in-a-Box can be assembled and placed onto abutments in one day, in all weather conditions, with standard construction equipment.
The customizable bridge design is complemented by standard steel posts with W-Beam or Thrie Beam guardrails for low volume roads.
MacRae says two types of steel are used in the bridges and coatings are applied to the rails and decking.
The company developed the Bridge-in-a-Box product because it saves time and money, as the bridge is pre-assembled ahead of time, says MacRae, so there's relatively little work to be done to get it up and running at a site.
A big advantage of the product is that it's easy to install, compared to building an actual bridge, he says, and there is less manpower required because it's pre-manufactured and ready to go.
The customer or municipality ordering a bridge provides all the necessary site information to a company salesperson such as the length, height and clear standard of the bridge that's required. Often, a photo of the site and other measurements are also required before a quote is offered and an order placed.
The cost, says MacRae, is determined by the specs given to the engineers at Armtec.
"Engineering will do the design based on the site and will price it out," he says. "The price is job-specific depending on what the customer is looking for and where it is."
Smaller spans often come in one piece which can be lifted right off a flatbed and placed onto abutments, says MacRae. The larger spans come in two lengths on a flatbed and are installed the same way.
"In the case of the two lengths, when they arrive they are lifted off the truck and put onto the abutments which are made ahead of time and the halves are put together. Then they have to attach the guardrails."
For someone who works in construction, it's a fairly simple process, explains MacRae.
"In one day, the whole bridge is assembled on site. The second day is usually for grading or fixing things around the approaches."