The St. Andrews Lock and Dam system spanning the Red River just north of Winnipeg is undergoing its first major overhaul in more than 25 years. 
The $37 million project will result in the complete replacement of the main span traffic bridge deck as well as the partial depth rehabilitation of the approach span traffic bridge decks.
"We began the demolition of the old bridge deck in July," reports Nicholas Withoos, project manager for M.D. Steele Construction, the Winnipeg-based firm that was awarded the contract to rehabilitate the locks. "We will be doing a full concrete renewal of and widening the traffic lanes over the dam. We will also be strengthening the structural steel trusses below to enhance the load capacity, widening the deck sidewalk and building new stairs and barrier free ramps on both the east and west approaches."
Withoos notes the 110-year-old St. Andrews Lock and Dam system, which facilitates navigation on the Red River from Winnipeg to lake Winnipeg, was originally built in the Camere style, a system developed in France which uses moveable curtains which raised or lowered to control water flow.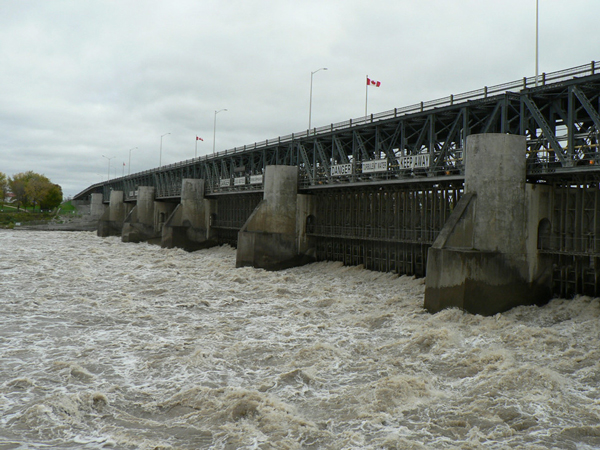 The curtains are made up of narrow horizontal strips of wood hinged together. There are 89 movable curtains in the dam. Each one is built from 50 thin, narrow strips and measures four metres long and 2.1 metres wide.
The dam and bridge measure 270 metres in length. The bridge consists of seven 15-metre-high concrete piers with 40-metre steel trusses between the piers.
The St. Andrews Locks were the world's largest Camere style system and the only one left in operation.
Among the challenges that the project poses for M.D, Steele, Withoos notes, are high winds at times and the fact that this is a phased operation. 
"We have to keep one travel lane open at all times," he points out. "So we also have to have a time signalling system to help with traffic management throughout the duration of the work."
He adds M.D. Steele is using a Gantry crane system to ferry building materials for the bridge.   
The work is scheduled to be completed by the end of next year.