New documents from the Trans Mountain Pipeline Expansion project team detail how the project's cost has ballooned by billions.
The total project cost has increased from $12.6 to $21.4 billion, which includes all known enhancements, changes, delays and financing, including the substantial impact of the November 2021 floods in the Hope, Coquihalla and Fraser Valley areas of B.C.
In a project update, Trans Mountain explained the massive cost increase can be broken down into five broad categories – project enhancements, safety and security, productivity challenges, schedule pressures and financing costs.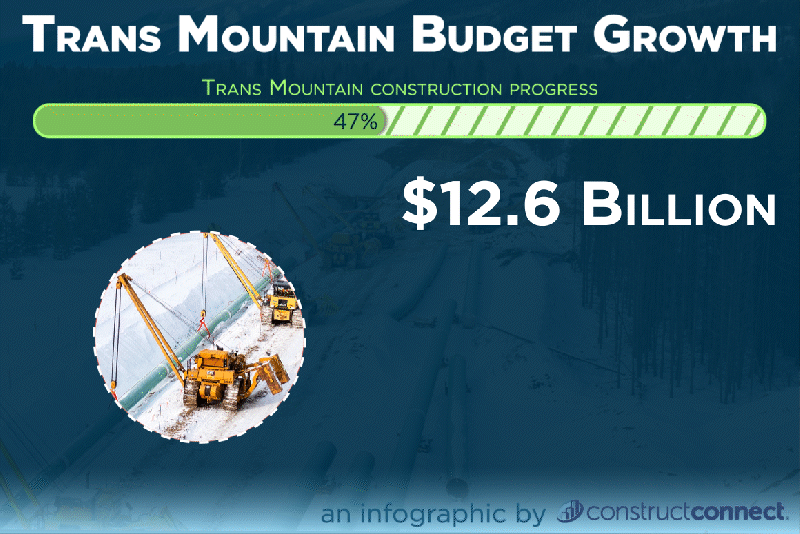 Project enhancements ($2.3 billion increase)
This include changes in design, additional pre-execution studies, archeological reviews, increased field work, a more expensive Indigenous Mutual Benefit Agreement, construction enhancements beyond industry standard, wildlife protection and much more. Trans Mountain cited several examples including:
$325 million for trenchless water crossings at key roadways to protect the environment. 
$66 million for additional worker camp construction. This was due to increased worker requirements and to reduce demand on the local cities to house workers. 
$325 million to protect hundreds of kilometres with matting.
$120 million for environmental professionals. 
Safety and security enhancements ($500 million increase)
The project saw safety costs skyrocket after serious concerns around worker safety emerged.
Inspectors visiting Trans Mountain sites in the Lower Mainland in 2020 detailed "systemic non-compliance" of COVID-19 protocols and told those in charge to do a safety standdown at the site so the entire project team could be addressed regarding the seriousness of COVID-19, the behaviour that is expected and the consequences of non-compliance.
The project also saw a worker killed at an Edmonton site in 2020 and an employee of a contractor was seriously injured a few months later while on a Burnaby site.
The safety standdown and its immediate effects cost the project approximately $180 million. The project also saw security costs for the project increase by $117 million. The project spent more to expand its field inspectors and supervisors. It also incurred more costs implementing safety measures to protect workers from recent extreme weather events. 
Productivity challenges ($1.6 billion increase)
Trans Mountain stated it has had issues with contractors. It had to remove one major contractor, another contractor left the project and the team had to onboard three new construction contractors. 
The project team added "some contractors' work did not perform at previously estimated levels." They attributed this to scarcity of experienced workers, permit delays and unforeseen geotechnical conditions.
"Contractor productivity is improving and now reaching acceptable levels," stated the documents.
Scheduling pressures ($2.6 billion)
Officials with the project noted it requires thousands of permits and the timelines associated with these permits have impacted crews' ability to begin work and to reap efficiency from accessing site areas. 
The timing of the safety standdown also cost the project some seasonal work windows, including times of the year where certain work can be down without disturbing birds. Extreme heat and fires during the summer in B.C. limited work in some areas. 
The Burnaby Terminal and Westridge Marine Terminal required additional earthworks which delayed the overall project schedule and increased costs. 
The disastrous floods in B.C. also delayed the project by roughly three months. 
Financing ($1.7 billion)
Finally, the project team explained the longer schedule and higher budget has caused financing costs to rise by $1.7 billion. 
Officials say the project construction is now more than 47 per cent complete, and overall project progress is at approximately 55 per cent complete. The team expected mechanical completion to be achieved in the third quarter of 2023.
Follow the author on Twitter @RussellReports.