Construction experts, tradespeople and suppliers came together following a severe storm to get Medicine Hat's electrical infrastructure back up and running.
The city's electrical infrastructure sustained significant damage during a confirmed EF-2 tornado and downburst in July that left more than 7,600 customers without power. 
Two substations with multiple transmission lines, distribution feeders and transformers were affected. More than 80 power poles went down with live lines attached. 
Boyd Mostoway, Medicine Hat's acting managing director of energy and infrastructure, explained that most of the city's damage was from the winds following the tornado. 
"The response was immediate from our side and within probably three to four hours we had crews from the contractor companies," said Mostoway. "They all made themselves available to us within hours and had people available."
Restoration work required 17 bucket trucks, 13 diggers, two backhoes, two cranes, 33 trucks, one dump truck, one drone and multiple hydrovac units. Suppliers provided over 3,500 units of hardware, over 160 insulators and more than 60 poles.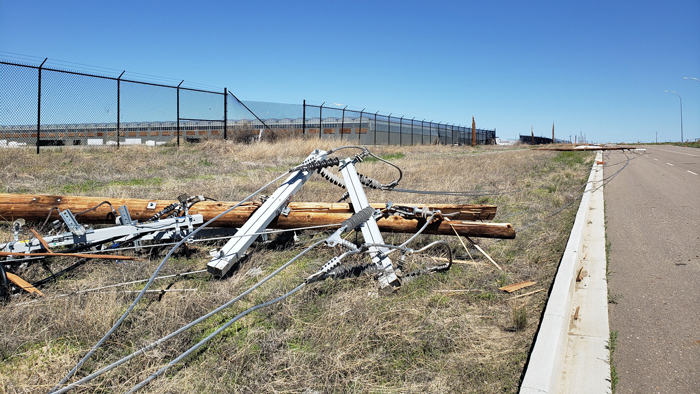 "When the pandemic struck, construction carried on as an essential industry," said John Digman, executive director of the Medicine Hat Construction Association. "When the recovery resumed, construction was a key industry via infrastructure spending. And when disasters strike like the B.C. floods, the For McMurray fires and the Medicine Hat tornado, construction is essential in cleaning up and rebuilding."
City crews were assisted by contractors like Niwa Crane Ltd., C & K Trucking (Hydrovac) Inc., Hydrodig, DDK Concrete Pumping Ltd., LMT Crane Service and Ronco Oilfield Hauling Ltd.
Electrical industry experts, including the City of Lethbridge, Fortis Alberta, Nixon Projects Inc. and Atco, sent 37 field staff with specialized training to assist the city's 38 electrical field staff, five incident command staff, and 15 support staff. Even more staff from other city departments like Parks and Recreation, City Assets, and City Operations (Gas), as well as contractors, added to the workforce dedicated to recovering the electrical system.
Suppliers also leapt into action. The city received support from lStella Jones, Fortis Alberta, Atco, Altalink, EECOL Electric, Guillevin International Inc., Domino Highvoltage Supply Inc., Anixter Inc., K-Line Group of Companies, Rexel Canada Electrical Inc., Westburne and Eaton/Cooper Power Systems. These companies either redeployed their own electrical parts and supplies to Medicine Hat or helped expedite the sourcing, procurement and delivery of materials on behalf of the city.
"These companies and suppliers helped us out immensely," said Mostoway. "It took an outage that would have taken four to five weeks to repair and cut it down to a few days."
Staff will continue to clean up and rebuild the electrical system for the next three to four weeks. Planned short-term outages may occur in order to redirect electricity back to proper pre-storm routes.
"We have had windstorms but not to this magnitude," said Mostoway. "This was particularly nasty."
According to Environment Canada, multiple homes, an RV and grain bins were damaged by the tornado, which hit at around 1:10 p.m. some 10 kilometres southwest of Redcliff. Wind speeds are estimated to have hit 190 km/h. Soon after the tornado, the region near Redcliff was hit by a downburst – a strong downward and outward wind system. This downed trees and powerlines and damaged structures with 150 km/h winds.
"Thank you to everyone who contributed," said Mostoway. "I think it's great that everybody was willing to drop what they were doing and help the city, and a lot of the companies are in construction or are suppliers and they were willing to take time out of their day to help the community. Overall, you just can't have enough people like that."
Follow the author on Twitter @RussellReports.