The Granville Bridge, one of the most vital transportation structures in Vancouver, is going to be getting a major facelift starting next year.
The City of Vancouver recently awarded a $28 million contract to Pomerleau Inc. to remove the northern loops of bridge and reconfigure the deck to be more pedestrian oriented.
"What's really needed out there is an accessible, safe, comfortable walking environment and a comfortable all-interests and abilities cycling facility," said Vancouver's director of transportation Paul Storer in an interview with the Journal of Commerce.
The Granville Bridge was originally built in 1954 to accommodate eight lanes of traffic in anticipation that it would connect to a larger highway system. Those plans never materialized and now the city is looking at how to intelligently use the excess space.
"Apparently when it was built it was one of the widest bridges in North America," Storer said.
"Once the city decided not to (build a freeway) it's really been this sort of overbuilt piece of infrastructure."
Two lanes on the west side of the bridge are going to be removed from vehicle use and repurposed as walkways and bicycle paths. Once completed, there will be three-lanes of traffic going both directions instead of four.
Barriers will also be put between pedestrians and traffic lanes on the east and west sides.
Where once pedestrians had to cross when there was a break in traffic, new signalized crosswalks will be installed at several important sections.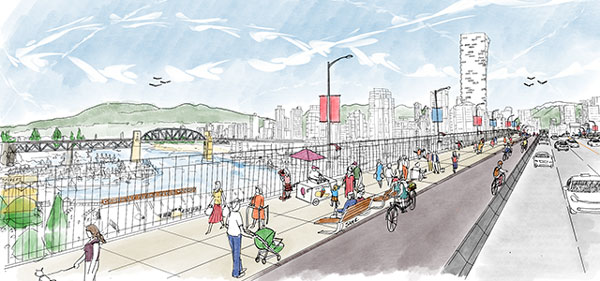 One of the major aspects of the project will be the deconstruction and complete removal of the north loops attaching the bridge to Pacific Street. The bridge's superstructure north of Pacific will also be removed and redesigned to connect directly to street level.
The bridge will connect to Neon Street with a signalized intersection and the area under the soon-to-be removed superstructure will be filled in to bring everything up to an even grade, said Storer.
Rolston and Continental streets will be extended to connect Pacific Street to Drake Street, forming what Storer called the "H plan."
"Basically, northbound traffic heading across the Granville Bridge wanting to go westbound on Pacific would ꟷ instead of doing the highway-oriented loop ꟷ would be making three right turns," Storer said.
He said removing the loops and filling in the area underneath the old superstructure will also reduce maintenance costs in the future and make the area more seismically secure.
Replacing the loops has been flagged since the early 2000s, Storer said.
"This was the right opportunity to start that work to replace the vehicle-oriented loops with a street system so we can both make the connector work better and make all of the walking and cycling connections up and down the hill there work a lot better."
Storer said the change will also allow for land development in the space the loops formerly occupied.
He explained the "H plan" will improve traffic flow as the bridge in this area will now connect directly to Drake, Neon, Rolston and Continental streets instead of only to Pacific Street.
The portion of Granville Street north of the Howe and Seymour ramps will be closed entirely for six-months to facilitate the deconstruction of the loops and superstructure.
The Howe and Seymour ramps will however stay open. Storer said there will always be at least two lanes of traffic open going both directions.
Revamping Granville to be more pedestrian-focused aligns with the city's plans to tackle climate change and promote active transportation, he said.
"Our street network is built out. We're not able to add more vehicle capacity," said Storer.
"Making it more comfortable for people to walk and bike places is really how we are going to have a functional transportation system in the long-term."
The city originally set itself a 2040 goal of having two out of every three trips in Vancouver occur on foot or bike, he said. But when completing their climate emergency plan it was discovered that cars account for 40 per cent of all city emissions.
"So that goal of two-thirds of all trips got moved up to 2030."
Ease of access for active modes of transportation for two of Vancouver's busiest districts will play an important role in reducing those emissions, he said.
Ensuring the Granville Bridge represents the best of Vancouver engineering is only natural – it is an essential piece of infrastructure for B.C.'s most prosperous zones.
"It's the main central connection between our two busiest economic areas," Storer said. "(Broadway and downtown) are the two big economic generators within the province."
Adding a third aspect of cohesion is Vancouver's push for Vision Zero, which is being implemented in municipalities across the country and seeks to reduce pedestrian fatalities on roadways to zero.
"We can make the bridge a lot safer with this project," said Storer.
There is no set date for the work to begin.
"We hope (loop deconstruction) would start fairly early in (2023) and the idea is probably the construction overall will go through most of 2023 and 2024."
Follow the author on Twitter @JOC_Evan.