A new Edmonton fire station will accomplish net-zero energy from above and below. 
Windermere Fire Station No. 31 is located in southwest Edmonton in a rapidly expanding neighbourhood. The project, which has a budget of $18.29 million is the City of Edmonton's first net-zero building, a feat it accomplishes through a combination of solar arrays, geothermal heating and cooling and sustainable design.
City of Edmonton director of facility planning and design Shannon Fitzsimmons said a fire station's highest priority is to meet its operational requirements.
"Trying to integrate those requirements in a net-zero design build is a challenge," she said. "There are limitations that have to be considered and ultimately because of the nature of that service it's important that the building performs for their service requirements first and foremost, such as response times."
Going net-zero necessitated a rethink from traditional fire hall designs, she added.
"One of the challenges you're faced is that a fire station with three bays has very large doors that open and close repeatedly for the trucks to move, for the apparatus to move in and out. So any time you open a large door you create a large opening in a building, you lose potentially any energy gains you've made either in heat or cooling," Fitzsimmons said.
The design team managed the problem by creating a new door system where instead of one horizontal bifold door system, two doors met in the middle to quickly close an opening and prevent heat from escaping.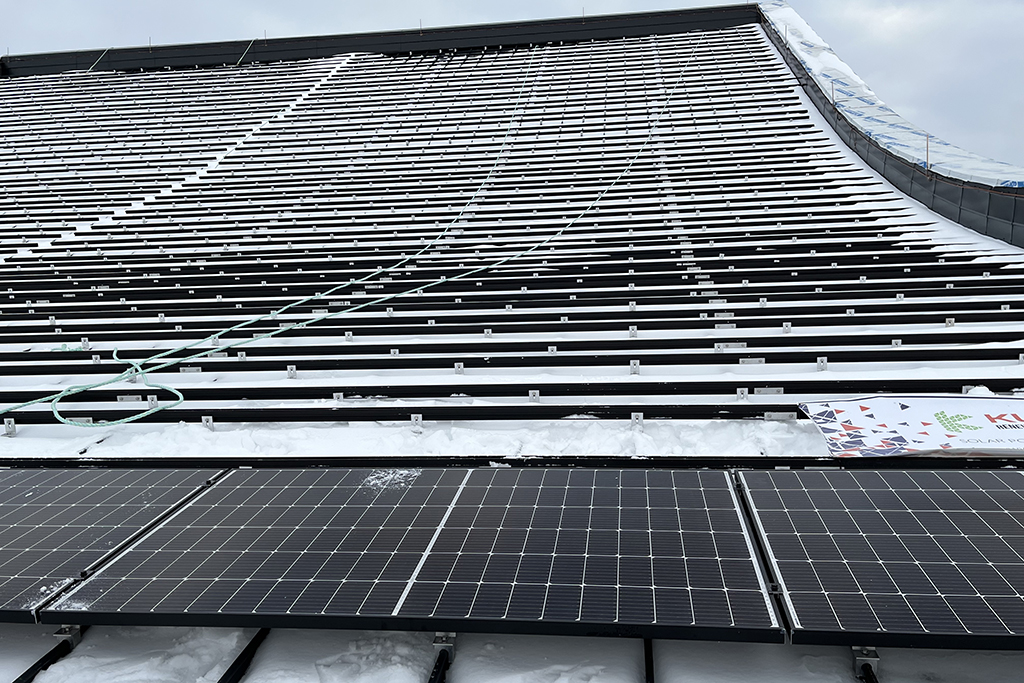 "The faster the time a door is open and the time it takes to close is reduced significantly. It's a matter of seconds and it makes a difference for maintaining the efficiency of the building. It also helps with response times for moving the apparatus out that much quicker as every second counts when those teams are responding to emergencies," she said.
A solar array with over 382 modules at 375W each is on the structure's roof. While the station has required redundancies and backup systems, Fitzsimmons said the panels generate a substantial amount of energy.
"Edmonton gets 2,300 hours of bright sunshine per year and is one of the sunniest cities in Canada, so we're able to harvest that energy, which is great," Fitzsimmons said.
The facility is also using geothermal heating and cooling to further its net-zero goals.
"We've constructed a geothermal field located in the outdoor parking area of the station. It's 34 or 35 boreholes drilled like a well. They're 230 feet deep and by going that deep into the Earth's surface you're able to harvest either the heat or the cooling depending on the time of the season and transfer that to the building through a ground source heat pump," she said.
Monitoring systems are also in place to ensure optimum sustainability performance, she added.
"We certainly have systems installed, but we also have the resources of the city as well for measurement and verification of performance of the system. We have the capacity to do that and then understand if adjustment needs to be made. We can even make that information available to the public so they can see the benefits," she said.
In 2018 the fire station's building design won the Canadian Architect 2018 Award of Excellence. The lead design architect was gh3* and the prime consultant was S2 Architecture.
The City of Edmonton projects the project will be complete by summer 2023 and Fitzsimmons said the facility will also be in-service by that time.
"Once construction is complete, it does take time for a fire crew to set up their equipment and do all the testing to make sure that everything is operating as it should. It's a little more involved than moving into a standard building," she said.
Follow the author on Twitter @JOCFrey.