A severe storm which hit Toronto almost 20 years ago causing major property damage is the driver of a massive infrastructure project.
Designed by CH2M Hill Canada Ltd (now Jacobs), the $400-million Fairbank Silverthorn Storm Trunk Sewer project is an undertaking which took years of planning and design, required shipping a tunnel boring machine from France, and is only about the half-way point of approximately six years of construction.
Its purpose is to protect more than 4,600 homes and businesses in a 140-hectare section of the Fairbank Silverthorn community of northwest Toronto from basement flooding.
When the project is completed in 2026, the amount of storm water flowing into Black Creek on the western edge of the community will be cut by approximately 40,000 cubic metres, says Simon Hopton, design and construction director with the City of Toronto's engineering and construction services section.
The most high-profile—although invisible to the general public—component will be the construction of an approximately three-kilometre-long, 4.5-meter-diameter trunk sewer by EBC Bessac Joint Venture using an Earth Pressure Balancing TBM. Based in France, Bessac has its own in-house manufacturing facility.
Construction of the trunk sewer, at depths ranging from between 15 to 40 meters below the ground, is scheduled to start next March and take until the end of 2024 to complete. Excavating between seven to 10 metres day in an east-to-west direction, the TBM will operate on a 24/7 schedule to prevent idling in the soft ground in the area, he says.
As well, 20 tunneling and micro tunneling shafts will be constructed by Ward & Burke Microtunnelling Limited of Mississauga Ontario.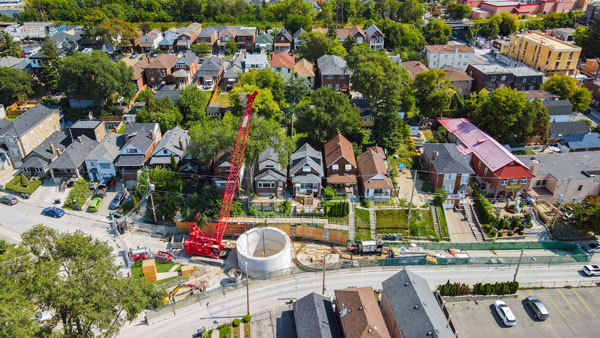 Preliminary work began in 2020/2021 with the installation of 65 inlet control devices—with a total of 330 planned­­­—to restrict storm water from entering combined sewers, reducing combined sewer overflow and the risk of basement flooding, says Hopton.
Construction got underway in earnest in the fall of 2021 with the excavation of shafts to lower and retrieve the TBM, including the main lowering one at the Fairbank Memorial Park. Now complete, the 12-metre-diameter shaft is approximately 45 metres deep and occupies a portion of the park which had to be closed. But public access to a community centre, a play area, and a baseball field remains open, says Hopton.
Early next year excavation of the retrieval shaft, at a fenced off compound in a parking lot near a local school, will commence.
The roots of the project go back to August 2005 when a storm dropped approximately130 millimeters of rain in Toronto, causing flooding in many residents' homes, erosion in ravines and watercourses, and damage to city roads, bridges, culverts, and roads.
Toronto Water received more than 3,600 basement flooding complaints, says Prapan Dave, design and construction manager with the engineering and construction service section. Preliminary design started in 2013, but due to significant property impacts and complexity of the project, it was temporarily paused in 2015. Detailed design began in 2018, with the design for the tunnel contract completed in 2018.
This coming January the design for two local sewer contracts will be completed and tenders issued shortly afterwards. Just over 15 kilometres of storm sewers will be constructed and the contracts will also include minor watermain replacement, water service upgrades and restoration work, he says.
Using two different contractors will ensure there is a sufficient number of crews on site to complete the work as, "expeditiously as possible" and will avoid bonding concerns for local contractors.
"We (the city) took every effort to minimize the impact on the community," says Dave, referring to the route of the trunk sewer. It will actually go under a road that bisects a cemetery, but there will be no impact to the cemetery.
In addition, the design was revised so that three houses originally slated for demolition were saved, he says.
The project is part of the city's Basement Flooding Protection Program which the city approved 2021 and covers 67 basement flooding study areas. By the end of this year approximately will have been spent on the construction of recommended solutions for various areas.  This one is funded, in part, by a $73.2 million federal government through the Disaster Mitigation and Adaptation Fund.