Building in a remote area of northern B.C. comes with its own unique set of challenges.
Those can range from an unstable power supply, freezing temperatures or a lack of space for storage and staging, said Anthony Radman, a project director with Infrastructure BC.
Radman is leading the new Stuart Lake Hospital project in Fort St. James, B.C., a $158-million building designed to bring essential services to historically underserved communities.
"It's a very small community and, for lack of a better word and not to paint a picture of it being isolated, it's certainly not on the well-traveled path," said Radman.
The new hospital is going to be a significant upgrade from the current one, a 1,600-square-metre modular wood building constructed in 1972. The original hospital was estimated to have a lifespan of 25 years, meaning it has lasted twice as long as anyone originally planned.
Radman said the team has tried to recycle as much material as possible, but the age of the previous hospital has made that difficult.
The new hospital will be 6,300 square metres of poured concrete, contain 27 beds, an emergency department, a trauma bay, a covered ambulance bay, will consolidate other health care needs under its roof and contain gardens and in-house gathering spaces as determined in consultation with local Indigenous communities, said Radman.
"Bringing all these services into one location is going to reduce the distances that patients and staff have to travel," said Radman.
As a native of Port Rupert, Radman is no stranger to the northern B.C. landscape and clime, but he noted working in such a far-removed location presents unique challenges.
"One of the things that was a bit of a surprise, from the construction side, is the quality of the power that's coming in from BC Hydro into Fort St. James. It hasn't been consistent," he said.
"You get these flashes of surges that effect everything in Fort St. James from concrete suppliers for their batch mixing plants to the hospital itself."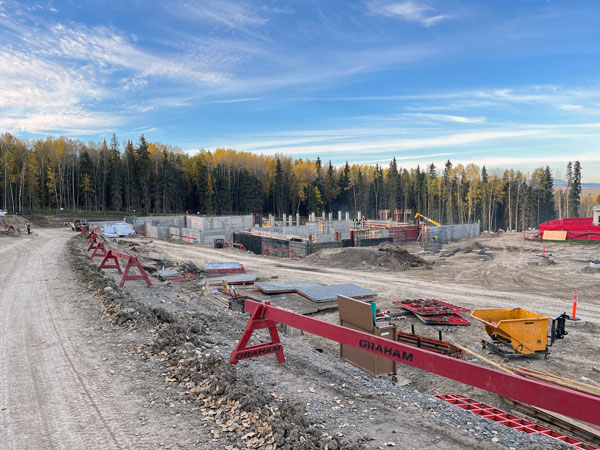 Radman said there are onsite generators.
"Graham Construction (the general contractor for the site) has generators but those generators can't compensate for what their subs need in terms of providing materials that are made off-site."
Radman said his other main struggle has also been a surprise: finding commercial storage space.
"Let's be clear, there's quite a bit of economic activity in northern B.C., so you have other industries that are competing for commercial space and storage space," he said.
Since the worksite is quite remote, Radman has needed to ensure supply logistics are figured out well ahead of schedule.
"As much as you'd like to have 'just-in-time' inventory, you can't have your entire project underpinned with materials scheduled to arrive 'just-in-time,'" Radman said with a chuckle.
"So, you're kind of thinking, 'Where do I bring stuff in to have it staged for weeks or a month or two?' And that's the other constraint up there, finding strategic space that is readily accessible, or at least reasonably accessible, so you can actually bypass that risk of something not showing up on time."
Construction on the major health care infrastructure project began back in May. Radman said the first phase of work has been focused on civil works, ground preparation and foundation work.
The nature of the early work highlights another problem associated with northern construction: the cold comes in quick and it bites.
"A lot of the underground earthworks for utilities had to be done before the winter freeze came in. Storm water, underground utilities have been trenched in and largely put in place," he said.
"Once it gets down to -15 C, you're not really doing any concrete pours at that point."
Temperatures reached -30 C at the site this week.
"With this kind of weather, you're very limited to what you can actually do," he said, adding work that is "not dependent on moving earth or pouring concrete" can still be completed.
At this time of year, much of the crew is taking some well-earned time off.
"But there's very much a skeleton crew just to make sure the generators are going and the hoarding is still up and intact and is operating between Christmas and New Year's," he said,
But these uniquely northern problems were all considered in the early stages of planning and Radman said the hospital is on budget and on schedule for a 2024 completion.
Follow the author on Twitter @JOC_Evan.