Early site works have been completed and crews are now using heavy equipment to begin earth moving and placement of silt curtains within a reservoir at the John Hart Dam near Campbell River on Vancouver Island.
It's the first step in a long-awaited and massive seismic update project at the earth-fill and concrete structure which was built in the 1940s.
"This is mostly an earthworks project and we will be moving about 750,000 cubic metres of material," explains Stephen Watson, senior stakeholder engagement adviser at BC Hydro. "That amount of material would fill about 300 Olympic-sized swimming pools.
"This includes primarily bringing in new material from a nearby pit site and also removing existing upstream and downstream material. We will also place about 6,400 cubic metres of concrete."
Vancouver Island is within the most seismically active zone in B.C. The project will make the structure more seismically safe and ensure residents who live downstream are protected in the event of an earthquake.
The upgrade work will enable the dam to withstand a one-in-10,000-year earthquake. Seismic upgrade projects are also planned at the Strathcona Dam and Ladore Spillway on the Campbell River system. Both of those projects are just beginning the regulatory process with the B.C. Utilities Commission.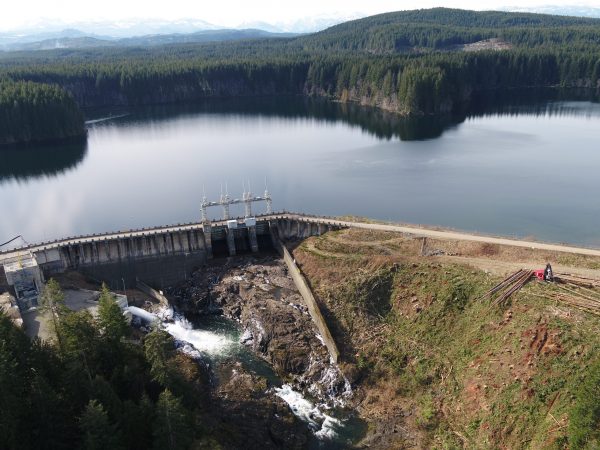 Total cost of all three projects could be up to $1.74 billion. The John Hart dam work alone is estimated at up to $923 million. The cost covers from 2014 when the project was initiated to the completion in 2030.
The Strathcona project, which involves building a new low-level outlet structure and replacing three spillway gates and related works, could cost up to $474 million, while the Ladore venture, which involves replacing three spillway gates, installing new equipment and upgrades to the existing protection control equipment, could range up to $344 million. Both projects are expected to begin in 2025 and be completed in 2028.
In 2018, replacement of the John Hart Generating Station was completed at a cost of $1 billion over five years.
Once completed, the three projects will ensure water can pass safely downstream following a major earthquake or flood.
"These projects are about downstream public safety," notes Watson.
Work on the John Hart Dam project began in July. The dam is about 32 metres tall and more than 800 metres long. There are three spillway gates and two water release valves.
The silt curtains in the reservoir had to be anchored in place with steel piles. The curtains can be moved up and down as needed with reservoir fluctuations. The curtains will contain water turbidity within the work zone.
This month crews are slated to begin concrete work on a spillway section of the dam. A couple of months later, they will begin work on a water seepage barrier. A narrow trench will be excavated, about 20 metres deep and concrete panels will be placed within the hollow to act as an additional water seepage barrier.
As part of the work, crews will stabilize the earth-fill sections of the dam and install new spillway gates and hoist systems, and a new overflow spillway on the main concrete dam.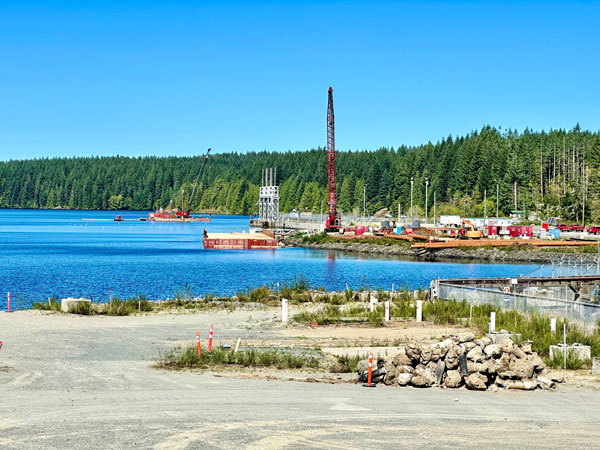 "All the existing spillway gates and hoist systems, and related equipment will be replaced in stages, so we will always have two spillway gates operational in case of large storm events," says Watson. "The second RFP for this project, for the hydro-mechanical works, will be issued around 2025. Work on the spillway gates is expected to start in 2027."
Contractors will also be working on improvements in the Campbell River estuary to offset the impacts of the work on fish. The project team is working with Greenways, a conservation organization, on the initiative.
An area of about 6,170 square metres will be enhanced within the estuary to improve fish rearing. The work will entail removing invasive blackberries and replacing them with native conifers, alder and shrubs.
Aecon-EBC General Partnership is doing the civil works. The partnership will employ various subcontractors, including supply and service providers, and there will be individual hiring of tradespeople through a union process.
There are about 20 different trades involved in the project. Equipment on the project will include barges, cranes, excavators, tandem dump trucks, concrete trucks, and drilling equipment. There's also environmental support with water treatment facilities for water turbidity.
"We are looking at about 100 to 150 jobs over the six years, with the peak in 2024 to 2026," says Watson. "So far, things are looking favourable for contractor staffing with good interest in the project work. The majority of workers will live within 100 kilometres of the site."
The project arose from a six-year hazard analysis study that was initiated in 2007 and released in 2014.
"We're excited to begin the construction work," says Watson. "The project is on schedule. We have developed good partnerships with local First Nations, with individual hires and subcontractor work, mainly through joint ventures.
"We have been consulting, since about 2014, with the Wei Wai Kum Nation, We Wai Kai Nation, and K'omoks First Nation on all three projects."