The City of Colwood is spending more than $6 million to build an overpass, over a busy road, for cyclists and pedestrians.
Cyclists have long-clamoured for a better link to connect the two portions of the Galloping Goose Trail, a popular 55 kilometre route along a former railway line.
"This has been identified as an awkward crossing," says Josh Andrews, head engineer at the City of Colwood. "This bridge is really needed."
The highly-popular Galloping Goose, part of the Trans-Canada Trail, starts in downtown Victoria and ends in Leechtown, a former gold-mining site.
In Colwood, cyclists have to dismount, walk to a busy intersection, cross the Island Highway and then make their way along several 100 metres of sidewalk to the trail.
Cyclists and pedestrians are sometimes seen jaywalking across five lanes of traffic, Andrews says.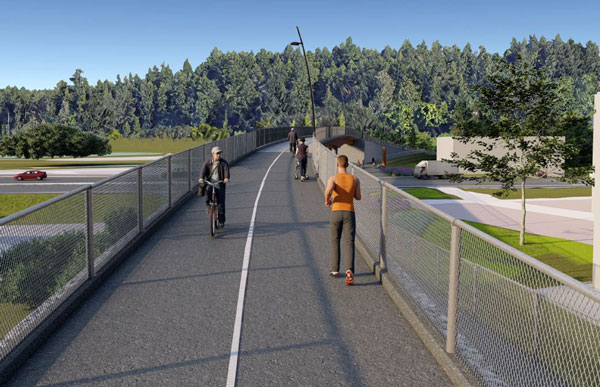 Conversion of the rail line to trail line began in 1987 but the bisecting Island Highway already existed.
Beneficiaries of a federal grant for $3.6-million, the city is adding $1.33-million from its surplus fund and another $1.3-million from its capital projects reserve fund.
North Vancouver's Surespan Group was awarded a $5.11-million contract for the project. A start date for the work, which is to be completed by a funding deadline of 2026, has not been set, says Surespan spokesperson Kaley Finucci.
"The city is in the process of selecting an owner's PM representative, and we are currently awaiting further instructions," she wrote.
Surespan has estimated a 28-week construction timeline for the project.
Andrews expects work in the very busy road corridor to start in 2024.
Given that the portion of the Island Highway (also known as Sooke Road) is heavily used by commuters, a traffic management plan will be developed.
Instead of the four lanes, with turning lanes, the many motorists will be siphoned into one lane each way.
There will also be a couple of instances when the road will be fully closed overnight to put the new overpass in place, Andrews notes.
The two-lane, concrete-surface bridge itself will be 38 metres long and 4.1 metres wide.
Simple in design, the straight bridge will have post-tensioned cable fencing and a natural wood railing. Abutments will have stamped concrete, enhanced under lighting and five per cent grade ramps on either side.
Foundation assessments are also being carried out. And once a formal project management contract exists, underground utility and road works may be required.