Girls in B.C. are getting in some tool time this summer.
Girls ages 12 to 15 were recently able to learn woodworking skills at Thompson Rivers University (TRU) new Carpentry Camp for Girls. 
The camp was run out of TRU's School of Trades and Technology facilities in Kamloops. The camp was attended by 14 girls who used hand and power tools to construct a playhouse for Cariboo Child Care, a non-profit daycare on the TRU campus. The girls also learned how to read blue prints, measure and cut, and work as a team. In addition, instructors taught participants proper safety precautions that need to be taken when working with tools.
"Hands-on equals engaged hearts. The Carpentry Camp gives young girls the opportunity to work with their hands while having fun," said Heather Hamilton, manager, industry and contract training, School of Trades and Technology at TRU, in a press release. "This type of exposure engages young minds and plants the idea that they, too, can chose trades as a viable and meaningful career option. Youth make career decisions based on a few major factors: their own experiences and parental and teacher influences. Those of us who work in trades or provide trades training know what great career choices trades offers. Camps like these help us get the message to young girls and parents."
The camp is funded by the federal government's Union Training and Innovation Program – Women in Construction Fund, delivered through Industry Training Authority (ITA).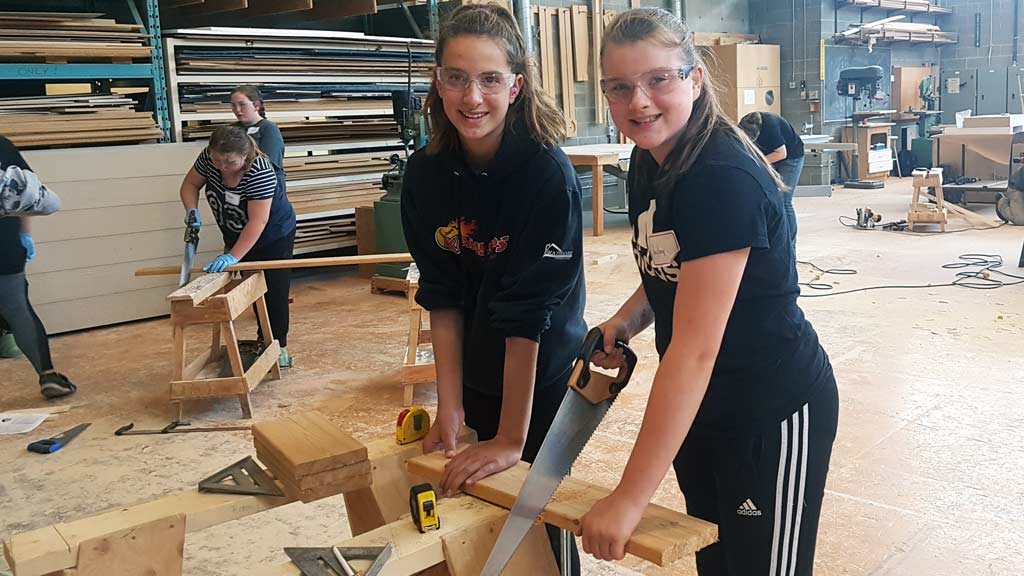 "The goal is to offer girls at a younger age exposure to construction occupations, so they could see them as a potential opportunity or just learn how to use caution around tools and build their confidence," said Tara Fong, ITA's Manager of Canada Job Fund Programs. "I think we have all heard of the skilled labour shortage and women, at this point in B.C., make up just over five per cent of construction trades apprentices. We want to see those numbers grow and it is important to offer opportunities."
She explained that exposing kids to trades when they are young can have a huge impact, as exploring trades later in high school in male-dominated spaces can be intimidating.
"I think it takes away any stigma that they can't do it," said Fong. "The younger they are, the less fear they have doing it. Once they are in high school, they step back a bit more and are not as comfortable, although that is changing."
Fong said similar camps have also been running at Okanagan College through CampOC. At CampOC attendees also learned tool skills and worked on various projects, like building a planter. Both camps have waitlists and the ITA is hoping to obtain more funding to expand the camps.
"We've really looked at how we can normalize the occupation for women by offering youth conferences for women, innovation and training focused on women and offering ways to support employers," said Fong.
Fong encouraged B.C.  parents to reach out to local trades training institutions to see if they offer training. She also encouraged employers to take advantage of Builders' Code training to help create a more inclusive work environment for women.
"This camp is a great opportunity for young women to learn and directly apply useful skills in a fun environment," says Shelley Gray, CEO, ITA, in a press release. "It's a hugely enjoyable program for the young women, who we hope will become the skilled trades people of the future."